yoshi3706
Gaabrielzaum, hi the music is MegaMari - Cirno
Posted by: yoshi3706 - 2017-07-08 11:36:00 PM
Gaabrielzaun
what the music of first level ? i loved this music
Posted by: Gaabrielzaun - 2017-06-16 04:04:11 AM
cap'n smw
I AM NOT GOING TO PUT THIS CRAP ON MY DAMN COMPUTER BPS FILES HAVE SPYWARE AND VIRUSES AND OTHER CRAP LIKE THAT GOOD DAY TO YOU!
Posted by: cap'n smw - 2017-05-08 11:42:38 PM
Big Brawler
Oh right cuz the tags are relevant in the hack of course you're right

The tags in the hacks are useless imo
Posted by: Big Brawler - 2017-03-16 10:24:19 PM
kaitri
what are those tags?
mario (no shit really?)
mega??? this is the first hack with this tag
world. also first hack with this tag.
Posted by: kaitri - 2017-02-18 08:49:25 PM
MrDeePay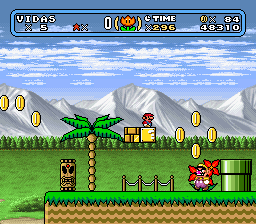 Very minor, but if the player restarts this level at the midpoint, the rain/thunder effect will not be present like it was at the start. Either add the necessary resources (I believe there are all sprites tha you used) at the midway entrance or just run everything through UberASM.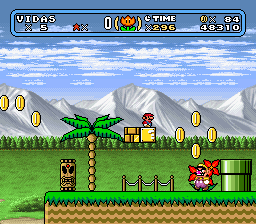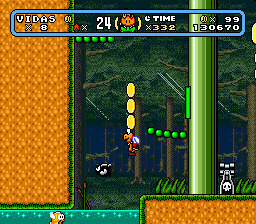 Because of how the camera works by default, it is entirely possible to take damage from the Parakoopa behind the status bar/above the camera.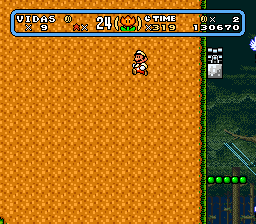 Use a ceiling generator sprite to prevent this from happening.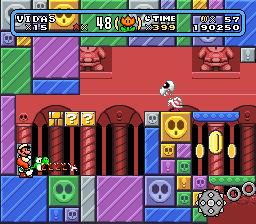 You may wanna disallow Yoshi from entering this level, especially since he reacts badly to Dry Bones when they collide.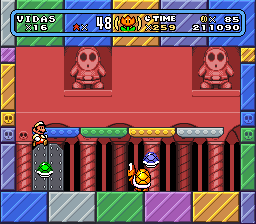 The shell when it's about to be throw is blue, but when thrown turns green. There's also no indication that they can't be stomped on (unless the message box says so, since I can't read Spanish well)

Most of that is minor stuff that you should just take into consideration for future updates. The rest of this hack is done pretty well and was pretty fun to play. Maybe also remove the Hammer Bros from the first couple of levels (save them for a later level or much safer setups), but that's about it.
Posted by: MrDeePay - 2017-02-18 08:43:42 PM
ThalesMangaka
Great job! This hack reminds me a lot the SMB2 and SMB atmosphere, or sometimes, a level made in the SMBX engine. Nice soundtrack, nice gameplay and man... the first castle is very funny, i laughed a lot.
Keep up the good work, I'll be waiting for the final version someday.
Posted by: ThalesMangaka - 2017-02-18 04:12:24 PM
Mariogamer435
Wow this hack is super amazing. I wonder if there is a human who can make a hack like this. I mean sm64 2d sprites, Great soundtracks and amazing gameplay...what do you want more?

You deserve a cookie for this

Posted by: Mariogamer435 - 2017-02-18 01:47:05 PM