Bit meh, it's your standard troll hack. Like that funny Yoshi pic when you say No at the start. The Resetti cameo was unexpected but sadly that what it has going for it. Just fake difficulty for the sake of fake difficulty.
Posted by: Moptophugger - | Link
Best game i ever played
Posted by: i'm from russia - | Link
haha
Posted by: ninj - | Link
This hack is just plain annoying. The jokes don't make a whole lot of sense, the references are pathetic, and the level design is incomprehensible. Overall, it's just an uncomfortable experience. Also, Darude Sandstorm jokes... haha. That's about as funny as saying "I'm going to drink bleach". Edgy as hell.
Posted by: Lotica - | Link
man its so hard aaaaaaaaa

Posted by: Nyan Cat - | Link
Son I am disappoint. Luigi Jump-Girl is still Jumpu-Girl ;) Kinda expected a special easter egg (e.g. another mystery mushroom maybe turning you into the Juzcook sprite) there, given you can't be Luigi when using my skip trick (Resetti always turns you into Mario).

To be more serious though: play as Luigi for some fun blue-ish version of Bowsette

too bad the "need help" room doesn't get recolored too when being Luigi.
Posted by: divVerent - | Link

Posted by: Nyan Cay - | Link
Rage quit the puzzle but I like that you used my Final Fantasy V port

Posted by: Samantha - | Link
Love it! I might have found a cheese that looks suspiciously like a dev skip, but might be a real bug, though - first asking via PM if it's OK to mention any details about it here though. JUMPU!

EDIT: As I got no reply, in the spirit of full disclosure, here's what I found:




Load the hack on a clean save RAM, go to the credits level, then reset.




Don't do this on your first playthrough though, as you'll miss a lot. I've accidentally hit this on my very first attempt to play it (mainly because I wanted to try out Resetti in a situation that might be unexpected), and then realized I should rather clear my save RAM and try again.
Posted by: divVerent - | Link
After hundreds of savestates, I managed to get to the end!

Here's a quick flex (it took me, like, over 100 to get me this alone)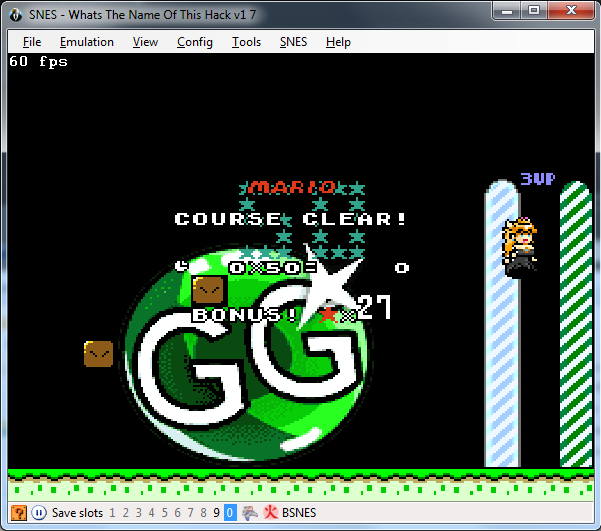 Serious review: I love it. The work put into this is beyond anything I can believe and it's super creative. 5.71784925/5 stars.

(It turns out Lunar Magic isn't that much of a help)
Posted by: I don't know a good name. - | Link
Bowsette freaks me out

Posted by: SonicDabz - | Link
Tench, which room did you softlock in? There's likely a way to die that you just haven't discovered yet.
Posted by: FuryfulFawful - | Link
I got softlocked. I reset and the game keeps taking me back to where I was. Also after getting greeted by something impolite.

EDIT: I got a virus after this! This "Resetti" gave me one! Now all of my Mario romhacks have him when I run a romhack in the emulator!
Posted by: Tench - | Link
You need to patch it.
Posted by: niko - | Link
This is just the beginning ... Still come a lot of shit equal or worse than this !!!

Posted by: Noob - | Link
This Hack Needs A Name.
Posted by: niko - | Link
This is an incredible showcase of so many good things. The amount of work that went into this level definitely shows even in the smallest things, and I'm sure that this can serve as an excellent demonstration of what a good troll hack should strive to be like (albeit I don't expect as many troll hacks in the future to have this level of customized ASM).

The only slight issues I had were a few pieces of cutoff, not counting the intentional cutoffs when you press the button and near the end. A few noteblocks had glitched bounce sprites, and the not-quite-vines (to avoid spoilers) cause some minor cutoff when they eat through background tiles. There were softlocks, but they were executed perfectly. In total, these issues are extremely minor and are not cause for rejection (although maybe an update in the future could fix the cutoff). Approved, with many thanks for an enjoyable experience all around!
Posted by: FuryfulFawful - | Link
This was really good, and somewhat annoying and funny at same time, so as a troll hack it gets 5 from me

Posted by: Holy Shinx - | Link
oh no it's bowsette
Posted by: Klug - | Link
Oh boy oh boy, The first Troll hack in the section and it's very good despite some weird graphics with bowsette, Nice work
Posted by: Big Brawler - | Link
in the words of mario "mama mia"
Posted by: OverworldYT - | Link
This hack made me want to die.

5 stars.
Posted by: FailSandwich - | Link
Originally posted by Atari2.0

Try resetting and see what happens ;)

it puts you back in the exact same room where you remain soft locked. epic troll

e: i just wasnt trying hard enough

just hit the coin box until you die
Posted by: Hobz - | Link
Auto 1 star for Bowsette
Posted by: 7 up - | Link
Originally posted by kaitri

i did find a potencial softlock


Softlocking is actually intended sometimes.


Try resetting and see what happens ;)
Posted by: Atari2.0 - | Link


edit: i just finished the hack (or the level). it was an interesting fun and confusing journey.

its hard for me to rate this. 2 parts i still dont understand how i did them. its not the most beautiful hack thats for sure but it gave me a "wtf!? thats such a troll" moment a few times. so i guess it did a good job at that? also bowsette and for the first time in my life.

so i guess 4*
- cant wait to see more troll hacks.


i also got told to reset. does that mean the feature "restart" when you die? cause in the gif i presented, there is no way to die. nvm.
Posted by: kaitri - | Link
wow, consider me trolled!
Posted by: Hobz - | Link
@kaitri: look at the difficulty rating.
Posted by: randomdude999 - | Link
i think a "troll" tag should be required.
especially cause that makes it easier for me to torture myself <3

edit: difficult rating is nice, i prefer it as tag
Posted by: kaitri - | Link
Darude Sandstorm
Posted by: Fullcannon - | Link
This is not the place to discuss the introduction of Troll hacks. Keep all relevant discussion to the news post.
Posted by: Noivern - | Link