Well, it's been a while, but have a few updates I guess:
Graphics Previews
These are used for lava and forest levels later in the game. Both are based on GFX sets released by PROX on Super Mario Bros X.org.
Meanwhile this is used for a canyon style level. Background undecided.
Level Previews
Red Switch Palace
Getting 10 coins or more kills you. As you can guess, each Switch Palace involves a basic 'gimmick', with the level design built around it.
Yellow Switch Palaces
Blocks affect Mario behaviour when enemies touch them (making him jump, spin jump, move in certain directions, etc)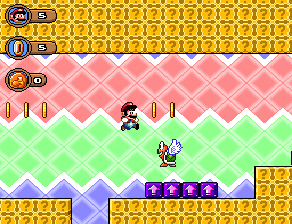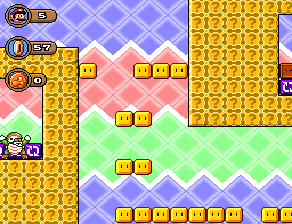 Others disable jumping for the level, and make it so you can only go in a single direction.
Progress
As for what's going on? Honestly, it's been on hiatus a bit, since I've been focusing on stuff like YouTube for a while instead. But I do plan to release demo 2 by the end of the year, and the final version sometime before the heat death of the universe.
--------------------
For gaming news and Wario discussions, check out
Gaming Reinvented
and
Wario Forums
respectively.
As for Mario's Nightmare Quest? Well, it's currently on Fusion Gameworks, ROM Hacking.net or the GCN at the moment.