I was looking around the An Super Mario World Central Production forum and I stumbled upon Vic Rattlehead's Player's Guide for the game. The guide was done quite well and that gave me the idea to make a guide for SMWCP2, when it releases. I'd like to make SMWCP2 feel as authentic a SNES game as it deserves to be. I decided to write a sample entry for the guide to interest people. I'd like to cooperate with anyone interested, so if you are interested in helping me with the guide you can reply here or PM me.
In addition to a possible controls/story section at the beginning of the guide I plan to have the following for each level:
- Description of the level
- Difficulty rating (out of 10)
- Screenshots of certain areas of the level
- Tips for certain sections
- How to get the exits in the level (especially secret exits)
- How to get/find the three SMWC coins in each level
- MAYBE extraneous collectables in the level (1-Ups, 3-Up Moons)
- Boss strategies (level sensitive)
It is a pretty tall order, but I hope I can complete it.
---------------
1-1
Girder Grassland
FPzero
Difficulty: 1/10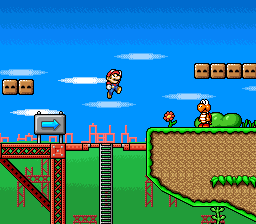 Girder Grassland is exactly what you would expect from your traditional first level. A nice, gentle journey teaching new players the controls while also giving them a space to use them.
At the start of this straightforward level you'll be greeted by a single Goomba. You can get a power-up via the leftmost block in the top row of blocks.
A Koopa Troopa shell can be used to hit a nearby coin block; it may not be worth the trouble as it only yields one coin.
After a bout of sliding and climbing, you'll reach a bonus block. Collecting thirty coins before hitting the block will net you a 1-Up. You will be granted a single coin if you collect less than thirty coins before hitting the block. It is quite easy to collect thirty coins, so you shouldn't have much trouble getting the 1-Up.
Exploring a little bit below the Bonus Block will lead you to a pipe. Upon entering the pipe, you will be brought to an enclosed area with the first SMWC coin. Above is a message box which provides information regarding the SMWC coins.
You can find the midpoint after some easy jumps. A powerup can be collected only a few tiles away. Shortly after, you'll stumble upon the second SMWC coin. It is placed in between a couple of Parakoopas and some note blocks. For seasoned players, the jump is easy. Getting rid of the Parakoopas with fireballs is the easiest way to go about reaching the coin (if you have a Super Mushroom on hand, you can get one from a nearby block). If you are unable to do this, timing a jump under the Parakoopas is the next best strategy.
In due time you'll reach a row of nine throw blocks. You can use the throw blocks to hit an airborne block above; a hit will stop it in its tracks and will grant you a 1-Up. Beyond this area is a pipe that Mario can enter, below the area with the two Spinies.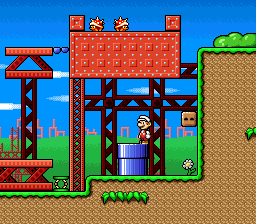 Entering this pipe will bring you to a minute sublevel with a SMWC coin and a P-Switch. You should have plenty of time to get the coin due to the ease of the challenge and the length of the P-Switch timer. You can use this pipe to farm 1-Ups by getting the 1-Up, entering the pipe, and repeating for as long as you want. Overall, this stage is great for life farming because it has a number of easy 1-Ups in it and can be beaten easily and quickly.
After returning to the main level, the goal roulette is only a short distance away. After a few more enemies to avoid/get rid of as well as an alternate path above that gives you a 1-Up, you are finished!
---------------
This might be a little too long and/or detailed, but that will be sorted out once the game is released and I start writing.