A Plumber For All Seasons
is a hack I've been working for a scary amount of time. For those who haven't heard of it, the main premises are:
For the past few C3s I've managed to show a couple of trailers, each showcasing one of the four worlds that I had (mostly) finished just then. Sadly, I can't keep the streak going this time.

This semester has been way busier than I thought it'd be, and likely will be until February - I do have generous amounts of free time still, but I have so many tasks to juggle simultaneously that it's hard to focus on doing anything at all. A general, probably pandemic-induced, increase in dawdling doesn't help either.
Regardless, and since people have been asking about my progress, here are the couple of things I did get done since last C3!
---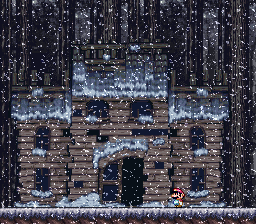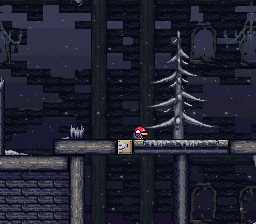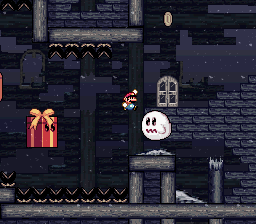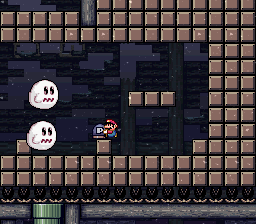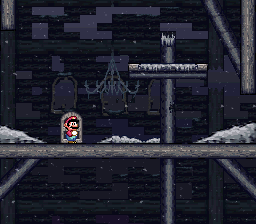 That's right, after putting up the world 4 trailer last C3 I'm still working on a level in world 4!

For those who haven't seen what I've been posting here and there, this is 4-6, the winter ghost house. The gimmick is large boo blocks that disguise as christmas presents, so the level is called... "Ghost of Christmas Present". For better or for worse, I based the whole level off of that pun - I started off with nothing but the name and the gimmick and built everything around it.
Exodustx0
, one of the people who've been so kind to compose a couple of music tracks for me, provided the next puzzle piece, before I'd started building anything else in the level:
a creepy wintery ghost house tune
. That kind of pinned down the atmosphere: a run-down ghost house, abandoned and with snow drafts everywhere. I listened to it a lot while making the level.
I did my best to give it an empty and earnestly spooky feel - a washed-out dark palette, a blizzard atmosphere, dead trees as decoration, mostly devoid of enemies and somewhat maze-like - although it is pretty much linear in the end, and features light puzzle elements as well as a platforming segment or two. I'm not sure I succeeded in making the level feel creepy, especially since the platforming and puzzle elements aren't really blending together smoothly, but in the end I do think it's a fine little level. (Done is better than perfect at this point anyway.)
The Christmas boos provide a splotch of color and whimsical contrast to the overall eerieness (which I don't think is a bad thing necessarily), and at the end I couldn't resist ending the level on a happy note. After you've solved all the puzzles and navigated all the platforms, the ending segment is bright and cheerful, featuring happy boos, stacks of presents, and a huge shiny Christmas tree. I'm actually really happy with how that part turned out, and also really glad I managed to fit it all into the GFX files I had. (The glow on the tree had to be made of sprite tiles!)
For those interested in how I drew the tree, I actually posted my progress along the way:
---
Oh man, those were paragraphs. (yep, that is usually how much thought goes into a level.)
This leaves us with one level to do in world 4, plus the final boss, the postgame, and an extensive (but hopefully not *too* lengthy) period of beta testing, second passes and general polish.
The plan I've been following for a while was to release it during the Winter 2021 C3, but well yeah, here we are already. My current goal, which I'm really eager to meet, is the summer C3 2021 - I don't want to drag this into 2022, and I really want to release this on a C3, so that doesn't leave me with much of a choice of deadline. That sounds really tight, and it probably is, so I'll probably need everyone to help me keep up the pace and motivation.

I'll do my best! We'll see how this goes soon enough either way.
---
Either way, thanks for stopping by! Be sure to check out
my hack thread
after the C3 forum closes for more progress updates.
--------------------