If SMWC is so good, why is there no SMWC2?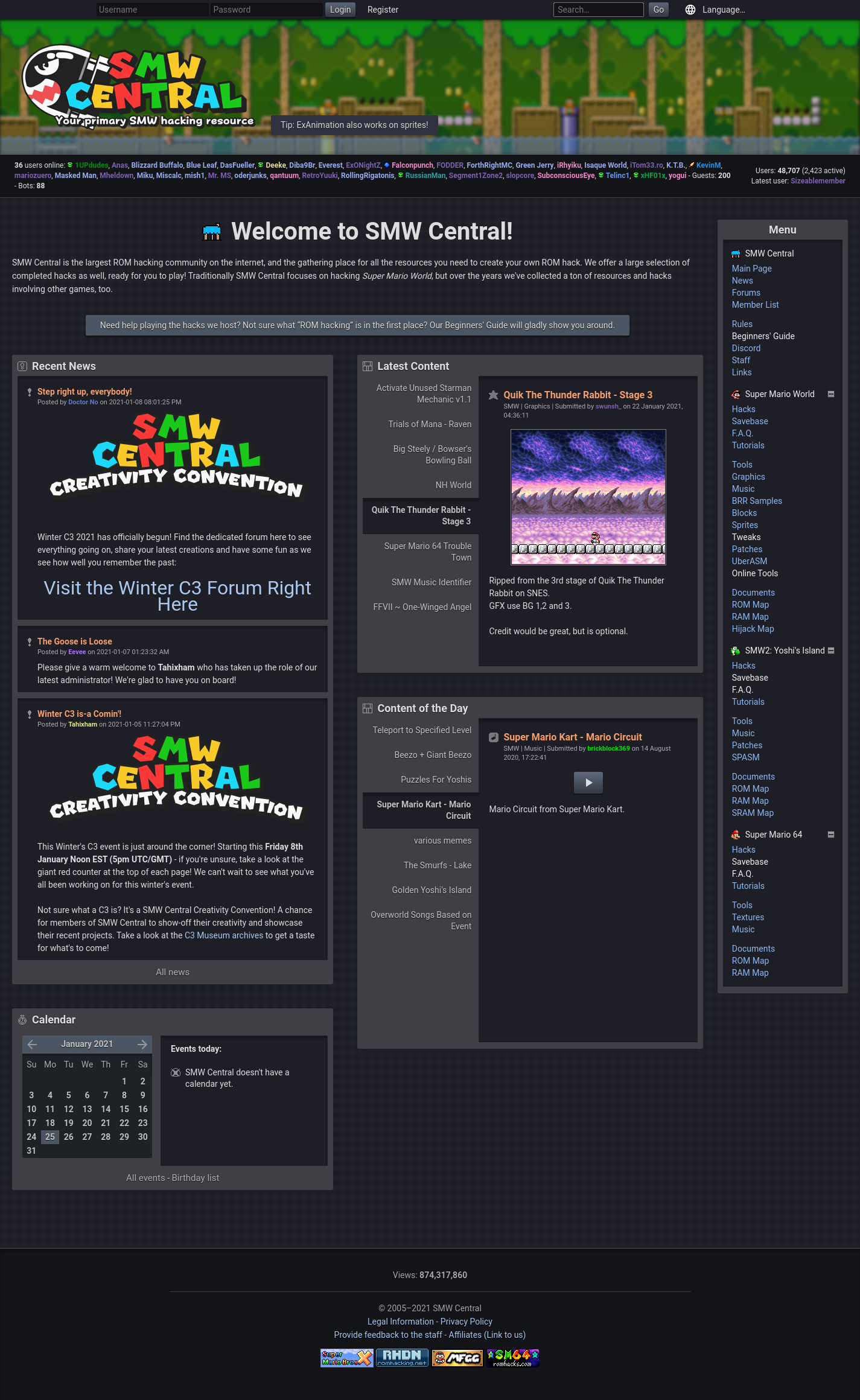 After almost a decade of planning and 2 years of development, I am proud to present SMWC2: a complete overhaul of SMW Central's code that introduces a new
modern design with first-class mobile support
, backed by stable internals that make it far easier to create new features.
Although SMWC2 has been in development for such a long time, it is still far from complete. However, this is the beginning of a new stage in its lifecycle. As of today,
you can experience the new design yourself
.
I would like to thank
WhiteYoshiEgg
for creating the new design. SMWC2 was also made possible by
Kieran Menor
,
p4plus2
, and
Ersanio
, who pioneered the idea.
Joining the open beta
So, how can you try the new design?
To join this open beta, send a DM on Discord to
bebn legg#0086
,
Tahixham#1111
, or
Telinc1#2670
. There are
no
strict requirements - if you want to use the new design and give feedback, you can join! After I've processed your application, you will be able to select SMWC2 as a site theme from your Edit Profile page. You will also see a new Discord channel,
#smwc2-beta
, where you can discuss the design and suggest changes or new features.
Currently, the main page, sections (except the submission forms), memory maps, PM system, forums, and threads are among the pages fully converted to SMWC2 (other pages will use the current site design, called the "legacy theme", even when you've selected SMWC2). The new design also has three different site schemes you can choose from.
If I haven't already convinced you to join the open beta, you can look at these
interactive demos
of the
Main Page
and the
Forum Index
.
Future steps
At some point in the future, the
new design will entirely replace the current theme
. This will happen in two stages.
First, the new design will be
enforced
for every page currently converted to SMWC2 (see the previous heading for a list), while the other pages will continue to use their legacy designs. After this point, there will be no way to opt out of the new designs.
The feedback we receive from this open beta will help us determine when exactly this will happen
.
Then, I will start converting all other pages to SMWC2, replacing their legacy designs. Once again, there will be no way to return to the legacy theme for any page that has been converted. In the end, every page on the site will feature an updated design. The legacy versions will be inaccessible and removed from the site code.
We understand that this transition is a massive change. To make it as easy as possible and ensure that the new design is perfect,
I urge you to consider participating in the open beta
.