New Super Mario World: The Twelve Magic Orbs Remastered Beta 1 by Rilla Roo
Oh boy, one of the first hacks I ever played is now getting a remaster.
This surely is exciting, let's get onto it.
WARNING!
There
will
be spoilers ahead, if you don't want to be spoiled, play the hack first, then read the rest.
Minor Stuff:
After finding a switch palace and pressing it while you have any number of Star coins, the Star coins you gained will disappear. You'll have to find them again.
Hitting red and green koopas with an ice flower gives a 2 block high ice block, but hitting a yellow or blue koopa gives a regular 1 block high ice block. (This does not apply to para-koopas, which all give a 1 block high ice block.)
Freezing Hammer/Boomerang/Any Brother, Hopping Flames, Sumo Bros, Boomerangs, Diagonal Fireballs and Regular Fireballs gives an empty ice block.
Dino-Torches are immune to thrown ice blocks.
Overworld Stuff:
The arrows don't have outlines.
Mario isn't going fast on the overworld now, which isn't a big issue, but when you start going on the longer paths it can feel like a century.
The switch(?) icon doesn't really look like a switch, to me it looks like a campfire or something.
Making it a bit clearer that its a switch icon would be nice.
For some reason, World 5-1 has a key graphic at the top right instead of the keyhole to indicate a secret exit.
World 1-1:
Putting the key in the keyhole erases the HDMA.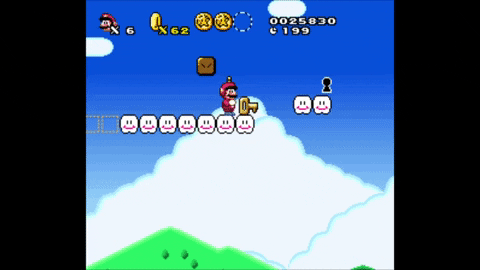 Plenty of problems with the goal sequence (Ignoring the one you already stated about Layer 3), breaks HDMA, the "MARIO" Text has a weird palette and part of the timer countdown text is hidden by the hills.
World 1-4:
If you happen to have the ice flower (most likely because you get it in the last stage), If you turn a chuck into an ice block and do this trick (which took a bit more times) you'll get a slightly glitched Mario for a few frames.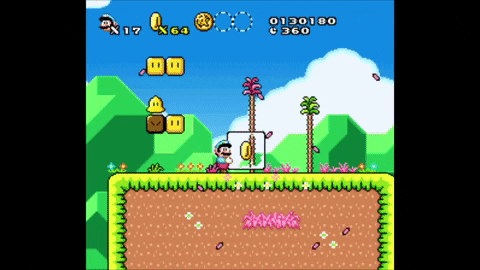 The Goal Post, or the sprite for the goal post, has a slightly strange greenish palette.
World 1-Castle:
Didn't like this one very much. It felt way too easy.
The lack of those upwards falling (or I guess jumping) munchers is a bit of a bummer.
World 1 Overview:
World 1 was pretty solid, had about the same difficulty as the original, minus the castle, which was harder in the original.
World 2-2:
As stated by N450, the Angry Sun glitches, but also, this pipe has a really weird palette for some reason.
World 2-4:
You can get behind the background in several pipes, this one being the one of them.
Ice Blocks interact really weirdly when you press the switch here.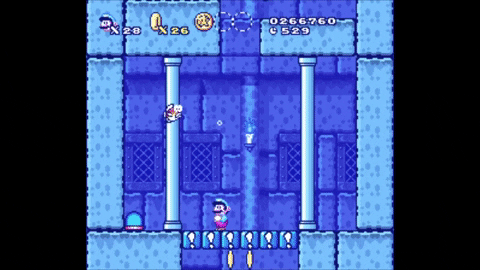 This level has 2 midways for some reason..?
World 2-A:
Not a fan of the music in this level, would prefer the original song used.
In second section inside the ship, if you go fast you won't get hit, at all, by the appearing/disappearing boos.
World 2-6:
Not anything wrong with the level, only the ice flower.
I found this glitch here very easily while trying to carry an ice block through the pipe.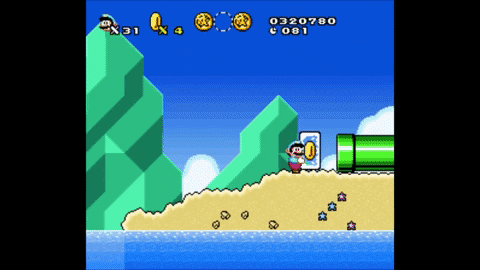 World 2-Castle:
Why is the song so loud?
I can't hear any sound effects at all.
World 2 Overview:
It's tremendously easier than the original World 2, mostly because of the OP Ice flower, that can make almost anything into a non threat with a single Y press.
The castle is stupidly easy now, unlike in the original where it had some reasonable challenge.
Small Note: World 3 and 4 were written before N450 updated the post, so you might see some duplicate stuff, excuses in advance.
World 3-3:
This weird half coin in the secret area.
You can also cheese the secret.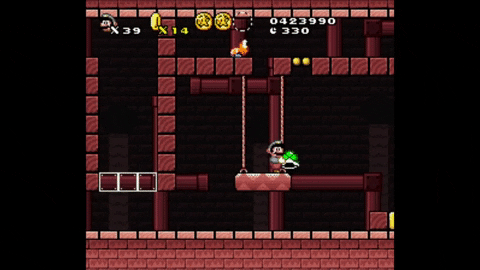 World 3-6:
Not a fan of the music here, I prefer the song used in the World 3 Demo I tested.
World 3-Castle:
I love this reworked 3-Castle. It has everything like the original but a bit easier.
The downside of it is the music, which I'm not a fan of, as well as it's length.
Coming back here in the late game with Yoshi will make this happen...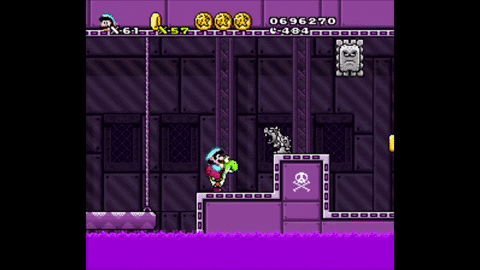 World 3 Overview:
Pretty solid world, Again, tremendously easier because of the Ice Flower, the only level that was reasonably hard was 3-6.
3-A was just a pushover with the ice flower, in the final section you shoot a single ice ball on the magikoopa and collect all the coins ezpz.
World 4-1:
Killing a Super Koopa gives this strange graphics.
This pitchin chuck looks to the right while entering the subarea for a few seconds.
World 4-2:
This enemy has a really weird flame, I remember seeing it with a different type of flame before.
If you're gonna use this flame instead, I suggest changing the palette to the one the bowser statues flame uses.
World 4-3:
This is a really weird version of the song (SMW Desert), never heard it before.
Thank you Yoshi, very insightful.
I guess that Yoshi's invincible to these fireballs.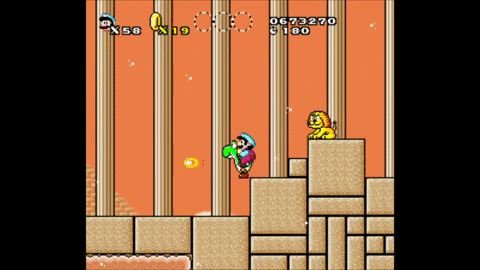 World 4-4:
Glitchy Star coin moment.
Another Glitchy Star Coin Moment.
World 4-5:
Glitchy Yoshi level.
The fireballs he spits out looks like this.
Fun Fact: You can eat bowser statues with Yoshi.
Didn't know that myself.
Hitting the random powerup glass block here turns it into this glitched graphic.
By far the glitchiest level I've played, It also has a really tight time limit if you want to get all Star Coins.
World 4-6:
Yet another glitchy Yoshi level.
Showcasing another tiny glitch you can do to enter these doors with Yoshi.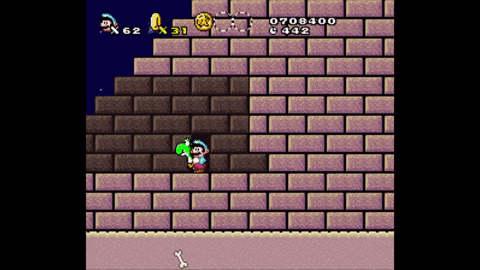 This thwomp does nothing. Not sure if he's intentional or what but he does literally nothing.
World 4-Castle:
And another glitchy Yoshi level. Man, just remove Yoshi in the level where I can get him so you don't have to redo like, 6-7 levels so far.
World 4 Overview:
Ya really goofed when you gave me the Yoshi, lol.
Difficulty wise it's about the same as the original World 4, maybe even a bit easier.
World 5 Overview:
(Note: I stopped using Yoshi in World 5 because at this point you'll probably remove him anyway

)
The world was solid, with no glitches and bugs.
Fair difficulty for World 5, not too hard, not too easy.
Probably my favorite World out of the bunch.
World 6-A:
Really weird graphics for when the switch is hit.
World 6 Overview:
Another really nice world, very well polished, with no glitches or bugs I could find.
Overall a pretty neat demo, the last 2 worlds felt really polished and good, as for the earlier worlds, they are kinda lacking in terms of polish.
Still, this was an amazing experience, can't wait for the next demo!
Lots of love, S1Z2