Looks nice, I like your tasteful use of ExGFX. I'm not too fond of the redrawn Mario but it does go well with the health bar.

I'm actually kind of looking forward to this, as opposed to most hacks with AllStar graphics.

--------------------
I made a standalone game once, look for Seabug Stampede on Google Play.
Pretty hack is pretty. It looks awesome.
Thanks. Oh, and another thing. I've finally got round to making a new title screen: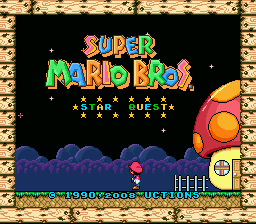 New!!!
Old...
By comparison, the default 'Super mario world' looks really mono-chrome and crappy. I'm working on fixing the palette on the yellow bits on the red letters. i think it might be a hard-coded part of the palette.
With regards to your opinion of redrawn mario, I'm thinking of changing it to SMB3 Mario. What do you think?
*Edit* If anyone wants me to upload any of the ExGFX, be it FG, BG or title screen I'll... consider it.
--------------------
I think that's the color the coins, coin blocks, and Yoshi coins use.
--------------------
harpy

tits
tumblr
In reguards to your "redrawn mario".. I like it a lot! If you want to use SMB3 mario it'd be cool too, but I like this one more personally. It looks more... Original. Your doomship is amazing, it puts the 'regular' exgfx to shame.

Titlescreen is nice.

--------------------

Voice actor.
Composer.
Musician.

.
Thanks. And... redrawn mario isn't exactly mine, nor is the doomship. I made the doomship from a tileset, but yer
adn thanks about the title screen. I was pleased with that too
__________________
Edit: introduction scene. The princess is in another castle.
I've fixed the few glitchy tiles you can see, and fixed the odd red palette that is included with the ExGFX.
i also added the shadowy tiles you can see next to the walls (Ripped from a sprite sheet).
It seems that this hack has accidentally taken on a SMB3 theme. I can asure you, that is in appearance only.
--------------------
Originally posted by Anti-matter Drone
Originally posted by Doomdragon
Well, technically I know where it is, but it's on the third page and if I post I'll be eaten by moderators.
Actually, you can bump your own hack thread.... Anyway, it looks pretty good! I'll find something to critique you on later.
Can you really bump your opwn thread???
Wow, I'll remember that for when this one goes under
--------------------
Everything looks really nice.Glad your not using SMB 3 Mario.Personally,that one get's used way to much.
Daily screenshot:
I wonder how long I can keep this up for...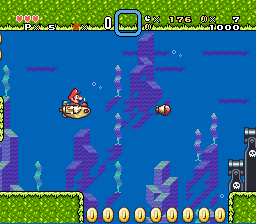 Sorry not very good today. just an inevitable marine pop level i made ages ago. I've changed the palette, and tweaked it so both the pop and the torpedoes move faster (You can also have more torpedoes on screen than before).
Tommorow's screenshot will be the level after Twilight Walkway (Level 1-1, of sorts) and will feature my first ever custom boss!!! ooOOooOOOooh....
--------------------
Daily screenshot:
A couple to show today.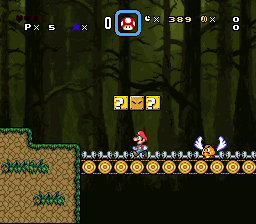 Goomboss bridge! As I said yesterday, the first level to feature an entirely custom boss. I'm not going to show it to you though- not until it's 100% finished. (Right now it's about 50% there).
It features a DKC2 background, a nice custom palette on the ground and 'broken bridge' tiles which actually work as slopes (Which 'm very pleased with.
...How do you get to that pipe, you may ask?
Well, to find out you'll either have to beta test, or wait until I release a demo.
--------------------
Originally posted by Doomdragon

pics & stuff


Reminds me of SM64.
Nice job though.

--------------------
*WARNING: due to cosmic radiation, Quantum fluctuations, or earth going into sector x79352C, the world may end at any moment. Have a nice day.


Current Project:



Status:Complete

Previous project status: Failed/Quit

Current Issue

C++ : fsteam help





I like it. But what makes it different from other Mario games? I think the over use of the princess is captured is kinda boring. Please explain the plot. Besides the plot I think this will turn out very well.

--------------------
Your layout has been removed.
Looks good! But you should fix the status bar palette.
| | |
| --- | --- |
| Pages: 1 2 3 4 … … 13 14 | Thread Closed |
Forum Index - SMW Hacking - Works in Progress - Super Mario bros. Star Quest *New Boss*!