Thanks!

Time to unveil the sub-boss for the castle.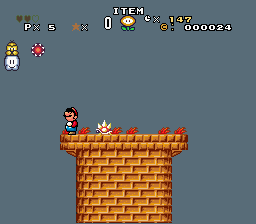 Yup, it's a Lakitu. Avoid the spinies and throw veggies at his face repeatedly to win. (There is a background, it's just too high up to see it).
When you kill him you're teleported into the castle's courtyard for a brief section before the main Boss, Mouser.
Since it's a tiny bit generic, i'm thinking of getting rid of the veggies, and making it so the lakitu occasionally throws out a bomb.
Would that improve it or not?
---