Managed to fetch this post out of the C3 Archive so I could repost it.
---
So apparently we're allowed to show off more than just SMW-related things. In that case, let me introduce you to my Super Metroid hack, "Volta".
SM Volta is my take on the Super Metroid storyline. Instead of being a retelling of the story on Zebes, I thought to myself, "What if Super Metroid took place on a different planet?" And thus the idea for Volta was born. Volta is a retelling of the SM plot on a different planet. This means that all the landscapes are new and different, new graphics entirely have been added and a few ASM changes have been made as well.
I have a thread in the ROM Hacking forum for Volta but it's a bit old. However, I'm not going to bother repeating showing the screens located within it. This is all new stuff that I haven't posted on this site before. (Some pictures are slightly outdated, so things like palettes might be different in some shots)
---
The Landing Site
This outdoor valley between the two mountain interiors is where you begin your search for the Space Pirates and their operations. Time passes as you travel across the planet and eventually, you will be able to watch the sunset from your ship.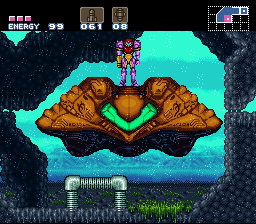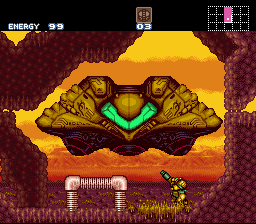 Cyclonia
Cyclonia is the second world you'll visit on Volta. The bright, outdoor lakes provide a beautiful contrast to the dark cave interiors. Here you will find many flying creatures that don't want you invading their caverns.
East Gaia Heights
Accessible later in your exploration, the eastern mountain is the larger of the two mountains in this area. In fact, this mountain is so tall, its peak has its own area covered in snow and ice. (This part not yet built).
Watch out for more advanced Space Pirates. They've been developing beam shielding technology and will only be defeated by certain weaponry.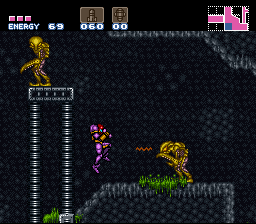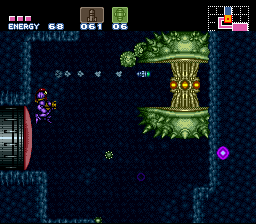 Escape!
You've beaten Mother Brain! But now, the planet is going up in flames! You must escape back to your ship as fast as you can! But watch out, the planet isn't holding up too well! It's coming down around you!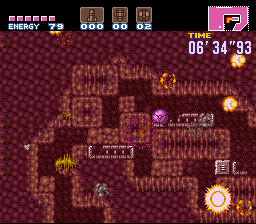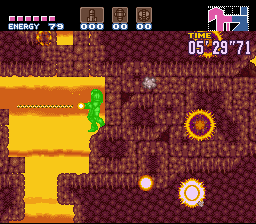 ---
Now for the part that I've been waiting to get to. A
very
long time ago when I was still working on my first attempt at SM hacking, I expressed interest in adding new upgrades. Unfortunately, I didn't know (and still don't) any ASM. So the idea became nothing more than that, an idea, and the thought eventually passed.
About three months ago, maybe more, I was talking with a user on the Metroid hacking channel #jzd when he asked if I had any ASM requests that he could make. He was feeling rusty with his ASM skills and wanted a few projects to build up with abilities once more. The first thing that came to my mind was the item that I'd wanted to add in. Finally, my idea was becoming a reality!
So, about a month and a half ago, I received my item from this person. I patched it with xkas and tested it out. Perfect. Beautiful. It was just like I'd imagined it to be and the item translated perfectly into 2D. I was very happy and since then I've been building Volta with it in mind.
Now, you're probably wondering what item I'm blabbering on and on about. Well, I'll show you. I'd like to proudly present:
Boost Ball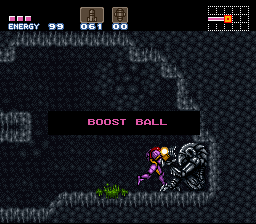 Yes, the Boost Ball from the Prime series is now in 2D and it works great. I'll explain how you use it and how I've made it a required item.
Say you come across a bunch of crumbling blocks while in morph ball: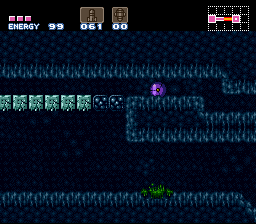 There's no way to cross all of them since you can't build up enough speed to do so. This is where the Boost Ball comes into play.
By holding down the Dash button while in Morph Ball, you will start to glow:
When you're at full charge, you release the button and the boost ball will jettison you across the row of crumbling blocks:
Simple, yet effective.
I'm very happy to have this item in my hack. If you're interested in it for yourself, and to see what it can do, the item has been released for public usage over at Metroid2002's forums:
http://forum.metroid2002.com/index.php/topic,7639.0.html
---
So, hopefully I've piqued some people's interests in what I've been up to since I quit SMW Hacking. I have no timeline or anything for Volta so don't bother asking when i plan to release it. It'll be done when it's done. It's shaping up to be a great hack from the comments I've been getting and I can't wait to finish it to share with everyone.