Hello
, and welcome! Here is your chance to give the SMW Central
your own personal "touch"
:
The
post menu
that I have been working on is almost done!
And so, it needs to LOOK GOOD!
Your task:
Make a design for the menu. You only need to make a mockup (simply an image without the actual functions) of how you think it should look and post it in here!
Basic guidelines:
The menu must fit the site

The text on the menu must be easily readable

The menu shall not be too "flashy"</ul>
About the contest:
The contest runs until I decide that enough submissions have been posted.
When we stop accepting submissions, the staff team will judge your submitted graphics in the staff forum, and the result will be revealed when we agree.
You can post as many designs as you want.

About this thread:
This thread is only for questions directed TO ME about the contest and, of course, the actual submission. You may also state that you are participating in the contest.
YOU ARE NOT SUPPOSED TO DISCUSS ANYTHING (INCLUDING ALREADY SUBMITTED DESIGN IDEAS) IN THIS THREAD!!!
Failure to follow this will get you banned temporarely. No, it's not fair, I know.

HAPPY DESIGNING!
Unexpected end tag (</ul>) at 579, expected </li>
Tag (li) was not closed.
Tag (li) was not closed.
Tag (li) was not closed.
Tag (ul) was not closed.
whipped this up in 5-10 minuites, based on what was on that link:



I hope it looks good...
Opening tags
.
Closing tags
.
You did say "it had to fit the site". So I used SMW icons.
The grey, round spot opens URL tags and the yellow spot closes it.
The small leaf opens IMG tags and the bigger one, closes it.
The Mario icon brings up a smiley.
So, what do you think?

(I thikn I messed up in the B for bold. D

Not pressed Buttons
and
Pressed Buttons
.
Also, Boom, could I make one for each scheme?
Sure.

Also, you don't need to follow the prototype when it comes to amount/size of buttons. Just make it like you want it to be.
I worked on this for a few minutes before class started. Basically, I gave the text related buttons (
I
,
S
, etc.) a split and color change effect. For the URL button, I was lazy so I mirrored the colors. And the smilies button has a picture of a smilie. No big deal there.
And this is what they look like when you hold your left mouse button over each one of them.
I hope it looks okay.
--------------------
CP_foothills has been canned. Therefore, this space is once again blank.
Here's Mine... I always liked Verticle Toolbars

(Are Verticle Ones allowed to be submitted??? If not I'll Change it)
Well The Blue one is the Standard thing you'll see...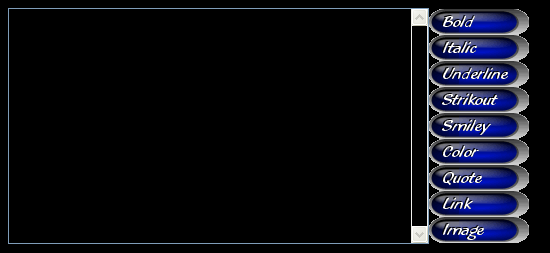 And when you click on it it'll turn to Red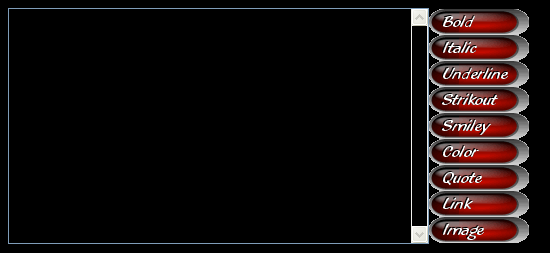 I personally Really Like these... It gives off a kind of.. High Tech /Virtual Vibe :3
Originally posted by Boom.dk -- Basic Guilines
The menu must fit the site
Can you elaborate on this a little?
It must fit the site, as in somewhat blend in with the design/color scheme.
Originally posted by Remnic The Hedgehog
*blah*
*blah*
*blah*
You level of fail increases exponentially.
One question: Will the smiley button put a smiley like this?:

Or this?:
Update of mine coming soon!
That depends on whether I will be adding smiley support or not.
Well heres my toolbar v.2:


If you're adding smiley support, the smileys in the drop-box could be the actual picture, and if you're not, well, there's the ones in the pic.
http://i195.photobucket.com/albums/z5/redchaos87/entry1.png
I think it goes along well with the "SMW hacking" theme.
FYI,
Rainbow Star = Text Color
Pipe = Link
Lakitu = Image
Mario Head = Smiley
Message Box = Quote
Green Poison Mushroom = Code
I hope you like it.
Originally posted by Onyx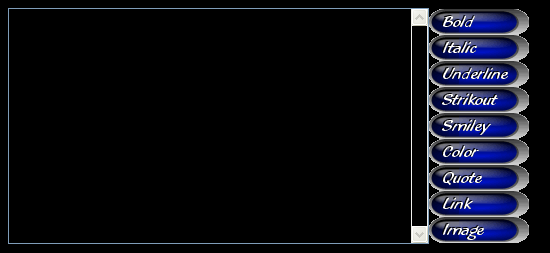 Question

ont you think that skin is PWNAGE!!?!?
--------------------
Your layout has been removed.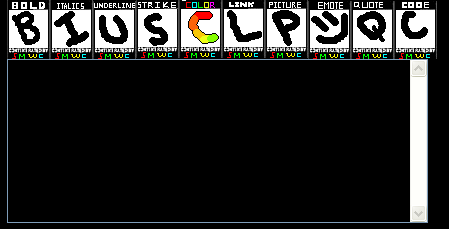 Dunno if that'd be considered "Too Flashy" or not.
Edit: Dammit, just noticed there are two white pixels where they aren't suppossed to be. >_<
Originally posted by manaphy87
Actually, I must say that this one is, while not the most creative one, a rather neat idea. Some buttons' meanings are too hard to guess, though.
Theoretically, yes.
I've seen a few here and only one of them was mario related (surprisingly), anyway, I've got one:
I know it looks kinda cheap but I didn't actually spend much time on it.
BTW: the fourth button from the right has an SNES logo on it.
Forum Index - Important - Announcements - Post Menu Design Contest!