It's finally done!
A Plumber For All Seasons
is a hack I've worked on for a long time. The premise is that
each world represents a different season
— there's a Spring world, a Summer world, a Fall world, and a Winter world. (And some more!) What might set it apart from other hacks is that I made a lot of resources myself - all the graphics, a bit of ASM, and even some music here and there.
A Plumber For All Seasons
features:
37 levels with 41 exits
almost entirely custom graphics, all of them hand-made
a focus on interesting, season-themed scenery and fun levels
an original soundtrack by some of SMWC's finest musicians
rewards and easter eggs for completionists
DOWNLOAD
(newest version: 2021-07-05)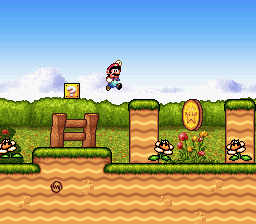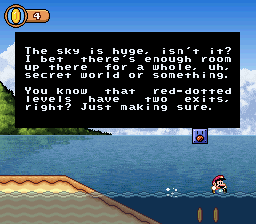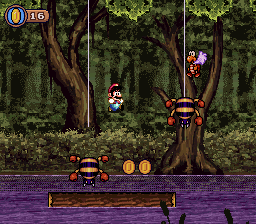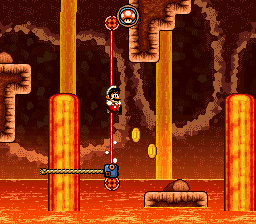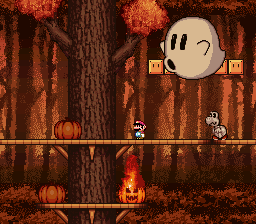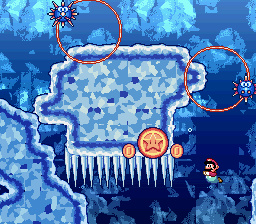 ---
It feels very weird to finally be releasing this hack after what feels like ages. No matter how often I say "it's finished", it still hasn't really registered.
If you'll humor me for a bit, there are some thoughts and feelings I'd like to put into words along with the release.
A Plumber For All Seasons
dates back to at least 2012, starting as a "small side hack" to accompany my then-current one, with the thought process not more than "what if I made a hack based around the four seasons"? As I imagined how it would play out, I took inspiration from games like Donkey Kong Country Returns, as well as the scenery around my childhood home. (The name is in reference to
A Dog For All Seasons
, a simple but very charming flash game I played in the mid-2000s.) The side hack quickly grew in scope and became more fun to work on than my main hack, which I soon abandoned, and evolved into an ambitious, large-scale hack full of impressive special effects and the need to outdo myself with each new level's scenery.
When I say "this hack took more than nine years to make", that shouldn't be taken as too impressive. I took several multiple-month breaks over the course of those nine years, and even when I did work on it I did so very slowly, not devoting all my free time to it and procrastinating a lot. By 2015, when I first published info about the hack, I only had four levels done! Making my progress public and setting somewhat of a goal to work towards really did help pick up the pace, though of course it did end up taking another six years.
A Plumber For All Seasons
has accompanied me for almost my entire adult life. From starting my first job and attending university on the side, to quitting the job a few years later, to moving away from home and going to another university full-time, always there in the background was the idea of working on this one project. I didn't work on it non-stop, of course, but still it was a constant in my life. For the past decade I would regularly come back to thinking of gimmicks, sketching out level ideas, coming up with level names, going on nature walks and taking photos to work into backgrounds, and seeking out pictures on the internet for inspiration. Some level ideas I carried around in my mind for several years until I got around to making them a reality - one level, for instance, involved taking dozens of photos, and inspecting every tree I walked past if it was suitable base from which to draw the level's graphics. For all of this to no longer be necessary, for it all to be ticked off the todo list, feels very weird. It's a happy moment for sure, but it's also the end of a personal era, and as silly as it sounds, a bit of a life-changer - now is my first time ever as an adult that I don't have a work-in-progress hack to constantly think back to.
Over time it became clear what timeframe would be realistic to finish this hack, and last year I set myself a deadline of the Summer 2021 C3. It ended up being really close, but I'm very happy I managed it. The past few weeks, even though I had lots more going on in my life, were dedicated to getting the finishing touches ready.
It's also become clear that it's high time for
A Plumber For All Seasons
to finally be finished. While it's always been fun working on it, at the end it felt like something I shouldn't be working on
still
. It felt like something I should have wrapped up around 2015 or so, and I think if I had known back then how long it would still take, I might hav given up. These past few years it's become less and less justifiable to have this hack on my todo list - which is why, although it's been fun, I'm glad to have gotten this project over with.
The past few weeks especially were turbulent - I've had more going on in real life than I'd had in a while (mostly uni work), but I was still determined to wrap things up. It's a very inopportune time to be releasing this hack, in that sense. Even now I'm in a bit of rush to get this typed up, as the past few days including this weekend are pretty tightly scheduled. I would have loved to have a bit more leisure time right now to fully enjoy the release and let things sink in, but here we are. Doesn't make any sense to wait much longer.
The time is definitely ripe for a release. The first level, even though it received some overhaul recently, is nine years old now - I think if I'd taken any more time on this, I would have been so dissatisfied with the early game that I'd have felt the need to start all over.
Nevertheless, quitting was never a serious consideration. I've always said I would finish his hack, come what may. All the hacks that came and went unfinished over the past decade have made me want to persevere, and to all the hacks still in the works after several years I wish the best of luck.
---
What am I going to do, as a maker of SMW stuff, after this? I'm not going to quit hacking immediately, and I'll be staying around on the site for the foreseeable future, but I do feel like my hacking "career" is slowly coming to a close. As I said earlier, as far as scenery goes, I've thoroughly explored the medium of SMW hacks, and I've achieved about all I wanted to achieve. There are a couple more loose ends I'd like to tidy up, hacking-wise, but then I think I'll be content moving on from the hobby and looking for new challenges.
---
I can't let the sentimentalities end without a heartfelt thank you to all the people who have so very kindly helped me out with advice, music, programming and test reports in this final phase. I can honestly say I
could not
have released this hack in any reasonable timeframe without them.
Thanks to
Blind Devil
,
Dippy
,
Exodust
,
Giftshaven
,
HaruMKT
,
imamelia
,
Kevin
,
Maxodex
,
Moose
,
RednGreen
,
S.N.N.
and
Torchkas
for generously offering their time and talent to make an original soundtrack. Not all of their work ended up in the hack due to time constraints, but I'm very grateful for the effort they put in, the wonderful music they composed, and the patience to even arrange some of my own amateur compositions.
Thanks to
Anorakun
,
K.T.B.
,
Kevin
again,
Ladida
,
Lightvayne
,
RPG Hacker
and
ShUriK KiD
for beta testing the hack and hunting for bugs on multiple emulators on rather short notice. Without their test reports, this hack would be a lot buggier and less polished than it is.
Thanks to
edit1754
for creating
ScrollBars
, an amazing parallax-generating tool that went shamefully unnoticed at the time of its release, which I might have been the only one to ever use, and without which the special effects wouldn't be looking half as special.
Thanks to
Alcaro
,
Ladida
again,
Telinc1
,
TheBiob
and
Thomas
, representative of the countless people at SMWC who helped me with various various ASM questions along the way. Extra special thanks to
lx5
, who went out of his way to write code especially for this project.
I honestly cannot thank you all enough.

You didn't have to do this, and yet you did.
And of course, thanks to all the people in the community who expressed their liking of
A Plumber For All Seasons
and kept me motivated to work on it!
---
If you read through all of this, thanks for enduring my jabber.

It still feels surreal to be making this thread, but it's also really satisfying.
---
Hope you enjoy playing it!

---