Would like a 64x64 version of the pre-existing bully sprite.
https://www.smwcentral.net/?p=section&a=details&id=16127
Optionally with special features, specified below. I believe that these features could really diversify the Bully sprite, and be a fun sprite to interact with.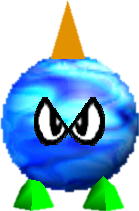 The proposed design of this sprite would be much like the Chill Bully from SM64, with the trademarked single horn. I suck at graphic making, so I opened this up for graphics as well, though I am willing to mark this as complete if just the ASM by itself has been completed, so that this thread won't be indefinitely left as open.
While Chill Bully is no bigger than the large variant of the standard Bully in SM64, the next proposed height difference would be 64x64, as both 16x16 and 32x32 sizes already exist thanks to the existing Bully sprite.
The additional behavior ideas below are intended to be treated as separate proposals per each number, though could be included with each other.
Constructive criticism to this idea, including the possibility of it and limitations to the game itself are welcomed! If it is allowed to provide a reward for those that complete this request, I will provide one.
It is my first time brainstorming a sprite idea, as well as posting in this forum section. Please let me know if I broke a rule, so that I can fix anything I've done wrong. Apologies for writing things in an unnecessarily complex manner, as well. It's a habit.