This topic is here to showcase my previous games made with Gamemaker, and post progress on the game I'm currently working on. I didn't post a topic about every game I made, so I will keep them all here.
Here are the download links for the games. They are chronological order.
Here is a playlist I complied of LP's and other stuf pertaining to my game.
MAZE GAME
This is my first game ever with Gamemaker, with six worlds and three levels per world, totaling to 18 levels. The first version was finished during early October of 2006 (This game is over two years old). Levels have been added and "repaired" over a lot of time, until a version 2 was made. Of course it's nowhere near perfect, but it was a good start for someone who has never used Gamemaker before. And yes, these graphics were by hand with MSPaint. There is a help file that can be accessed by pressing F1 in-game. The game is glitchy; you can stick to walls.
Also, in the first level in the second world (Level 4), whenever you lose in it or enter in it, an error message pops up. Just click Ignore and continue normally.
I was an idiot and I never bothered fixing it. I can't fix it now, because I don't have the .gmk availible for it.
MAZE GAME II</b>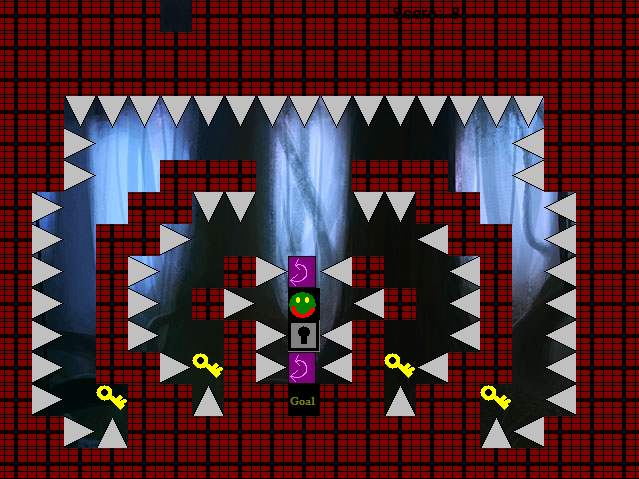 Visit this link for more information about this game.

This is my third game, which was started after a long haitus of game making. I started it in early-mid May 2008, and it's a huge improvement over the original Maze Game, in terms of graphics, mechanics and designs. With 20 worlds, 60 levels, 4 bosses, a 2P mode, many power-ups and obstacles, a sound test, and a boss rush mode, this is a huge leap forward from its prequel.

PLATFORM ESCAPADES</b>




Visit this link for more information about this game.

My third game, started during mid-july. The supposed sequel to Maze Game II, Platform Escapades takes the series to a new level, with jumping over obstacles and gravity based puzzles as opposed to simple mazes. Like the Maze Game II, Platform Escapades has 20 worlds and 60 levels, and the 4 bosses from the preceding game are back with a new look and eviler than ever. In addition to the normal mode, there is a boss rush, and 20 bonus levels unlockable via passwords (Some passwords can be found in game, and some are found during events).

GREEN GAMES</b>




My most recent finished game. The purpose of it was for me to learn about many commands in Gamemaker that I haven't used before. This is a warioware-esque game where you have to complete a minigame in under 5 seconds, then you go to another one. There are 40 microgames to go through, and they appear in a random order. For more details, please press F1 in-game.

RAMBI'S ADVENTURE</b>

This is my latest game, and by far my most advanced one. This uses animated sprites and is a side-scrolling platformer. You control Rambi, who is trying to rescue Donkey Kong after K. Rool has seized him, and is using DK to make clones to serve K. Rool. I will make continuous posts here about progress on the project. Now for some screens, captions are below the pictures:




Here is a screenshot of the first level. I'm going to keep the FG graphics, so please don't make your post something like "The fg sucks," or anything like that. I'd rather you criticize other aspects of the game. Anyway, each level has several rooms, so if you die, you reappear in the beginning of the room you are in.




Yes, you can actually ride Funky's barrel plane. You use it to avoid bees and koptors, ram into other enemies, trying not to crash, and even in one of the boss battles, while going at a high speed. You control it by moving it up and down. It always moves to the right at a high speed, and it can't stop until it passes a no-barrelplane sign. However, if you hold left, you can slow down the plane, making it easier to navigate.




Here is the first boss, which is Cranky Kong. Cranky wants his peace and quiet, that he has obtained when K.Rool kidnapped Donkey Kong, and will stop Rambi so he can enjoy it. This may look like an easy fight, but it's a little tricky.

CHOMPY'S MAZE

Chompy's Maze is a non-grid aligned maze game with improved graphics and scrolling levels.

CONTROLS:

Arrow Keys - Move
Mouse - Clicking overworld buttons and title screen buttons
M - Mute all sounds
N - Unmute all sounds




MICROSUICIDE

Half shameless ripoff, half innovative game, you get to kill your self 90 times! What are you waiting for, play this shit already!


Unexpected end tag (</b>) at 2349, expected </u>
Unexpected end tag (</b>) at 2985, expected </u>
Unexpected end tag (</b>) at 3727, expected </u>
Unexpected end tag (</b>) at 4175, expected </u>
Tag (b) was not closed.
Tag (b) was not closed.
Tag (b) was not closed.
Tag (b) was not closed.