Hey guys, Hir

o

-s

o

fT here!

While I am pretty much a forgettable guy on SMWC (not sure if I did anything big on here but I think not), I am known in the Kaizo SMW community as the "
Invictus titlelogo designer
,
GPW2 potrait creator
and long level - guy" that can draw (apparently good) graphics. In terms of hacking SMW myself, I helped with contributions on several rather more unknown hacks (such as
Super Bui Bui World
, which
for reasons
I can't link to here, best look it up yourself on YouTube) and having started tons of solo hacks but finished none of them.
But enough of Mario and me...!
Did you know that Warios greatest achievement, Wario Land 4, has gotten a level editor?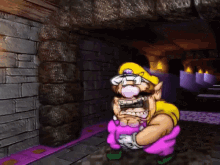 I decided to give it a shot and created this,
single
,
very long
,
traditional styled stage
with it (with
all 3 difficulties
being playable). Just to get my feet wet with it and try it out.
Its name is "
Wario Land 4 - Burning Nightmares
".
The hack features some of the possibilities of the editor, as well as other 3rd party stuff that is made possible with Wario Land 4 modding.
This includes
level design
, stage and enemy
graphics
,
custom music
and more.
List of Features
Originally posted by Hiro-sofT
* Play a brand new, massively huge level for Wario Land 4, created and made possible with the new Wario Land 4 Editor! This ROM Hack showcases, what is so far possible in the world of Wario Land 4 romhacking! This level took several months to be crafted and polished in the state it is in now!
* Flex your muscles through 3 different difficulties (Normal, Hard and S-Hard), as you try to find all the treasures! Activate those Wario Land senses and start exploring!
* Make use of Fire Wario, Bat Wario and Zombie Wario as you try to find a way to leave his nightmares!
* The frog switch returns! It's much nastier this time around, as there will be no grace period, once the timer runs out! No more time left? Time's up! Back to square zero you go!
* 4 Puzzle pieces, one CD, a silly ghost key and 10 diamonds wait for you to be discovered!
* Lots of surprises and fan service, from music, to set pieces resembling various Wario or "Wario related" titles! Some more obscure, others pretty well known!
* Vanilla game experience recommended!
Here are some pictures:
Watch a short trailer on my twitter here
(sorry tried to find a better solution but also am lazy so idk...)
:
[Watch teaser on Twitter]
The download is ready for you on here:
[Download on Romhacking.net]
What does this mean for the future of Wario Land 4 hacking?

It's still young and there are still things that the devs are working on to make sure we can make all the great Wario Land 4 hacks we want. Despite it being fairly young, the editor itself shows a lot of promise and is one of the better editors that I had the pleasure working with.
It doesn't beat Lunar Magic of course
, but which editor will ever do that? It's very close to it though and take my word for it, making the hack was very enjoyable and a much easier process thanks to this already powerful tool.
If I sparked your interest for Wario Land 4 hacking, you can find the editor here:
[Get it from GitHub]
The Link leads to a github with all the releases, as well as a WL4E discord, where people can find tutorials, share their work as well as follow the progress of the editor and any future and beta versions.
Just recently we got the ability for custom backgrounds. Here is a sneak peek what you can do with it (drew the buildings myself, edited the clouds from a vanilla bg into it):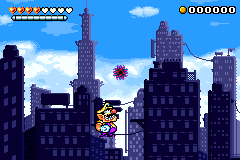 What do you guys think of Wario Land 4 hacks? Is that a future you would look forward to? Are you interested? Let me know what you guys think.

Quick FAQ

Q:
Why hack Wario Land 4?
A:
Wario Land 4 is a surprisingly good GBA game that also aged super well into our current time. Often considered the best out of the franchise, it features tight controls with problem solving stage design, puzzle challenges and faster platforming than its prequels, as well as scratching the itch for treasure hunting just like every good ol Wario Land does. Compared to Mario, Wario is deeper in its core gameplay, with the original Wario Land 4 featuring levels all of which stand out on their own. While the original game was fantastic, it would be cool to see what else is possible of the realm of Wario and to see people craft new experiences for us to explore.
I also love the idea to expand the horizon of games that can be modded… while SMW hacking probably stays as the king of hackable games, I would love to see some other games get some love.
Q:
Will you make more Wario Land 4 stuff?
A:
Probably! As sad as it is, I am pretty burned out from SMW hacking (
has several reasons, which I will not talk about here
) and I feel my style of level design is more fitting into the stage design of these games rather than Mario.
Q:
Why do you spent 50% of this thread to talk about the editor that you didn't make?
A:
I think the work they have done is amazing and this wonderful tool deserves more publicity. Things like this sadly often go under the radar and its sad to see something as promising as this being discontinued or dropped, if nobody even knew about it.
Q:
What about overworld, title screen, …?
A:
The dev is working hard on this to make this the best editor there can be. Some of these things are harder to make work right/editable. Slowly but surely we will get there…
Q:
How can we help/support this?
A:
One way to motivate each other is to make stuff and work with the editor. Showing that we care and that we are interested in working with the tool shows the devs that the editor is something worth working for, thus they will work on more features, if the demand is there for it. I think I don't need to say that it doesn't make sense working on something that nobody is interested in or ever using.
Q:
Your hack didn't convince me really, is there more out there that I can play?
A:
If my hack is not doing the editor justice, take a peek into
beco's
Wario Land 4 hack "
Wario Land 4: Parallel World
", which you can get here
[Download on Romhacking.net]
. It is basically a complete romhack more in the style of a 2nd quest of the original Wario Land 4, with new level layouts, some impressive asm magic, new music and much more. It was also created with the Wario Land 4 Editor and is super polished and worth a play. You will not be disappointed by this one. There is also the Wario Land 4 Hack Vault, which serves as our current "Wario Land 4 romhack database"
[Visit the Wario Land 4 Hack Vault]
.
Q:
Can I make Kaizo with it?
A:
Depends on what your definition of "Kaizo Wario Land 4" is, but let me say this, the dev
ssp
is interested in making Kaizo work in this game and already has made patches like a quick respawn. It's all still very young and rough around the edges but slowly but surely, we get there eventually... Kaizo Mario World also wasn't released right after Lunar Magic's release back then.
Q:
I have a question about the editor. Can I ask you about it?
A:
Sure! Feel free to ask!

Q:
Can I request something from you? I want...
A:
No. This is not a request thread.

Not sure what I did is suited for C3 or not so I hope I did everything correctly (if not, feel free to boot this thread right out the door).