Almost 2 years ago, we began the transition to a new era of SMW Central with the announcement of the Open Beta stage of SMWC2. Earlier this year, SMWC2 entered its Public Beta stage. Last week, we performed a server upgrade to prepare for the release of SMWC2.
These three events were a build-up to the culmination of 3 years of development and a decade of design.
SMWC2 will release later this week on Friday, November 25.
Once again, a recap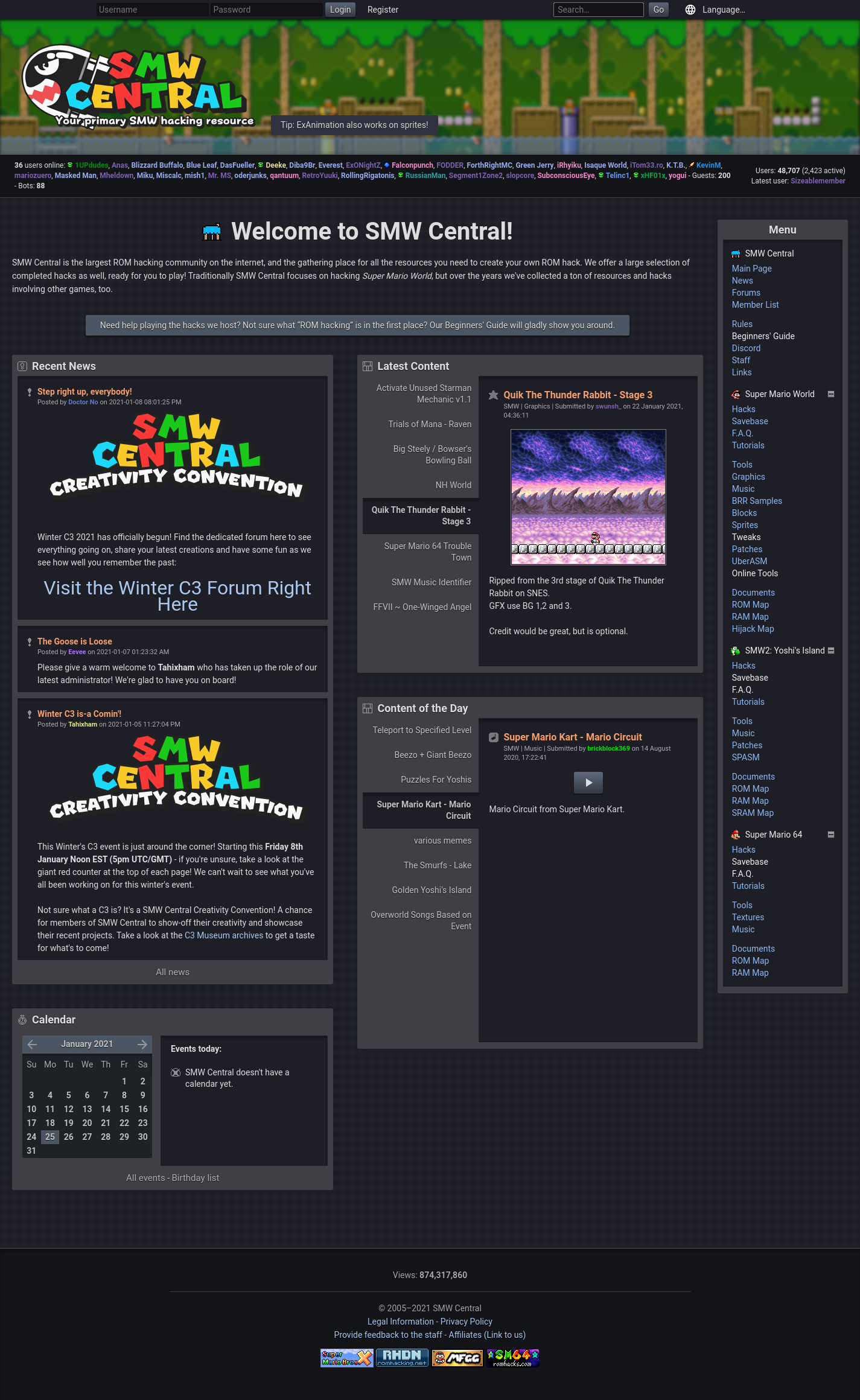 SMWC2
is a complete overhaul of SMW Central's codebase. This means that you get
new features
and a
modern redesign
that remains
faithful to the classic look
of SMW Central.
If you're still uncertain, you can look at the
interactive demos
of the
Main Page
and the
Forum Index
.
What will change?
If you're already part of the SMWC2 beta
, nothing much! With the release of SMWC2, all pages that are still using the legacy theme will be upgraded to SMWC2 designs.
If you're using the legacy theme
, you'll be switched over to the SMWC2 theme. You might have seen it already - most of our newer pages, such as the Tweaks and Online Tools sections, are part of SMWC2 and have always used the new design.
And,
if you've recently joined our community
, you're likely using SMWC2 already! For a few months now, SMWC2 has been the default theme for newly registered users.
What about the legacy theme?
SMWC2 also marks the end of the legacy theme. After the release, the legacy design, along with all of its schemes, will become inaccessible. This has been the plan from the very beginning and I hope that we've managed to communicate it clear enough in the previous announcements.
This wasn't an easy decision to make and unfortunately, there are technical reasons why it isn't possible to keep the old schemes accessible. Internally, SMWC2 is separate from the legacy themes. This has made it far easier to develop new features and to ensure they work smoothly. However, due to this split, keeping the legacy themes would, effectively, require maintaining two websites at once, which is something we don't have the resources to do. Thus, we ultimately decided that it's better to retire the legacy themes entirely rather than hindering SMW Central's progress, or worse, keeping around a semi-functional and unmaintained design.
During the beta phases, we have seem overwhelming support for SMWC2. As such, we hope that you'll understand this decision and enjoy using SMWC2 as much as we've enjoyed designing it and building it.
Finally - don't forget! The "2006 Nostalgia" scheme will always be available if you prefer the aesthetic of the old design. Also, schemes for SMWC2
are open-source on GitHub
, so anyone can help out by making or improving an SMWC2 scheme.
One more thing...
With the release of SMWC2, you'll also get a new toy to play with - a massively improved file bin!
Its new capabilities include renaming files, uploading unlisted files, and organizing files into folders. I won't spoil it all, but... did anyone say random avatars? Find out soon!
---
See you on Friday!