----------------
Just a note: this is not my first hack I have many other failed projects and I have a few that might be up to SMWC standards (others aren't and have floating munchers or other problems)
The story (It's only the first little bit of it since thats all I have at the moment)
One after noon while mario was out for a walk, he stumbles on a secret tunnel going into the ground, one that he has never seen before. Mario decides not to go alone, so he goes home to ask Luigi if he wants to come with him into the tunnel and Luigi quickly agrees.
Meanwhile, Yoshi overhears the two brothers talking and decides he wants to follow them. He decides to get a head start, so he goes to the tunnel and wanders inside, unforunately he gets caught in a trap.
Will Yoshi get freed, or will Mario and Luigi ever find out, and what lies within this secret tunnel, continue on and find out.
SCREENSHOTS
The first level, The Secret Tunnel Part 1, a very short level with custom ladder graphics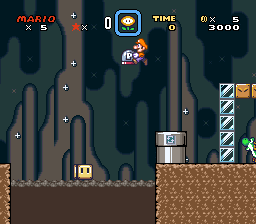 We find Yoshi trapped in this level (Secret Tunnel Part 2) so you must get him untrapped. It's a fairly easy puzzle level but there are many reset pipes located in the level incase you mess up.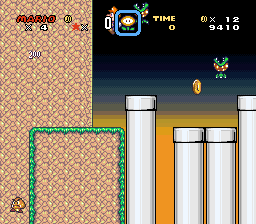 This is sunset plains, a nice easy level that is somewhat linear but does have a few alternate routes here and there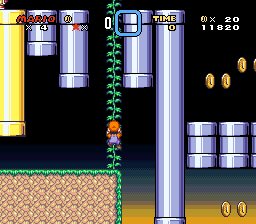 More of sunset plains. Oh I also forgot it contains Fake HDMA. I could never get the real HDMA thing to work so I choose the next best thing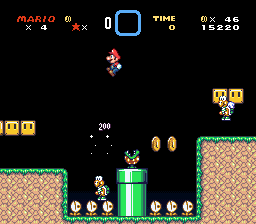 Last picture of Sunset Plains. The background is somewhat darker don't you think, you may be able to guess why.
The Foggy Hills, be careful the fog can make things that much more dangerous, although I'm sure Mario and Luigi can handle it.
Watch out for the falling goomba and many other things in this little area (although this is the only time you have to worry about the little guy landing on your head from far above)
Finally out of the fog, finish line is up ahead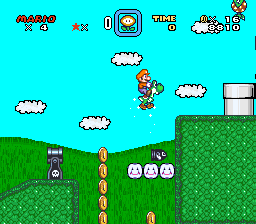 After the Foggy Hills the path splits with two ways to castle 1, the first route will take you here to Yoshi's Flatlands which has a custom background completely drawn by myself)
Another screen shot of Yoshi's Flatlands. This level is very unlinear with three ways to get to the exit.
And finally we have this one, this is the other route to castle #1. Welcome to Midnight High, a nice vertical puzzle level, and don't worry all my puzzle levels come with extra cheese and reset pipes
Also note, a lot of the levels have the same ground color which will be changed when I get around to it
CURRENT KNOWN GAME FEATURES
>Some custom graphics and SMW Redrawn graphics
>Unique Bosses
>No time limits (Time Fix Patch has been used)
>Power Down patch and Fade Fix Patch are both used
>More to come...
I'm done now, comments, questions, concerns, post them here. Anyone wanting to be a beta tester feel free to post although I don't need any for about a week. An expect a demo at the C3, enjoy!
----------------
Red Tales: [Insert Subtitle here]
:
Hack is being worked on (actually being worked on), demo next c3 (summer 2022) hopefully
Levels Complete: 5/50+