Yes, that's right! I've actually completed a hack! It's only one world long, but I proudly present to you:
EVERY LEVEL IGGY!
Starring Mario
Now, you may be wondering, why do I call this hack EVERY LEVEL IGGY!? Simple, really.
Because every level ends with Iggy Koopa! This hack was made for one purpose: To spite DarthRiko, because he tends to complain about Iggy Koopa being the first boss in most SMW hacks. That's right, Riko, this hack is for you! However, I wasn't pleased with the idea of just making every level lead to Iggy Koopa, so I instead made actual levels for the hack! I left them semi-incomplete. I say SEMI-incomplete because the levels should all feel like they're full-length, but I purposefully held back a few of my ending ideas. Because of the nature of this hack, I do not call it a joke hack. Rather, it is a
Serious-Joke Hack
, which I put a good bit of time into making the best I could.

Let's get right to the good stuff, shall we?
Story:
Oh boy... Iggy
Koopa got into the
Chemistry set
again! He's made 6
clones of himself
and taken over an
island! Mario,
please stop him!
(Taken directly from the hack.)
There are a total of 7 levels in this hack, one of which is hidden, though it's a bit easy to get that secret exit due to how I set it up... But eh, who really cares? The hack isn't supposed to be difficult, just fun.

So, with that, let's get to some pics, shall we?

Welcome to Iggy's Island! It used to be a base for some notorious pirates (No, I am NOT making ANY sort of One Piece reference here.), but Iggy forced them out. BAD IGGY!
Mario hides from a Lakitu while plotting its demise in
Iggy's Plains
.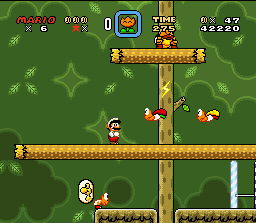 Mario gets attacked by some Super Koopas in
Iggy's Forest
!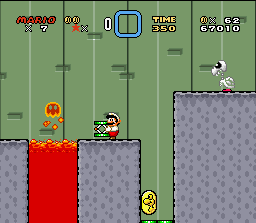 Mario stares at the Podoboo jumping from the lava when he should be staring at the Yoshi Coin down there! This all happened in
Iggy's Ruins
.
Mario climbs a tall shaft with doors within
Iggy's Haunt
! Say, what's behind one of the doors...?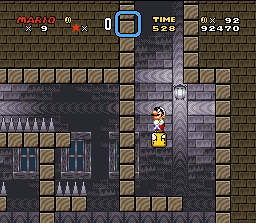 Ooohhh.... What's up there? Oh yeah, that's right-
the ceiling
. XD
Mario finds himself going for a swim in
Iggy's Tower
. Hmm, what's that message box say..?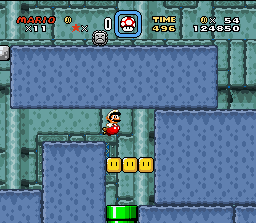 Oh no! Mario can't break those when underwater! Hmm...maybe it's an exit?
Hey! What's this do?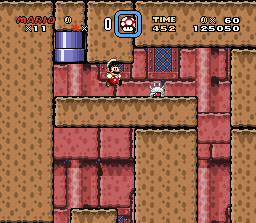 !! What happened to all the water?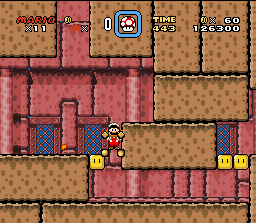 This is the puzzle of Iggy's Tower. You must go back and forth through pipes to switch between a wet and dry setting. There are places you can only reach when the area is flooded, and there are places you can only get to when it's drained. Switch!
Just beware the pits! They're empty and bottomless when flooded, but when the level is drained, the pits get filled with lava! And some lava pits even come with Podoboos! Oh NO!
A warning! Yellow pipes are only active while in the drained portion of the level, and when entered, shift you to the flooded portion. Blue ones are active while flooded, and send you to drained. Remember this well!
Finally, Mario takes a trek through
Iggy's Cove
in search of the REAL Iggy Koopa, who is hiding in here somewhere...
Deep within the water caves, Mario finds a predicament. Does he go up? Does he go right? It's up to you to help him decide!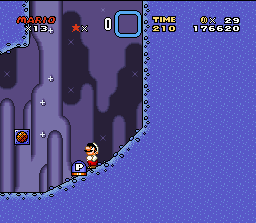 Oh no... A dead-end... That message box over there alerts you to this, and tells you to go back. I mean, there's nothing up there...
...
right?
Well, there you go, guys! Enjoy! Oh oops, I forgot some things...
1: In every level except the secret and last levels, there are exactly 5 Yoshi Coins for you to find! Search well!
2: Some levels get LONGER if you actually try to find all the Yoshi Coins!
3: Iggy's Tower's water puzzle has one little problem in it- The lava may cover up some items in pits! So try not to forget those items! We wouldn't want them to boil, now would we?
4: Having problems with the jumps over the bottomless pit in Iggy's Plains? Why not try
your smallest jump possible?
HINT: It can defeat enemies with a bang!
Before I give out the link, let me say the following:
Thanks to Quizler, Pozeal, and A Yoshi for beta-testing this hack for me!

Their advice was welcomed and used to hopefully make the hack better!
Now, without further ado, the link:
http://www.smwcentral.net/?p=showhack&id=1734
Hack here at SMWC
http://www.mediafire.com/?z4tyjymnte2
Hack hosted at Mediafire, in case it gets deleted here.

Now enjoy, and don't complain about Iggy being in every level.

--------------------
<Adam> I feel like smwc is a prostitute now, because we put up a porn ad for money