Wanted! Someone who can replace...
marios gfx with this spritesheet! pm me for the details... here is the sheet.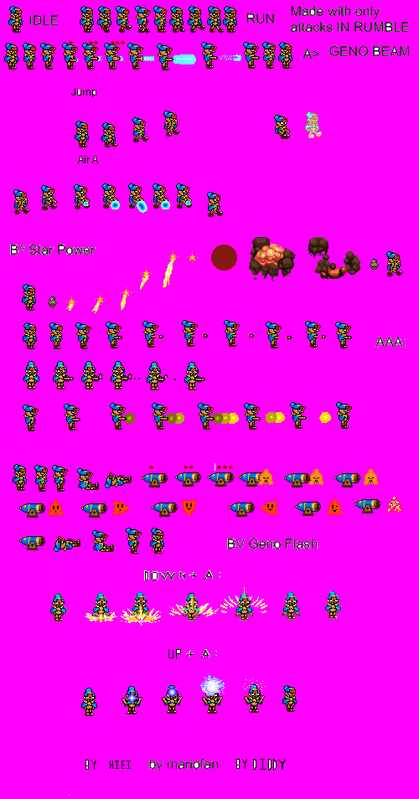 looks hard .
---
F-Mario X News:
C3 Thread Ahead!
By the way, I gaved up hacking SMW. I think I'll come back, but not yet. ~ X-King
Originally posted by Geno_4_Ever
words
Uhh..........please. You have GOT to be kidding me. You excpect someone to do this? Those different abilities will cost a lot of time with ASM, and will be pretty much remaking Mario's moveset (like what Azure did). I can't take requests, anyways, but you should make a picture with ONLY the sprites that you want to use (unless you are going through all that ASM).
I just want to use some gfx from this, not the whole sheet. Ill cut out later.
...

A good idea is making GFX that you can use in the immediate future, not something that would be cool to have. For example, can you use Geno Flash in your game? Geno Beam? If you had any use for this, then we'd do it (even me, I don't do much, and it's doable). But this just seems silly.

Think about what you need, then come back. Remember, this is Super Mario World. If you want Mario to do something he can't already, you'll need ASM for the most part.
All i want at the moment is mario to look like geno. I dont need any special moves yet. I just want someone to rip some poses and put them where they belong in yy over marios poses. I dont really get how to do this, and while someone does this for me, i would design levels and whatnot. Ignore the moves; i just want the basic geno for now.
Then at the very least, give us a sprite sheet that has only what you need. Not only are there sprites missing (spin jump, climbing), there are too many sprites for certain things (running, I'm sure there's only 4). You'll have to make those yourself. Here's a spritesheet you can use to see what you need:
And you'll need to specify a normal pallete (15 colors), and a fire pallete (15 more), if you're using it.
I still need someoen to do this. If anyone agrees, i will edit the spritesheet. Ive already started - spin jumping sprites r done.... any takers?
This is an edited sheet. i still dont kow what else i need. and i tried to do it myself, it was disastrous. Zelda Maniac hasnt pm'ed me back. i still need someone to do it. Credit will definately be given.
:sigh:: bump AGAIN

I still need someone, not in the immediate future, but as soon as possible...
Dammit...I'll make it.