First Overworld Map
Being that this is a "Remix". I am going to feature GFX from SMB1, SMB2, SMB3, and more! Sprites from STARSW.zip were used to make these levels feel more original such as the SMB1Scroll to make the level not scroll backwards.
Some SMB2 Work. (Big thanks to Sonikku for the recent blocks!)
This level has the side warping effects. Also, the block on the left is... yeah you guessed it... the info box.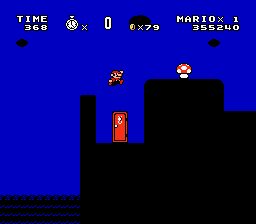 Subspace. I have it set up that the level automatically teleports you back after a few seconds. You have to pick up the mushroom from the top to get it.
Now as far as the status bar goes, there is no reserve box. After many days of thinking, I have decided that it's more original without it. Also, yeah no bonus stars either. I'll have other ways to special bonus games. The clock icon at the top is only used in some levels where the on/off switch goes back and forth automatically. For example, some of the levels in You VS Boo in SMBDX... which had the timer switch block.
Also, being that I'm featuring SMB3, Cape Mario has been replaced with Raccoon Mario. No SMB3 levels have been created yet although I managed to get the screen scrolling pipes finally installed successfully with all the other custom stuff. I only have minor knowledge with ASM. I only know how to do some minor tweaking with existing ASM code, but nothing major.
Thanks to those who have posted feedback so far in the C3 forum. Any further questions? Comments? Feel free to share! More to come soon!

My userbar
---