Now being that there's no way to get bonus stars. So some of you are probably wondering how exits are going to be set up. Well, here's how SMB1's exit will be set up: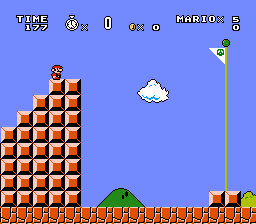 If you notice the time, it went up. That's because where the flag is (which is the standard goal sphere) lies a +100 time block. So what's 100x50? Exactly! The most points you can get from the flagpole. However, there are also some drawbacks. It's either bonus points or nothing meaning if you miss the flag, you only get the original time bonus without the extra 100 added.
Also, I realize that it's not perfect either. There are times, although rare, where you may grab the edge/corner of the flag but you won't get the extra points. Above the flag and below it are exit trigger blocks depending on which exit you found so there's no way to jump over the flagpole. (Like in SMBDX)
As for SMB2? I'm using the SMB3 goal sphere and just used ExAnimation to make it look like the crystal ball that Birdo usually spits out. It drops out of the sky after you defeat Birdo and/or any other lurking enemies.
Also, you may have noticed the locked doors on the OW. If you remember from the first fortress in SMB3, if you got the whistle, the door didn't open even though the castle crumbled. That's because you didn't get the ? sphere from Boom Boom. Therefore, and ? sphere you encounter in any type of mario level, you know that a door will be opening.
@DaisyFan
Thanks. I actually started this a little less than a year ago working on and off mainly importing GFX.
@YoshiFan501
There will be some surprise levels in this game featuring GFX from games not mentioned in this thread.
@Doomdragon
Thanks for the feedback. Are you good with making custom blocks/sprites? I'm pretty excited working on this. I used to work around with SMB1 and SMB3 years ago and now that I have imported everything into SMW I have more editing options since I can now make freeform objects.
--------------------