This is my primary hack that i am currently working on but as i countinue on this hack ill be adding more updates while doing so. some of these are still being worked on as we speak. there will be 8 worlds. and so far my progress is only beginning. i will show the percentage of how much it is completed. This also my very best ( sort of....).
Progress:
OW : 80 % ( only 20% more to go ! )
Levels : 8 % ( im not kidding ! )
Music : 0% ( im not doing that yet im doing that last ! )
6 levels completed.
1 world completed.
1 boss is added.
Custom sprites : YES ! ( im adding more soon )
----------------------------------------
Story:
After the events that happened in dinosaur world. Mario , Luigi And Peach return to the mushroom kingdom and put their selves in deep shock that bowser has returned and he took control of the Mushroom kingdom while mario , luigi and peach was taking a vaction at dinosaur world. Bowser also split apart the whole Mushroom kingdom into tiny islands ! Bowser must be stopped at all cost in order to restore peace to the mushroom kingdom and to return it the way it was before they went to dinosaur world.
(end of story)
----------------------------------------
Screenshots : ( i only got a few for now im srry )
Main title : ( like i said im still working on this hack as we speak.)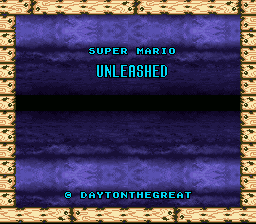 Map of the destroyed mushroom kingdom ( still working on this too !)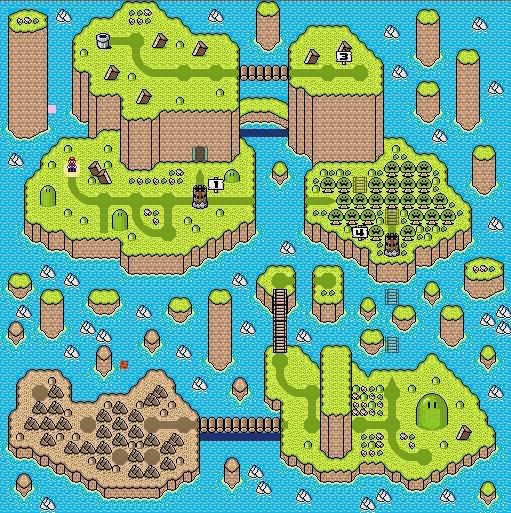 Videos :
Downloads:
Castle FG : http://www.smwcentral.net/?p=showexgfx&id=983
-----------------------------------------
Final words
1. if you got any questions let me know
2. i am giving credits too on the hack itself and on a txt document too. that means the Tools , ExGfx , Music and lots more ! and giving credits to nintendo because they orginally made the game.
3. i will not be making a demo of this but i will make a hard edition of this too !
4. Its also going to be a full hack. ( Im not kidding !)[url=http://www.smwcentral.net/?p=showexgfx&id=983]
--------------------