Removed:
Name
: Super Mario: Hunter's Revenge 3: Hunter's Return!
Length
: 50 Levels
Author
: Metalgearhunter
Reasons:
This hack looks like it has a lot of potential. The effort put into it is quite evident. However, there are numerous glitches and oversights that really hold the game back. For example:
Just opening the game up, one can see that your original tile screen has some major problems. Notice the glitchy fireball that the scoprion spat. Also, with so many sprites onscreen at once, this screen experiences some...
Minor case of cutoffnessman in the right corner. Fortunately that seems to be his only appearance in this hack. Just try to fix that. Also, though barely visible, there are some glitched tiles in the top left corner behind the status bar.
Palette error with this message box in one of the early levels.
Is that supposed to say "Mario Start!"? I wouldn't know. I don't read Glitch-ese. Please fix that for the sake of your english-reading players.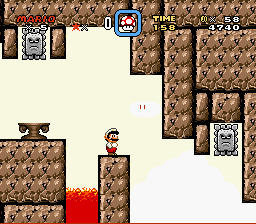 A blind jump onto a thin platform with lava on either side. Please try to avoid blind jumps, as they are pretty unfair, since the player has no way of knowing what to do aside from trial and error. (with the latter usually meaning "death")
Bad fireflower palette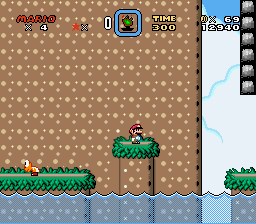 The start of a level, with layer 3 tides
...2 seconds later, with the tides being obliterated by a level message sprite.

Also, Major Slowdon's troops are parading through this level too. Try to fix the lag.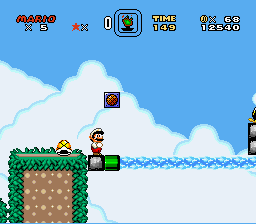 This area includes this blue.....line thing with no explanation on how it works. Mario seems to fall right through it, straight into the pit. A pit that, I might add, would be perfectly harmless if the tide hadn't abandoned me.
In fact, tere was no way past that chasm at all, thus making the normal exit unattainable. However, jumping to the left showed me this: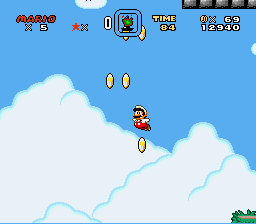 Coins leading upward. I was left to assume there was a P-Switch earlier in the level. However, I swiftly ran out of time trying to backtrack. Restaring the level, I found a little side path that indeed lead to a P-Switch. Along the way, however, I came across this: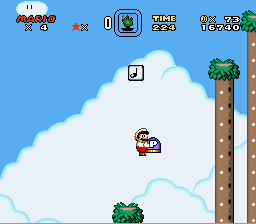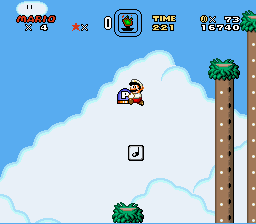 Ooooh! PHANTOM NOTE BLOCKS. Is it Halloween again already? These note blocks vanish while you're touching them, and reappear when you're not anymore.
Anyways, I took the alternate route using the P-Switch, and got directly to a key and keyhole set.
But then, to my dismay, the secret exit took me to here:
EMPTY SPOT
It's a level you cannot enter, with a FF6 style save point on it. In other words, I STILL can't move on this way either. Thus the game is unplayable after, like, the 3rd level.

Try to fix the things I pointed out here. Like I said, tis hack certainly does seem to have potential, but it has some very obvious and even some easily fixable flaws. Tweak the levels, fix the glitches, and you should have a winner next time.