Removed:
Yoshiro demo 1.2
Author:
Waverace123
Reasons:
Okay, this hack was actually not terribly bad. However, there are many minor problems, plus 2 very serous problems, that resulted in its eventual removal. Allow me to explain:
Small typo. Just remove the "e" from "asks"
Suggested change:
"Yoshiro discovers a town, only to find it completely abandoned. Even the sewers are backed up..."
2 things wrong with this picture. First of all, the tile I am standing on is invisible. Secondly, this overworld is very plain nd boring....I'd suggest you spice it up a little. *shrugs*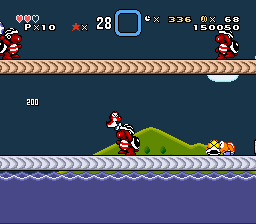 Oh my...this screen is very slow-going. I think it mightbe suffering from a case of...
LAGitek armor
*dodges incoming tomatoes* Okay, okay that was bad one. Still, you can't blame me for trying to be original with my jokes, can you?
Anyway, my point still stands. There are too many sprites on this screen, which causes slowdown. Fix it please. :/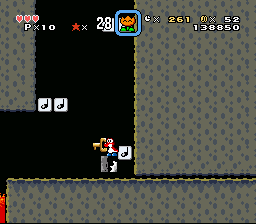 The "castle" tileset interferes with noteblocks like the ones that are placed here. Since the only enemy type in this level is phantos anyway, there's no reason why you shouldn't fix this; there would be no adverse side effects at all.
Ow. My eyes. Ow. Fix please.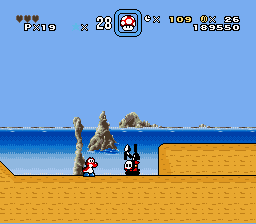 Glitched sprite. Put the poor thing out of its misery, or use plastic surgery (aka fix your ExGX) to make him show up correctly.
Now for the two MAIN reasons this hack was removed: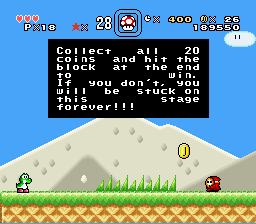 This entire level is quite flawed. There are exactly 20 coins in here, and you are supposed to collect every last one of them, and then hit a block at the end of said level, to win. However, you made quite afew oversights:
1.) As with any other level, your coins still carry over from previous levels. Therefore, if the player started out with more than 20 coins, they can just plow over to the end, ignoring the gimmick.
2.) Furthermore, if the above occurs, but then the player collects their 100th coin in the level, they will be awarded a 1up, and their coin counter will be reset, thus forcing the player to KILL themselves to exit, just because they got a coin 1up. How ironic.

3.) Bringing a fireflower in results in the player being able to get TONS of extra coins from the generous supply of enemies to burn.
Try to do something to fix these. Custom blocks can beused to reset your coin count upon level entry, and be able to remove any fireflowers the player has (although, bear in mind that arbitrarily stripping the player of a powerup will like cause annoyance too)
Autoscroll here sort of "crushed" me against the screen during the victory march, thus killing me.
Please try to fix these things before resubmitting again. Once these problems are ironed out, you should have a fairly good hack on your hands.