I'm denying approval to hackerboo's "Super Mario Bros Reloaded." What he's done here is taken Pac's SMBDX and just changed the text and shifted the overworld around. The overworld has all paths revealed already, so you can just walk to any level you want, and they don't seem to be arranged in any particular order. There's absolutely no reward for beating any level. What's worse, the levels are still exactly the same as the ones in SMBDX. The hack looks and plays fine, but that's only because it's Pac's game. So um, yeah, taking someone else's hack and leaving it exactly as it is except for wrecking the overworld isn't exactly what we're looking for.
Denying approval to mariounite2's "?" on the basis that the patch doesn't work. You get a glitched up Nintendo Presents logo, then the game freezes on a black screen.

Deleting Mario41001's "LUIGIS ADVENTURE" because this patch doesn't work, either. Same story, glitched up logo followed by a crash.

Mario41001's "Luigi's Adventure Updated!" has the same problem as his previous patch, so that one gets deleted, too.

Deleting zuper mario's "Mario & Mt. Everest." Mario dies in the intro, stupidly running into a pit of Munchers right off the bat. If you hit start before this happens, there's no message in the intro level, so you're stuck there forever.
Hey, guess what? Super Mario Bros Luigis Adventure by Mario41001 is getting deleted again; I have to give the poor guy credit though, at least the patch works now. Let's move on, though.
First, the overworld.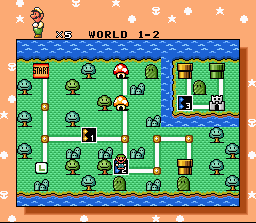 That river is NOT clean cut. For a truly clean cut, you must use Gilette, not whatever inferior shaving cream you used to cut that river.
Next, levels. The first level is a remake of level 1-1 from Lost Levels with a few more enemies. Yawn plz.
The toad house is a but more amusing. There's a big hole in the ground where the background is broken and a miscolored pipe; but down it is yet another remake level, this time D-4. Past that, you encounter this amusing message:
Hammertime, indeed. MC Hammer isn't up ahead, but a whole bunch of hammer bros. are. They're really hard to get through without a fire flower though. And by really hard I mean leik impossibal.
Assuming you get past, clearing the level doesn't make anything happen anyway. Such is life. You can find a cape before HAMMERTIME as well as exiting from the side, which almost makes it worth it in 1-2 -
Oh my god what is that. If you fly up, you can skip most of the level.
1-3 isn't too interesting, you mostly hop from cloud to cloud until you find a yellow POW, then you bring that POW back over those same clouds, and hit a switch to get past some blocks.
1-4 is a rip of the original 1-4, but it get bonus points because I did a really cool trick in this level with the cape I wish I got on camera somehow. Bowser at the end is gone, for some reason, as is the bridge. Eh.
It goes on into world 2, but I went into a toad house (where the Toad told me there are fake ones, thanks a lot), and when I wnet out, the overworld kinda... shifted position on me and I couldn't move. I think the fix for the message appear sprite wasn't applied, or something. So I'm locked and can't move, therefore this hack fails the acid test.
Nuked Ultima Mario World. He obviously save the map16 blocks over page 1 of the map16 page, which destroyed his original FG graphics, or something like that. That's what I'm guessing happened for him to mess up the original FG. The OV event's doesn't activate properly either. and the 2nd level is too slow for whoever reason.
I'm deleting $hadow$'s "Luigi Returned." Apparently, it used an old hack of Ice Man's, "Super Mario's Quest," as a base without permission. (Ice Man's old username is still in end credits) Stealing other people's work is a no-no, even if you use it to create original levels. Yeah, it's nice to have ExGFX all set up for you when you go to create your levels, but you need to get permission first. $hadow$, if you'd like this to be hosted here again, either talk to Ice Man or start over in a clean ROM and rip your own graphics.
Deleted Super Paper Mario World Demo. The intro kills you. It's also one of those youtube hacks...........nuff said.
Removal; Mario desert

Reason; All the yellow burned through my eyes. The level design is boring and glitchy. And I see no point in releasing this if you're not going to work on it anymore......
Removal; Mario's Wacky World

Reason: Title and Intro screen is glitched up.......
Deleted BMann7000's "Super Mario World - Mario 2007." The patch doesn't work properly, so all it does is mess up the checksum and otherwise leave the original game exactly as it was.
A couple of deletions this afternoon:
goldenyoshi8's "super mirror worlds" - This is a ROM.
DarthRiko's "Super Screwed Up World" - To quote the hack descprition:
Originally posted by hack description
dis is teh bestest haxxor eva! tis 1 is eva betta than brutal mario. LOLOL!!!!11!! Lets see u beet tis 1.

Seriously, this is just a stupid hack I made. I don't even expect this to make it past the moderation stage. It is actually a bit difficult to beat, just because you can't see anything.
So yep, it's not making it past the moderation stage. Near as I can tell, this is just the original game with all the graphics screwed up. It
is
really hard to see what you're doing, so I'm not testing it further than the middle of Yoshi's Island 1.
Denied approval to internoob's "Super Mario's Great Adventure." The patch didn't do anything. Do you people bother to test these things?
Denying approval to Rstar's "Super Mario Country Demo 1" because it's a ROM. Looking past that, there are enemies and bottomless pits in the intro level, so that would be a disqualification even if it were properly patched.

Denying approval to Wariorulz's "Super Wario World" because Mario dies in the opening demo. (And bizzarely, none of the sprites in the demo (Mario, Yoshi, or enemies) are visible, so you can't tell what's happening anyway. Once you die and get to play the level for yourself, everyone shows up fine) If you do manage to hit start before you die, the game itself is full of the sort of bizarre glitched up levels you would expect from a hack named "Super Wario World." We're talking 3-up moons everywhere, floating squares of water, invisible climbing nets, enemies with the complete wrong graphics sets, and of course, a lovely all-black Yoshi.
Removal: Super mario 12 cool stars
Reason: Awful level design everywhere and tons of glitches:
WTF???? Also the fish flop around underwater because of bioyonceless (spell check) water
........
Ahhh... To be young and immature again.
Couldn't find any possible way up there at all. Except for a cape I didn't have at that time. Which you had no box with one to provide me with, in turn making this unplayable, in which I delete.
Removal: bleebeebee's ExGFX hack

Reason: I see no point in this hack. All the stuff he did can be done on your own, STOP BEING LAZY!!!
DENIED: THE BOWSER'S NES PROJECT -
Now with added translations
BECAUSE YOU TYPE IN ALLCAPS AND GRAMMAR BADLY I WILL DO THE SAME
Because your grammar and typing skills are a bit poor, I will be satirizing you while explaining why your hack has been denied.
O BLOCKS ARE GARBLED AS IS ITEM BOX ITEM
The "O" blocks that correctly-hit ? blocks make come out as garbage graphics. Same to the item in the item box that replaced my Fire Flower for no good reason.
1 WHAT THE HECK ARE YOU TALKING ABOUT
1: Uhh, what the heck are you talking about here?
2 I CAN JUST NOT USE YOSHI OR ABANDON
2: You do realize that the player can just press Select, then leave the level without riding Yoshi? That bypasses your magical "security".
3 NEVER REMOVE SPINJUMP AND LEAVE IN YOSHI OR YOU CANT GET OFF YOSHI
3: Important SMW Hacking Tip! If you disable Mario's spin jump, do not make Yoshi available in the game at all. This is because the player will have no way of getting off Yoshi, aside from taking damage. And if the player can't take damage or die, is regular Mario, and is faced with a low passage (like in 1-2), the player is essentially stuck. Don't do that!
GRAPHICAL GLITCHINGS
Castle tiles are all messed up.
PLEASE TO BE APPLYING
THIS PATCH
Please apply the Fade fix patch to your hack.
1 FISH HAS BAD PALLETE
1: The Blurp has a really bad pallete. It looks like a white blob, when instead you probably meant to make it a green Cheep-Cheep.
2 COINS IN WATER DO NOT LEAVE BEHIND WATER WHEN COLLECT
2: When you have coins and water via water tiles, do not forget that the coin will not leave behind a water tile, but instead a regular empty space. So use BlockTool to put in a coin that leaves behind the next Map16 block, which should be a water tile. Or, follow the handy-dandy guide below.
IF YOU WANT ACCURACY MAKE LEVEL A WATER LEVEL VIA ENTER/EXIT SETTINGS
THEN MAKE WATER LAYER 2 BACKGROUND
THEN PUT SOLID INVISIBLE BLOCKS AT THE TOP BECAUSE IN SMB1 MARIO CANT SWIM OUT OF WATERS
How to make: Accurate SMB1 Water Stages
Step 1: Set your stage to behave like a water level. This is done from Level -> Modify Main and Midway Enterance in Lunar Magic. Just select the "Make this level a water level" option.
Step 2: Use ExGFX as needed to create a custom Layer 2 Background with the desired water graphics.
Step 3: Right above the water's edge, place rows of invisible blocks that behave like Block 130. This is because in SMB1, Mario cannot swim out of the water.
DENIED: Super Mario - Bowser-Polis
REASON: Well, you shot yourself in the foot with this one:


Can't have Yoshi and fireballs together, and the lava splash has glitchy graphics.
Really easy thing to fix.
HoleNet.info
Removal: Another mario hack
Author: carsr4carpeople1
Reason:
The secret exit in the second level takes you to the original Vanilla Secret 3, after finishing that(boring)level, you're taken to another star that leads to the Valley of Bowser's old Star World entrance that now leads to level 0.
Temp. removal: Bowsers Mercenaries
Author: Xgor
Reason: On the very first level, there is a pipe to the far left that leads to Vanilla Secret 3. Remove it or edit that area, then re-upload the hack.
Removal: Super Mario: S.C.O.R.P.I.O.N.'s Wrath
Author: S.C.O.R.P.I.O.N.
Reason:
Originally posted by BobbyA
As soon as you start the game, theres a very glitchy map and you fall to your death. Enough falls makes Mario have P5 lives.
You would think after 27 downloads, someone would have pointed this out sooner.......
Removal: Super Mario Omega: Version 1.1
Author:S.C.O.R.P.I.O.N.
Reason:
Originally posted by BobbyA
"Version 1.1", is WORSE than before. Instead of going on a glitchy level as soon as you start, the game freezes at black as soon as you start! I even got a save state and tried going into a level and it froze at "Mario Start". I have tried patching this on 3 different SMW ROMS from 3 different sites, I have used two different emulators for each ROM, and it does not work. I did this because I was having a hard time believing someone screwed up the IPS file TWO TIMES, and I didn't want to look like a jerk if I did something wrong.

Test and make sure your IPSs WORK BEFORE submitting. Making correct IPSs isn't rocket science.
Forum Index - Sunken Ghost Ship - Display Case - Hack Removal Log