Removed
Hack Name: THE HARDEST HACK EVER!!!!!!!!!!!!!!!!!!!!! - 12.4 KB - 0 downloads.
Length: 2 levels
Author: Abissionking - Submitted by: Abissionking
Description: This hack is too hard for you! Go away now or experience a new level of PAIIIIINNNNNNN!!!!!!!!!
Here's Why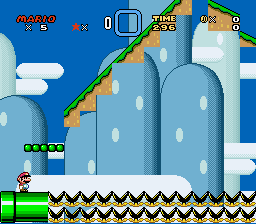 This is all I needed to know to realize you put -100% effort into this hack. Why don't you play some
hacks
...or better yet, some
featured hacks
and get a grasp on what is accepted around here. If you need help, view the
FAQ
, or view the forums for some helpful guides.
On a technical side, your hack sucks. There is nothing beyond the screen I showed. All I saw as a random corner tile in the air, with nothing beyond it. Thus, this isn't even a hack...as it doesn't have a single complete level. It's garbage.
Just so you know, we DO NOT accept and or respect people who submit these kinds of hacks to our site. If you are serious about Super Mario World hacking, take my advice and use the links above. If not, then we can show you to the exit.