Hack Name: Mario : Lost in Crazy World
Length: 5 levels
Author: PuniperTV - Submitted by: PuniperTV
Description: Mario hears that Bowser captured the Princess, but his clown balloon malfunctioned and took the princess into Crazy World. Now it is up to Mario to save the princess. Demo.
Reasons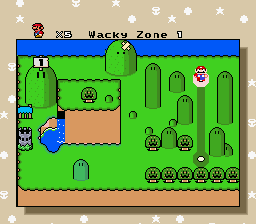 What's with these weird tiles on the left side of the waterfall?
You shouldn't connect water to non-solid tiles. Also, bad BG palette.
Same as above.
Something just doesn't look right here... It may be the fact there's lava on the pipe, or the star blocks used as ground, or the cutoff slope... who knows.
This repeats for about 3 screens and them goes back down again another 2 screens. Booooring.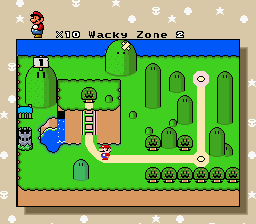 That event isn't the best either.
The palette of the green coin could be better. Also, the clouds could use an outline at the bottom.
More repetitive level design. About 5 screens of this, with no enemies whatsoever.
Cutoffness.
That 3up-shroom isn't that hard to get... Also, it's the second one in one world.
Even more repetitive level design.
The pillar causes invisible cutoffness in the water. Also, why is that plant multicolored?
Sprite memory issues. Lakitu button, and 0E.
Is it that hard to edit the level a bit and put a goal post there? Also, why are there unnecessary star blocks in the ground?
Glitchy tile in the background.
Apparently you have to be small to get through here... Don't do that.
Why is that pipe not solid?
Something strange happens to layer 2 here... Not visible in the picture, but you might want to look into it.
Even more repetitive level design.
That moon is the third one in one sibgle world! Also, it's not that hard to find. You should only put one, very hard-to-find moon in one world.
Feel free to resubmit this hack one
everything
mentioned is fixed.
---