Hack Name: TAS Challenge
Length: 2 levels
Author: marioVSshadow - Submitted by: marioVSshadow
Description: A one level hack that is perfect for experienced TASers to play. All credits are in the game itself
Reasons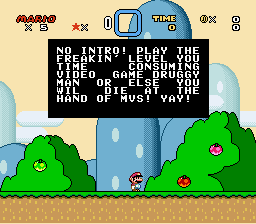 Hey! I'm not on any drugs!
...not for the past week anyway.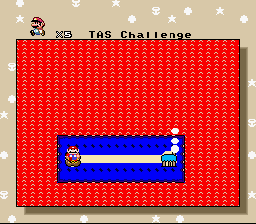 I realize it's not the focus here, but uh, you could've chosen some better palettes for the submap.
Getting in here can be quite difficult, since there's another hidden ? block that can keep you from getting up there and force you to restart the level.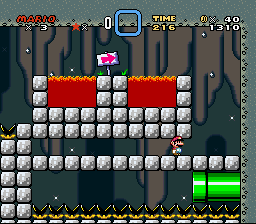 I'm guessing this is the end. There doesn't seem to be a way to reach it.
In all honesty, I'm not sure what this hack has going for it that makes it especially good for TAS'ing. It doesn't seem to have a bunch of shortcuts to exploit, and it's quite bland and uses too many cement blocks.
Originally posted by Hack Submission Guidelines
4. Unless you intend to make your hack contain very long and very high quality levels, demos which are too short to provide any feedback on or be enjoyable will be subject to removal.