Removed:
Super Mario: Hunter's Revenge 3: Hunter's Return! v1.2
ID: 2825
Author:
Metalgearhunter
Summary:
Ah...it's been awhile since I've done any hack moderating, other than review moderation, due to my life being a it busy lately, even during summer. However, before break ended I went and took the chance to at least get one hack moderated over summer. Today, I moderated a hack I remember moderating a much earlier version of in the past.
For the most part,
this isn't a bad hack!
You have some nice and interesting ideas done here, such as the awesome Mirror castle, and the futuristic tank level. (which also has an interesting way of moving on from) What the hack lacks, however, is polish. There are tons of tiny glitches abound in this hack, which drag the experience down, as well as one very major, gamebreaking one which I will cover at the end.
To start with, there is slowdown. A LOT of slowdown. It's a curse that haunts this hack in many areas, such as the ones below: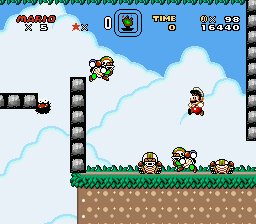 There were some palette and graphics problems in this hack too, including cutoff.
These include...
(Also I don't really get what the deal is with the part that says "humor text", by the way)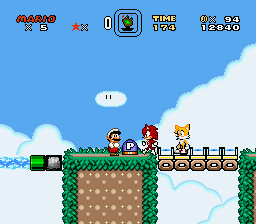 (Sonic is red if you have fire ability on the same screen as him. He reverts to blue when you are normal. This means that Sonic's palette uses the same as Mario's...I'd fix that if I were you.)
(Fade fix patch or something please. Many, many of your levels suffer from this problem.)
(Garbage tiles in BG)
(When grass meets water, some cutoffness occurs. Also, that pipe end there looks a bit...odd to me)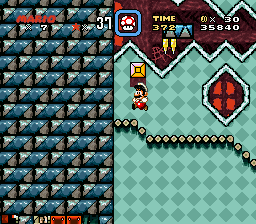 (cutoffness behind the block)
(Note blocks that turn invisible on contact. Also, many of these shots include a bad-palette fireflower in my item box)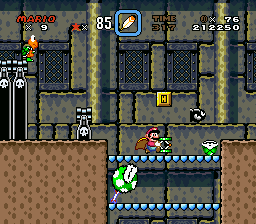 (glitched ptooies)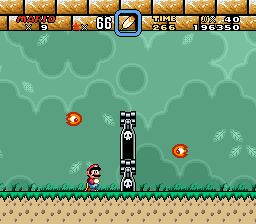 (tiny amount of cutoffness on stacked launchers)
(little bit of discoloration on the "tape")
(Disappearing POW)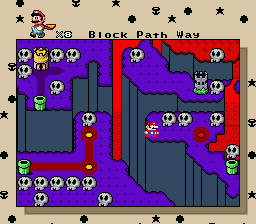 (These OW paths seem a bit weird too)
There were a few instances of unfair level design as well: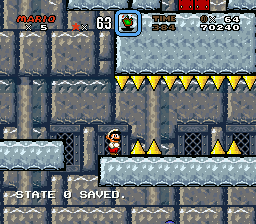 (Even with savestates, I could never get through this without getting hit)
(unavoidable powerdown here...right before the end of the level, too!)
(Not a single hint that I know of telling the player that they needed a fireflower here in order to move on at all. I died of time once before I figured it out myself)
Miscellaneous Errors:
(1-tile solid space here?)
(common mistake in many hacks - flipped lava can be swimmed in)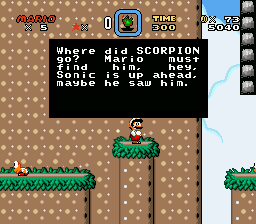 (After this message, there are warp tiles to a duplicate of the level for some reason. It does absolutely nothing, and it seems rather pointless)
Lastly, the biggest reason for removal was this. I got as far as Spikeball Castle, before this happened:
A fatal GFX crash that ruined the stage...I really hope you can fix this.
Please don't be discouraged. Stick with it, and this hack could be great! I know I pointed out a lot of things here, but I wanted to make sure I pointed them all out - not to bring you down, but to help you improve.