Removed: Mario: The (actually "Tho") Fourth Sector Version 3.0 by S.C.O.R.P.I.O.N.
Why:
Well, I have to admit, you've improved on this GREATLY since Techokami last had to take this down. I like that! HOWEVER...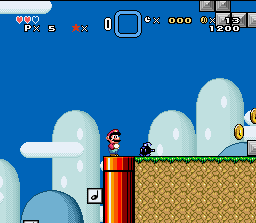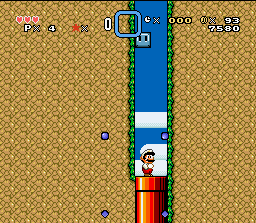 The ground runs right into these pipes. Yes, you edited the pipes to make sure no empty spaces appear between it, but IMO, nothing justifies this... I think it'd look better if you just made the ground go down the side of the pipe. You know, parallel.

Oh yes, before I continue, HORRIBLE style clashing here. SMWRedrawn ground + SMW Koopas + SMWRedrawn Bob-omb + SMB3 Pipe?!?! You should try to keep your style consistent through each level. I'm not gonna tell you to keep it all the same through the whole hack, but it doesn't look right with so many different graphical styles in one level...
NEXT!!
Oopsy! Something went wrong with the revealing! It goes by quickly, so I used slowdown to get a pic of this. Ahh.. Gotta love ZSNES. =D Try to fix this, okay? But first, a question- Was this on purpose to make it look like the bridge flashes into existance?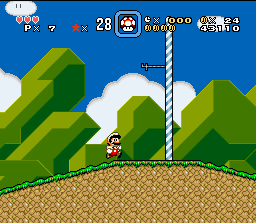 You've been told time and time again that this goal tape DOES NOT LOOK RIGHT AT ALL. Yes, we understand your hack is called The Fourth Sector- but when you're told that it looks bad, shouldn't you...y'know, try to change it? (Oh, the irony...aren't we all guilty of this defiance every once in a while?! XD)
Fire Chomp + Missile-Bomb-Thing = Good idea.
Explosion being killed = Bad idea.
...I thought this was addressed on something else... *looks* Nope, no idea. :/ Not sure if this can be fixed, but if it can, try to fix it, okay? ;) If not, oh well. :o
Don't immediately jump on these, and you won't get over to where I am here. Well, easily.

OH BOY. I missed some pics. Anyways, in the first level in the 4th Sector world, there is a section where you are bombarded by splitting Fire Chomps. PLEASE remove that. It makes the section with the P-Switch a living NIGHTMARE. D: In fact, I had to rush through that part and hope I didn't fall due to the super-small area I get due to the stupid coins turning into Used Blocks because of those stupid Splitting Chomps, as I will call them from now on. I couldn't rest. If I did, I would've died. :/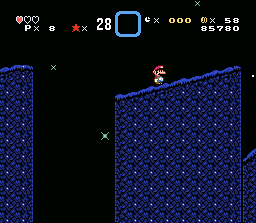 ...You didn't fix that corner tile. D:
Uhh... I have nothing against this whole "one water pool is higher than another" thing like others do because I believe that such a thing is NATURAL. What I DO have something against is your use of a pipe to make it higher... D: Why not change that to ground instead? It'd look more natural that way.

Go nature WHOO!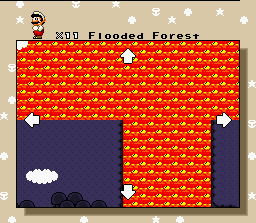 o_o
No comment
Okay I lie. Please, if you're not done with the overworld, at LEAST make the mountains end! Also, you fixed the whole "Mario can swim in lava on OW when it kills him in levels" thing. Awesome.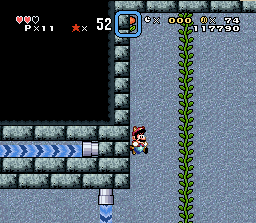 I think the rushing water is miscolored... But that is not the point here. Look at the status bar- the Fire Flower goes behind the bricks! NOT SHOWN: Item Box items go above the black darkness. XD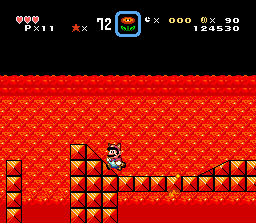 Palettes are kinda eye-searing here. D: STUPID BACKGROUND. ;-; Could you please look into this?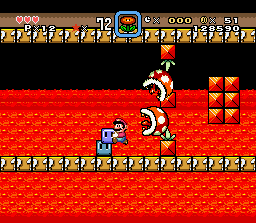 Bit of slowdown here.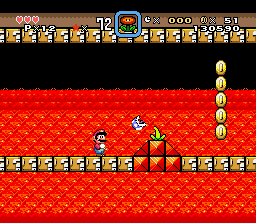 XD</font size>
How did I do this? You need to kill a Wild Ptooie Piranha at JUST the right time. After you take the second hit off, hit it one last time before its head comes back around, and you get this. XD
AWESOME! XD
*ahem* There's another glitch with this, but I'll show it later.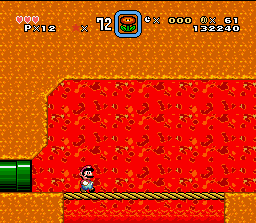 *pokes eye-searing comment above*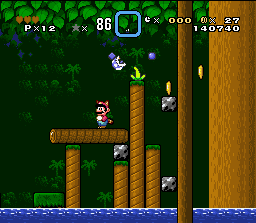 YAY GLITCH!

Except this one isn't awesome, nor is it funny. In fact, it's dangerous. How to do:
1: Kill the Wild Ptooie Piranha.
2: Before it vanishes, hit it with another item.
Done. It tries to "die" again, turns a different color depending on when you hit it, and...
STARTS ATTACKING YOU AGAIN!! Except it's backwards. (I forgot if I did the Backwards Death Glitch beforehand.)
This needs no comment, for I have no freaking clue why it does that.
SLOWDOWN.
Ummm.... Holes..?
When you leave the bonus area, you just barely skim by that bomb. And if you dare move left, KABOOM.

Headline: Dynamic Sprites Glitch Dry Bones! "Local bone-throwing Dry Bones 'Gravely' is angry after a nearby dynamic sprite glitched the lower half of his body temporarily when he tried to throw a bone."
Umm... AKA, don't use dynamic sprites around other sprites using the bottom half area of SP4, like the bone-throwing Dry Bones.
These jumps are HARD. The ledges are too "slippery" on the sloping part, so why not lower them or raise the ceiling?
You know that puzzle with the Red and Silver ! Blocks triggered by the Blue and Silver P-Switches, respectively?
1: I couldn't seem to solve the maze. I couldn't find another trigger for the Silver ! Blocks, so I had to let the red ones time out, then hover over to the end with a Super Leaf. :/
2: The pic. This is what you get when you enter the pipe to reset the puzzle. No, the screen didn't start too high or too low... I GOT KILLED. DEATHPIPE. ;_;
Soo... Yeah. I beat the level, and nothing happened, sooo.... :/
Try to fix this stuff, will ya..?
Tag (font) was not closed.
---
<Adam> I feel like smwc is a prostitute now, because we put up a porn ad for money