EVERY LEVEL MORTON!
At least you are trying harder now.
i still didn't saw what you have made :/
i got eggman roll'd
Disregard the above post - Morton using Eggman's/Doctor Robotnic's machines against Mario is genius.
---
harpy

tits
tumblr
So, it's probably obvious by now that I tricked you guys with not one, but TWO videos. First was a Rick Roll, second was a YouTube Poop Music Video...in case you missed it. Do not call the second "egg roll'd" or anything like that, please!

Anyways, I'd like to give a progress update: I'm currently working on Morton's Haunt, but I'm not far enough with the level to give you any real screenshots, guys. All you'd really see would be palettes.... :/
---
<Adam> I feel like smwc is a prostitute now, because we put up a porn ad for money
You know what'll be cool? If you replaced the flashing stars in the original SMW overworld with lava bubbles, so the lava will have bubbles popping all the time, and look like real lava. But that's just my suggestion.
By drawing over some of the tiles that are selected in the light blue rectange. They are the OW animation tiles.
Echoing the 'nice palettes' vibe from the pics. They are so, with a lack of a more suitable word... edible.

I intend to play Every Level Iggy just as soon as I get my laptop working. It's getting good comments here - It better be a hell of a good game =P

Also, favourited the FBZ vid. Dunno why.
Alright, guys! I've finished EVERY LEVEL MORTON!, but too bad, I'm keeping this locked away until C3 rolls around! >

In the meantime, enjoy these TEASER PICTURES! >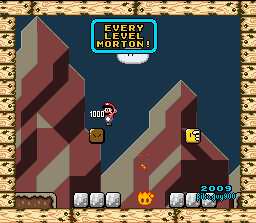 Before I continue, let me say this- this is the sole instance I have broken my "no new GFX" rule in ELM!. However, I may not keep this rule in later hacks in the EVERY LEVEL series! Anyways, the new GFX here is obvious- it's the text that says "pikaguy900". I originally drew it for Super Party World, but I figured I'd put it in here, too, since I like it so much. XP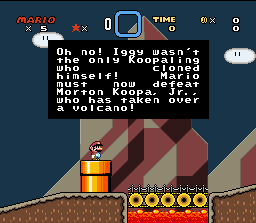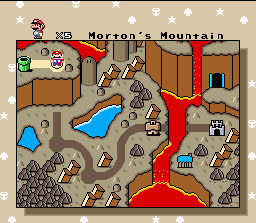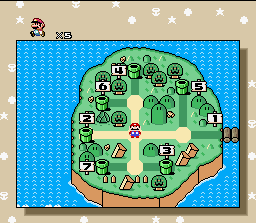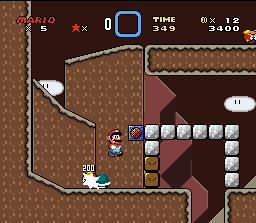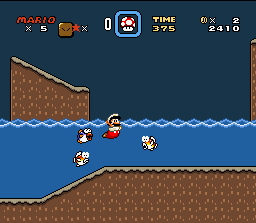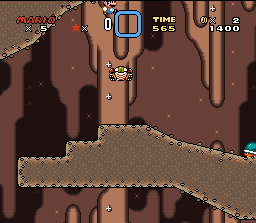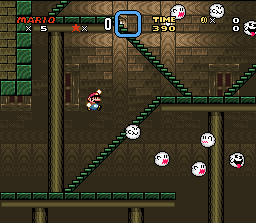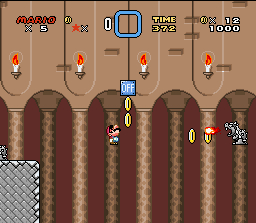 That's a lot of pics! In order:
Title Screen, Intro Message, Habanero Volcano Submap, Hub Area (Main Map), Morton's Mountain, Morton's Lake, Morton's Caverns, Morton's Haunt, Morton's Fortress, Morton's Volcano.
Total levels: 9
That means there's 3 levels unaccounted for! I won't reveal what they are like, nor will I tell you what they are called. You'll have to wait for the C3 to roll around before you can find out!!
Don't ask about EVERY LEVEL LEMMY! or anything else like that, please. I don't want to work on them yet.
---
<Adam> I feel like smwc is a prostitute now, because we put up a porn ad for money
Wow. I can't wait. I really liked EVERY LEVEL IGGY! So, naturally I really want to play this hack. Well, just another reason to get excited about C3!
Great Job Pikaguy.
---
IRC Quotes
(
March 20th
update!)
/MKICK 4: Flantastic Puns
I really enjoyed playing every level Iggy, so this seems like it's going to be a lot of fun. Yet another new thing coming out at c3. Great job!
---
oh man, can't wait until its released!
Rawr
Since the C3 is closed, I'm posting the download link here. I'm not going to offer any screens or description, as I've put them in this thread already. Also, this is the filebin download- I'm not submitting it until I'm absolutely sure that there are no breaking bugs (like the platforms in Morton's Lake vanishing) and that it's juuuuust right. Also, if you want me to tone down the difficulty a bit, tell me NOW so I can adjust it, but also be mindful of this- in the end, all EVERY LEVEL hacks will be combined into one, and you'll be able to do Worlds 1-7 in ANY order you choose, so difficulty may not be a true issue with that.
That said, enjoy once again, and leave me some comments. Seriously, when I don't get many comments about what people liked and disliked about it, it makes me not want to work on my stuff...
---
<Adam> I feel like smwc is a prostitute now, because we put up a porn ad for money
I haven't had the chance to play this one yet, but I'm looking forward to it. I really enjoyed ELI! The thing that these hacks have going for them are their great palettes and great level design. I can't imagine how this one wouldn't be as good (or better) than the first. Keep up the good work!
---

[?] Miscellaneous Helpful Hints
If I moderated your hack, there was apparently a 90 percent chance it was rejected.
I'm actually liking this hack. I'm really not one for a vanilla hack without music, but you've made it work. I got stuck in the cave level, so I haven't played too much. Once I get unlazy I'll play a bit more. I'm looking forward to the sequals in the future.
---
I have almost finished this hack (I have gotten all of the exits, but haven't found all five Dragon Coins in any of the secret levels) and it is just as good as the first game. The puzzles are just great, and the palettes are among the best I have ever seen. Keep up the good work, and I can't wait for Every Level Roy!
---
My YouTube channel
Get the official ASMT resource pack
here
!
OH MAN! this looks soooooooo awesome! i cant wait to play it!
Are you going to make a bigger sequal like every level lemmy!
or every level Roy. Because hacks like these are the ones that get featured. tHIS IS JUST awesome. i have got nothing to say except that word. Awesome. KEEP IT UP!
---
Oh...that was meant to be a joke?
Originally posted by bubblegum
Are you going to make a bigger sequal like every level lemmy!
or every level Roy. Because hacks like these are the ones that get featured.
If you've read through the topic, you'd know that he's already planning on making sequels based on the other Koopalings. It's just that he's not actually making sequels yet.
---
Your layout has been removed.