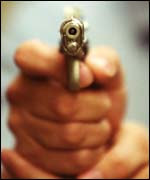 THIS IS A ROBBERY! Give me all your money and personal belongings. Don't try to be a hero because I have
this</font>
.
Misleading thread title in order to cover up my true intentions, don't you think? >8)
Unexpected end tag (</font>) at 243, expected </a>
shit

shit shit shit

this is high treason i say
*hides behind a large person*
OH F**K!!!!!

*hands bag of flaming dog crap*

*runs*


Originally posted by TNR
*runs*
*shoots TNR's back*
Anyone who tries to run away will end up like him.
So don't try to trick me or else...
*points gun*
*Hides behind crate*
*Gives
this
to Davros and runs like hell*
*enters the room and just barely avoids a bullet shot at him*

WHOA WAIT WHAT

*calmly examines the situation*

Hm...

*uses dark powers to encase the dynamite in a black hole, exploding it but causing no damage to anything*

*possesses Davros' body and raises him into the air, making him drop the gun into Spade's hands while he's at it*

Easy there pal... What do you think you're doing?
fuck yeah meowingtons
*Opens endless void and escapes*
*Kicks Megaman out of my void*
Watch it, buddy!
*Closes void again*
--------------------
Follow me on
Hermitscape
for random bits of game design talk and pixel art, or even request something for me to draw.
Latest Post:
Wayra Devpost #2: "A Little New"
uNkNowN5642 enters: Goes in whistling, then sees the situation. He leaves shortly after, saying to bomb the place.
*Leaves* Bye-Bye!
*Comes back drops a nuke then leaves*

*arrives with traditional lightning, thunder and brimstone*

THE NEXT ASSHOLE TO POST THAT GODDAMN RICKROLL LINK WILL BE EATING SHIT IN SEVEN DIFFERENT HELLS!!!
*Simple Bag returns from the massive rick roll he took*

Help me... heellpppp meeee... HELP!
私は私が英雄を裁判にかけることを考える

--------------------
When push comes to shove just punch the other guy in the face.
Huff puff... what was that? That was a Rick Astley video with a Rick Astley cursor and the lyrics to the video in the closing window! I had to literally hold down the Return key! Huff... puff... *shakes it off* I pick up the gun Davros dropped and hold it up...
*Demonsul runs up and grabs the gun, before throwing it down a nearby volcano

"No holding up the World of Insanity!"
Originally posted by BBS

I pick up the gun Davros dropped and hold it up...



he did drop it but i made him do so and i caught it

l2read

Also, Demonsul: what was that for >:|
fuck yeah meowingtons
| | |
| --- | --- |
| Pages: 1 2 3 | Thread Closed |
Forum Index - Sunken Ghost Ship - Forum Graveyard - The Old World of Insanity - Angry rant about the staff (flames inside)