Alright guys, here's the first...
Epic beta-test Review!
I'm going to start by saying that this game was very difficult to find fault with. generally it is very fun, making excellent usage of blocks, sprites, music etc.
There are however a couple of niggling things that you should be aware of. I'll post a screenshot, with relevant description below.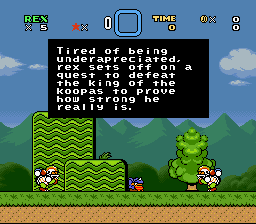 I think Underappreciated has 2 P's in it. You might wanna check that.
Can you use the Palette that this BG comes with? This palette looks a little... Eugh.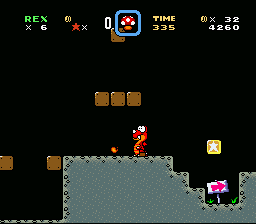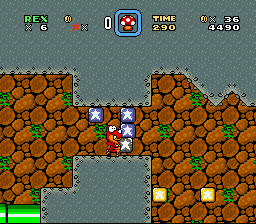 Could you implement new frames for Rex throwing fireballs and carrying sprites? This looks a little strange. (Oh, and swimming).
It might just be me being stupid, but it wasn't immediately obvious what this block was. I'd reccomend changing it to a picture of a Lakitu coin, with a 'x3' next to it or something...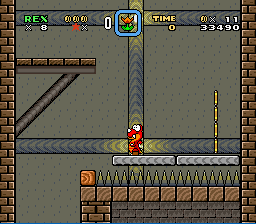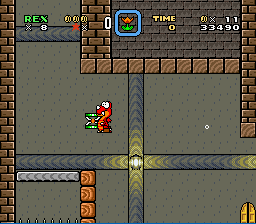 Got a bit of slowdown here... Nothing major, though.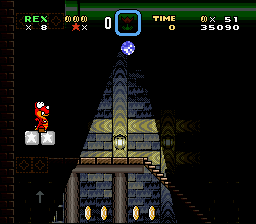 Again, probably me being stupid, but I was confused at first as to what this was. (It's an elevator. i guess the up arrow should have given it away). perhaps implement some ExGFX for it? i'm going to upload some custom Elevator graphics soon, so you could use those or something.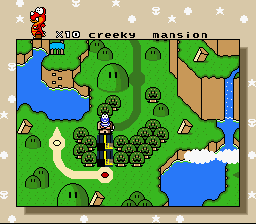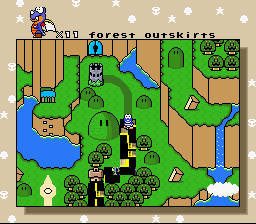 Woah, this is the biggie. It's possible it's just my ROM, but if not, you really wanna fix this. Not sure how, though: It's been asked millions of times in Advanced hacking.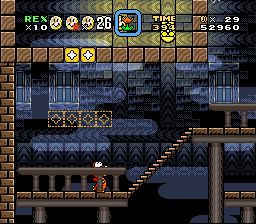 I think you overuse these blocks a tiny bit. I agree, they are awesome, but perhaps think of something new here?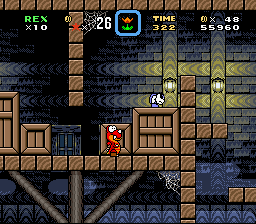 I'm guessing they're meant to lok ghostly, but the palette is still a little... Eugh.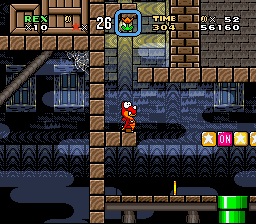 When the paper Koopas turn around, they just become a vertical line. In a normal level this looks awesome, but because of the dark background you can't see it, and it just looks like the Koopas disappear when they turn. Custom palette will fix this.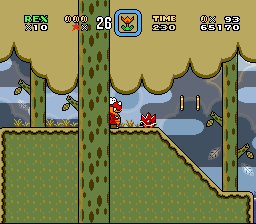 bad palette I think.
The Boo buddies thing (The line of ghosts) disappears along with King Boo and looks a little strange, because the normal Boo doesn't. I don't know how to fix it though.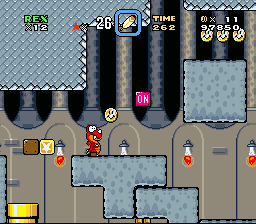 I'm pretty sure you could have y-flipped coins and the on/off switch here as well...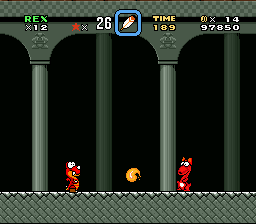 I'd Exanimate this fireball, because right now it looks odd. If you don't know how, theres a really good tutorial in the documents section.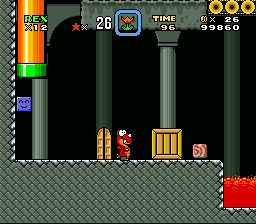 I found no use for this pushable crate. It's totally pointless. I got through the level and didn't use it once...
Rex Struck down the arrogant Morton Koopa Jr., and freed the prisoner who was being kept there. An ominous cave looms before our hero... Rex charges headlong into the dark...
It just reads better.
____________________________
Overall, with the minor bugs fixed, this hack will probably be featured. Seriously. it was very enjoyable, with some ace puzzles and enemy usage.
It's worth playing, I promise you.
9/10
--------------------