Yep, that's my main C3 project. Some of you may have heard about it on my blog, but I bet most of you haven't.
So, what kind of hack is this? Well, the other day I got the idea to make a hack like Keytastrophe, but I didn't want it to use the exact same concept. ("Get the key to the keyhole? Nah, that's overused already. Collect all coins to proceed? Yeah, that sounds like a nice idea.")
So I started working on it, but I noticed it looked kind of boring - it had nothing outstanding in my opinion. Then I got a strange idea - how about making the hack black and white?
It looked surprisingly good to me, and with the right music, it almost had a gameboy feel to it. After a few days, I kinda lost interest in it and froze it though.
Upon being remembered of this year's C3 again, I decided to continue working on it. I kinda rushed making the last levels and polishing it, so it probably could have been a bit better, but I'm still satisfied with how it looks now.
Oh yeah, the plot. As the name implies, the hack's goal is to collect each and every coin, since Mario has run out of money and the rent is due. Not much of a creative plot, but meh.
On the topic of Gameboy style: I'm aware that "The Coin Hunt" isn't exactly like a GB game - There's some hings the Gameboy could have done better (such as grayscale graphics and more types of enemies), and also something that would probably have been impossible on a gameboy (such as backgrounds with a different scrolling rate, as seen in the boss level, many sprites on screen, fading effects and high-quality music). However, it isn't supposed to be
exactly
like a GB game - I just thought black and white graphics would be a welcome relief, since nobody has done that yet as far as I know.
(If the hack is generally well-recieved, I might make two sequels, one in 8-bit sytle, the other one in SNES style.)
Enough jabbering, let's have a look at some screenshots. ;)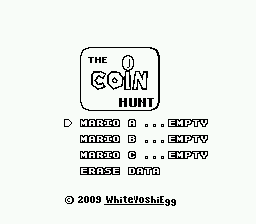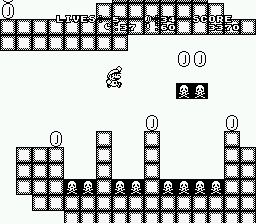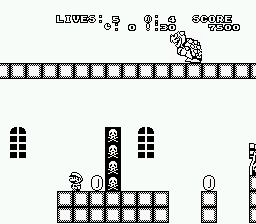 More screens can be found on the download page.
...Oh right, a download link.
DOWNLOAD
Enjoy!
That's all for now - I might have two other projects to show, but I'm not sure if I can make them in time. :/
Anyway, see you!
--------------------