Welcome at this thread about a little side-project:
Just Blob
==========
Story:
==========
This is our hero today, Blob
Blob was different from his schoolbuddies, because of his color.
They bullied him and scared him away.
Blob decided to run away from school, on his way to find a friend...
=============
General Info:
=============
This is a little side-project, so it "only" contains 2 worlds with a total of 8 levels.
It's mainly going to be a puzzle-orientated hack, but I'll explain more about it later...
As you've most likely already noticed, the protagonist is a little blob named Blob.
This means he has different abilities than Mario:
- Walljump
Since it's a blob, he can stick to walls and jump from those.
- Higher Jump
Think of a bouncing ball, Blob can jump almost twice as high as Mario.
-Blob Cannon
Blob has the ability to shoot little parts of his body at enemies.
However he'll first need to collect his ammo.
The general look is based on simple drawings, so you can expect to see some random doodling here and there.
==================
Gameplay-Elements:
==================
As I've said, it's mainly going to be a puzzle-hack.
The puzzles are formed by different colored lines, which all behave in a different way.
Black - Just a normal line, nothing to worry about.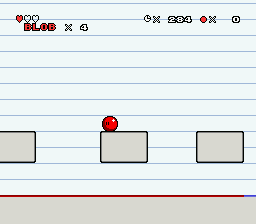 Red - It's a bad idea to jump on these, because these will hurt and cost you 1 heart
Green - This actes like a moving legde, to the left.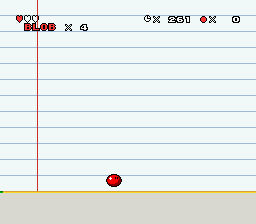 Yellow - Same as a green line, except to the right.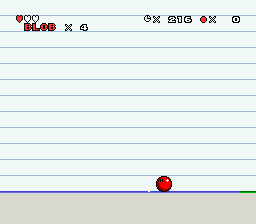 Blue - Step on these with caution, this line will lauch you at max speed!
============
Screenshots:
============
Here are some other/random screenshots.
Beta Title Screen:
Overworld:
Enemy #1
Enemy #2
Isn't Blob just adorable? :3