If you think it's the same old story, think again!
Story (well, what at least would constitute as one): Peach, sick and tired of Bowser kidnapping her all the time, decides to take matters into her own hands and escape on her own, without needing help from Mario.
This is a one-level hack, BTW.
Features:
ExGFX: YES
Custom Music: YES
Custom Sprites: YES
Custom Blocks: NO (as of this post, anyway)
ASM: YES
Now for the screens:
Intro (Yes, I know that the status bar and message palettes suck, blame the GFX palette.)
Title Screen (Yes, I know that parts of "The" and "Escape" look like crap. I was lazy

)
Overworld.
Normal Peach.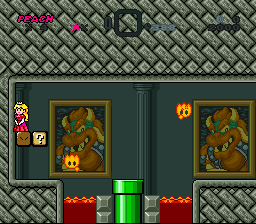 Super Peach.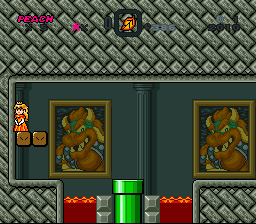 Fire Peach. (I'm thinking of changing the fireballs to vegetables a la SMB2 and Smash Bros.)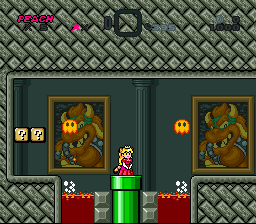 Raccoon Peach.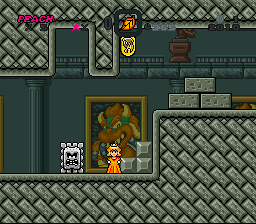 Stunned by a Thwomp.
Roto-Disc.
Spin jumping on a Thwomp. (Also, yes, I know Peach's name isn't pink. I forgot to change it for this particular part of the level.)
What does this do?
A HORIZONTAL Thwomp?
Credits\Stuff used:
Ladida: Peach Graphics
Pac and Andy: Raccoon Mario Patch
edit1374: No Sprite Tile Limits Patch
Ersanio: P-Meter Patch
Alaric and Ersanio: One Player only Patch
MetaKnight: FG and BG ExGFX
S.N.N.: Super Mario Land Ruins BGM
MidiGuy: SMB3 World 8 OW Music
mikeyk: SpriteTool
Aiyo: Addmusic Revx
Smallhacker: SMW Misc. Text Editor
smkdan: SMW Free Space Logger
byuu: Xkas
FuSoYa: Lunar Address, LunarIPS and Lunar Magic
I hope to have a demo ready either tonight or tomorrow.
Comments and suggestions are welcome.

And here's a support userbar:
And the code: