Userbar:
The Tale of Elementia is a Super Mario World hack created by myself. It began in March of 2007, under the title "Super Open World" and ended up being one of my many canceled hacks. When I looked back at all the hacks I canceled, this seemed the most promising, so work resumed until I was finally able to release a demo of the first world, which you can download
here.
But when's the next demo?
I am currently working on a 3 world demo of Elementia, which will contain 25 levels, including the ones present in the last demo. You can check my blog as well as this thread for updates, and I hope to have it done by the end of the summer. My progress so far:
O = Completed levels
o = In progress
X = Haven't started
Greenleaf Forest: OOOOOOO
Sandswipe Desert: OOOOXXXX
Solar & Lunar Islands: OOOXXXXX
Bonus: OO
Level Design
Level design is easily the most important part of the hack. Thus, my aim with Elementia is to make each level unique, fun, and different. In one level, you may be bouncing across mushrooms, and switching on a lighthouse in another. Because of this, levels take longer to make, but the rewards are rich.
Custom Music
The Tale of Elementia, of course, features custom music in the form of ported songs from other games. While it is true that some hacks are beginning to use completely original music, I prefer to use ports mainly to invoke nostalgia in the player (oh, I remember this one!) as well as introduce them to some great songs they may not have heard before. You can expect to see a Sound Test in The Tale of Elementia - Demo 2 as well.
ExGFX
One of the complaints in the first demo was a slight style clash between the more realistic foregrounds and cartoony Yoshi's Island backgrounds. What I can tell you is, while I may or may not make completely original backgrounds, I will certainly try to reduce clashing. Quite a few of the graphics (such as the entire desert tileset) were done completely by hand. This adds another layer of originality and creativity to the hack.
Overworld
Elementia's overworld differs from many in SMW hacks. One of the main reasons I started this hack was because I wanted it more open-ended. In the final version, 4 worlds will be accessible from the very beginning of the game. Not too much later, two more will open, and after completing all of these, you can access the final world. The three worlds in the second demo of Elementia will all be available from the beginning. So, if you're tired of Greenleaf Forest and would like to skip straight to the new stuff, you will be able to easily.
Custom Blocks/Custom Sprites
This hack uses custom blocks quite a bit for puzzles and other uses. Since custom sprites can be a little finicky, I don't use them quite as much, but you can expect to see a few in the hack.
ASM
I'm not an expert at that stuff, sorry. Maybe in the future, I might include it, but not until I get the main game done.
Screenshots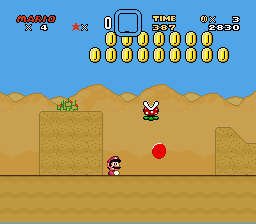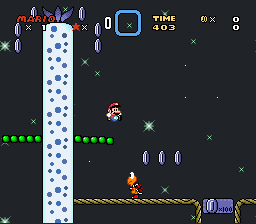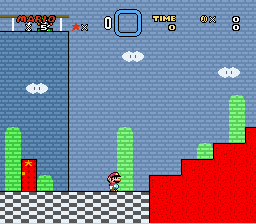 Videos
(bear in mind some parts are outdated)
<object width="425" height="344"><param name="movie" value="http://www.youtube.com/v/4tKUrU3k5qw&hl=en&fs=1"></param><param name="allowFullScreen" value="true"></param><embed src="http://www.youtube.com/v/4tKUrU3k5qw&hl=en&fs=1" type="application/x-shockwave-flash" allowfullscreen="true" width="425" height="344"></embed></object>
<object width="425" height="344"><param name="movie" value="http://www.youtube.com/v/ImWJkPFR-sg&hl=en&fs=1"></param><param name="allowFullScreen" value="true"></param><embed src="http://www.youtube.com/v/ImWJkPFR-sg&hl=en&fs=1" type="application/x-shockwave-flash" allowfullscreen="true" width="425" height="344"></embed></object>
<object width="425" height="355"><param name="movie" value="http://www.youtube.com/v/DJXwbvk5Uyo&rel=1"></param><param name="wmode" value="transparent"></param><embed src="http://www.youtube.com/v/DJXwbvk5Uyo&rel=1" type="application/x-shockwave-flash" wmode="transparent" width="425" height="355"></embed></object>
<object width="425" height="355"><param name="movie" value="http://www.youtube.com/v/NvdtELtyCCs&rel=1"></param><param name="wmode" value="transparent"></param><embed src="http://www.youtube.com/v/NvdtELtyCCs&rel=1" type="application/x-shockwave-flash" wmode="transparent" width="425" height="355"></embed></object>
<object width="425" height="355"><param name="movie" value="http://www.youtube.com/v/jh8KqDwSNSk&rel=1"></param><param name="wmode" value="transparent"></param><embed src="http://www.youtube.com/v/jh8KqDwSNSk&rel=1" type="application/x-shockwave-flash" wmode="transparent" width="425" height="355"></embed></object>
<object width="425" height="355"><param name="movie" value="http://www.youtube.com/v/r3yLzmQqSac&rel=1"></param><param name="wmode" value="transparent"></param><embed src="http://www.youtube.com/v/r3yLzmQqSac&rel=1" type="application/x-shockwave-flash" wmode="transparent" width="425" height="355"></embed></object>