Well, that was certainly an interesting adventure. Here we are - post 5000 at least. Thanks to Kieran and Smallhacker for making all of this fun possible (and a special thanks to Smalls for the ... lovely flash).

So what was the purpose?:

I began to realize SMWC has never really had what I would call a true "event spree", so I wanted to see if we could do something fun in one thread. Needless to say, it turned out .. quite interesting. 1000ish posts, a whole ton of views, all in about twelve hours .. definitely something neat. It was a lot of fun playing around with you all, and I'm glad we could have a decent spree, even though my fingers hurt like hell. I must say though, I am rather disappointed with the buzzkills who whined throughout this. Try and remember that you saying "Hey, you guys are spamming! This is awful! etc" more or less makes you look like a whiner, a suck-up, a goody-two-shoes, etc. We don't care. We're trying to do a little out-of-the-ordinary event for fun, and if you don't like it, then go to a different site and spread your gloom there.

Really, does a little fun hurt once in a while? I didn't think so.

About the downtime:

The downtime actually ended up leading to a new scheme, specially designed by spigmike, known as the Doomsday scheme. You may have noticed it right when you got back on. Feel free to continue using it, or if it doesn't suit what you are looking for, you are more than welcome to switch back to any other schemes.

I don't really have anything else to say at this point. I sure hope you guys had some fun with this - I know I did, which is pretty rare nowadays. Once again, a huge thank you to everyone who made the day possible.
So that's the 5000th post. Yes, thanks to this fun i reached my 1000th post. Let's wait until Kieran's 5000th post.
The doomsday scheme is cool

.
--------------------
i just lurk sometimes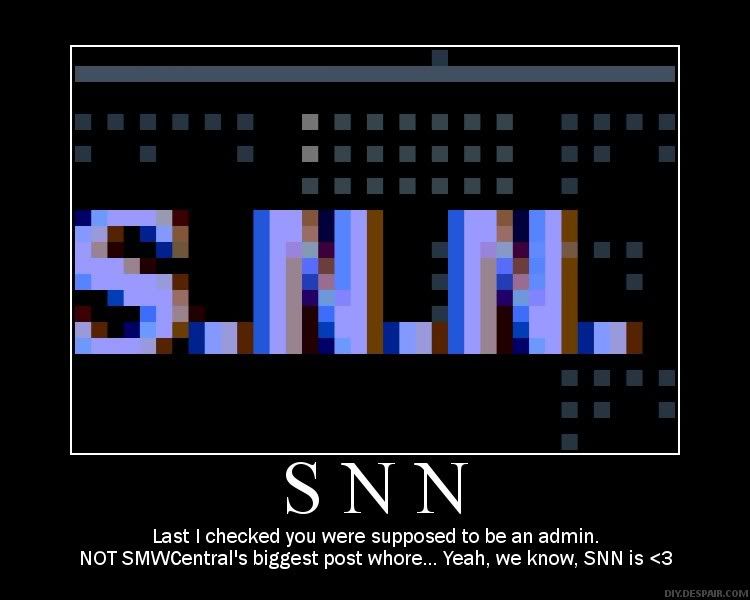 Also, nice skin. Has the majoras mask moon finally broke into an ultimate fight against the teletubbies sun?
Has Chrono finally gotten a game over and Lavos destroyed the planet?
Wut?
--------------------
Your layout has been removed.
As I slowly learned about this, I don't see why anybody else didn't get this.

I've been to many websites, and most of them do this, too. Well...

Thanks for the fun, S.N.N. and whoever else was in on this. This was the best site event I've experienced in a while.

That animation was EPIC.

--------------------
When you use binary as a level, nobody knows what level you are! *laughs manically*


This scheme is freaking awesome. Plus it fits my Darkseid avatar. Thanks spimike

This was...interesting. It sure did make the IRC a lot more active, which I'm happy about.

At some points the activity was insane, though. There was a point where you guys (The regular users) posted a whole page of posts in under a minute. I don't know if I should be impressed or creeped out...

Anyway, I love the new scheme. I'll probably keep this as my regular scheme for a while. Doesn't really go with my layout, though. D:
/me sticks with the Doomsday scheme
Never before has a forum panicked more than today.

Great job guys, that was huge amounts of fun...

LOL A friend of mine actually downloaded everything from the site, Patches, Tools, and EXGFX just to back it up!

Good times, this is why I love this site!
| | |
| --- | --- |
| Yeah, spig did a nice job with this scheme, and the vid on the main page rocks. I was wondering what this event would turn out to be, and half-expected a dud, but it ended up being quite impressive. | |
Although I didn't post because my computer crapped out, I did have fun. The animation was epic. And so is the new scheme, I'm sticking with it (by changing it to menu to the left).
When I saw the doomsday timer on 1, I started downloading hacks like there was no tomorrow because there might not have been one for SMW Central.
We couldn't possibly have a dud, especially after that 50 page thread. It would just be too awful.

Either way, I'm pretty satisfied with how things turned out. Of course, I would like it if everyone would go back to their normal posting routine now. 1500 in a day is a tad .. er .. excessive.
SNN, thank you. This was officially the greatest day of my life. I'm being serious. My mom would kill me if she found out about this, but whatever.

--------------------
Good fucking bye.
I really like the new scheme. And I loved the flash. Totally worth the 12-or-so hours of panic and mayhem.

Happy 5000.
That was really fun indeed.
Also, yea, I like the new scheme aswell.
here SNN
I made this from the bottom of my heart for you <3.
ok... that was weird...

also, this scheme (doomsday) looks like the hex one (aside from the banner and bg)
I do pixels sometimes
Also, I love the new scheme.

--------------------
Good fucking bye.
It was fun while it lasted.
And again, This seems as good a time as any to bring up my new grill, for no reason. <3 SNN
<object width="425" height="344"><param name="movie" value="http://www.youtube.com/v/qu9pug9YZio&hl=en&fs=1&"></param><param name="allowFullScreen" value="true"></param><param name="allowscriptaccess" value="always"></param><embed src="http://www.youtube.com/v/qu9pug9YZio&hl=en&fs=1&" type="application/x-shockwave-flash" allowscriptaccess="always" allowfullscreen="true" width="425" height="344"></embed></object>
--------------------
Yeah, the day sure was pretty fun. It was actually pretty amusing to pretend that I, among other staff members had gotten our accounts disabled. Plus, we hardly ever have such fun forum events like this one around here, thus pretty much the whole forum event made me on to a good mood.

As for the new site-scheme, I must say that it is definitely a pretty cool addition to the several other layouts we have - Spigmike really did a great job upon coming up with this one - I'm totally loving how the colors of it blend together. <3
Forum Index - Important - Announcements - Fallout 4: SMWC