I figured I should make a new thread for this.
As some of you know, I have continued working on Pokey's Adventure again, and I started by moving everything over to a fresh ROM. Actually, it's more than just porting everything over - I'm aiming for more organization in this version. I'm trying to tidy up the Map16 pages, ExGFX, music, cutscenes and even the Photobucket album and hack folder on my computer. It's like a fresh start! Of course, I will keep the actual levels and stuff.
I'm also using this occasion to make some more changes - I'm trying to customize the hack even more (trying to make more custom GFX, possibly add some new samples and sound effects etc.), and to remake some of the stuff I wasn't completely satisfied with in Demo 1.
For example, I've just remade the title screen: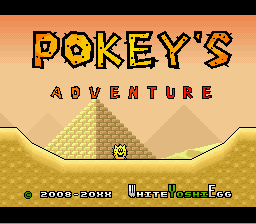 It doesn't contain a custom level or gameplay footage, it's just Pokey standing there and smiling. I might also add some more decorations later. Nevertheless, I like it better than the old title screen - note the new, bigger and more colorful lettering for "Pokey's Adventure", the new background (ripped directly from SMAS) and the new "© 2008-20XX WhiteYoshiEgg" font.
I'll be uploading more screens later. In the meantime, I'd appreciate any feedback on the new title screen or the hack in general. (Unless it's only "OMG THIS SUX" or "BEST HACK EVA", of course.)
---