HERE IS THE PROCEDURE FOR CLAIMING MAP16 SPACE. PLEASE FOLLOW IT:
-Click the link the the bottom of this post. The contents of the link are updated almost every day.
-Pages 3 - 3F are for FG space, 40 - 7F are for BG space.
-If a page is not listed, it is totally free. If there are no free pages, click on one of the image links. White squares are free - red squares are used.
-Please supply a Map16 page with your tiles
ripped from the base ROM
, if possible.
-
If you overwrite already-used Map16 space, I will not accept any further submissions from you.
I'm serious - it's an utter pain in the ass to fix, and if you can't follow simple rules, you shouldn't be involved in this collab anyway.
----------------
Current status of MAP16:
->
CLICK HERE
<-
Pages 3 - 3F are available for the FG, and 42 - 7F for the BG.
This may seem like a lot, but im going to use it for both of my tilesets ill be making. A00-A5F >.< That is a lot but, it will save space when making both tilesets at least

And if thats too much, i guess i can use A00-A3F, and if thats still too much, i can get rid of 15 more tiles

I decided that i might not make a bg for it, even thought it would look better if i did, but w.e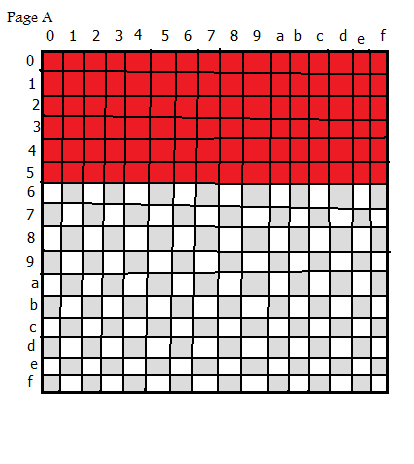 >.<
This better be the map16 or else ima punch it D:<
I used the rest of page 12 except for 12FB-12FF
http://bin.smwcentral.net/3411/Map16Page.bin
This is for my custom cloud BG:
http://img34.imageshack.us/img34/6136/btocloudsfinal.png
I'll update this post with a link to the ExGFX files and the palette for anyone else who feels like using this BG.
EDIT:
here
(updated since I edited ExGFXF0 a little)
I'm also using some of page 3 for upside-down pieces of SMW's cloud FG, and the solid cloud edges.
http://bin.smwcentral.net/3423/map16page3cloud.zip
i used the first 3 rows of page 1F.
I'll link to my map16 page and ExGFX file asap.
EDIT: Here it is :
Clicky
also, i sent this to pikaguy for my level, so yeah.
EDIT AGAIN: I just wanted to say that if several people decide to use some YI GFX, try to keep the graphics take up less map16 space. one could easily arrange the graphics for the same map16 blocks.
--------------------
<TLMB> I use YY-CHR to edit DNA
Originally posted by Vaporeon
i used the first 3 rows of page 1F.
I'll link to my map16 page and ExGFX file asap.
EDIT: Here it is :
Clicky
I made a pic:
--------------------
<TLMB> I use YY-CHR to edit DNA

yes.
$540-544
those 5 tiles reserved for custom block that are in the making

--------------------
*WARNING: due to cosmic radiation, Quantum fluctuations, or earth going into sector x79352C, the world may end at any moment. Have a nice day.


Current Project:



Status:Complete

Previous project status: Failed/Quit

Current Issue

C++ : fsteam help





For the FG
6D0-6DB, 6E0-6EA, 6F0-6FA
Map16 Page Link:
http://www.freewebs.com/busterbeetle/Page6.RAR
I realize Ultimaximus made some claims on Page 6, but they weren't in the base rom, so I worked around them manually. Please PM me or something if I have to redo this.
For the BG
1700-1716
Map16 Page Link:
http://www.freewebs.com/busterbeetle/Page17.RAR
I'm pretty sure Page 17 is free, so yeah.
With this done, I'm quite sure I have completed the portion of this where I need to claim something. I really hope I didn't hog too much space. :/
Okay, all the MAP16 is in the rom unless you count the people who screwed up and didn't post the MAP16Page.bin files. Try again next time!
e: why post twice?
2nd rom for 10/08/09:
click this space
MAP16 pictures watch the
space below.....
Disregard my previous claim. I would like to have tiles 473-47A:
--------------------
My YouTube channel
Get the official ASMT resource pack
here
!
I don't know how this works, I just know I need 1 square of Map16 for a Restart block.

Or is someone else already adding that?
hmm. it seems that those map16 were incorrect -.-"
I will have to post the new one right now. Wait for my edit. :<
I am pretty sure that this is the map16 :\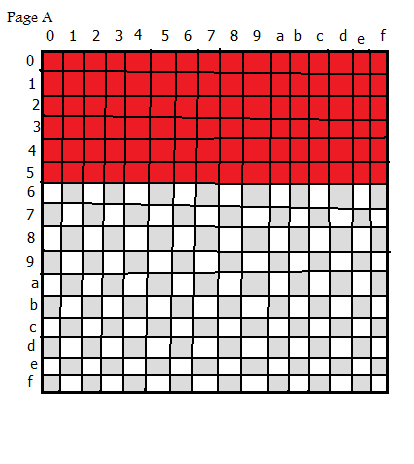 Here is how its now supposed to look. Except no A58 or A2D
I won't need any Map16 space, as long as there is at least 13 spaces that act like tile 25(for decorations). I could spread out my stuff there. If there isn't that many, I could loose some of the decorations.

--------------------
Your layout has been removed.
I just need four spots, so how about
390-393
.
--------------------
YouTube
used tiles 3B2 and 3B3 for triangles that blend with SMW's cloud FG
EDIT: I have 2 more tiles to add to this, then I'll post the map16 files (clouds, tile 106, that can border the edges in SMW's cloud FG)
EDIT: updated pic, and here's the Map16Page and Map16PageG:
http://bin.smwcentral.net/3445/m16p3cloud2.zip
Claimed 141d through
143d
143b =)
(yea, I claimed two more tiles than needed, sorry)
Some people seem to have forgotten the procedure.
Originally posted by Hach

Procedure is as follows:

You claim some map16 e.g. "from 458 to 45F"

You fill in the appropriate squares and post the map16page##.png in the thread

You send me a map16 page containing the map16 you want IN THE SAME SPOTS THAT YOU CLAIMED

I'll update the map16 thread and the smwcpro rom every day or two days.

You download the rom containing the updated map16 and Make Your Level!
Anyway
here's the baserom
and the MAP16 pictures:
The picture for page 5 isn't showing up for me for whatever reason but it hasn't changed since the last update.
66F-672 (Update)
[img]http://bin.smwcentral.net/3459/MAP16page6.png[/img]
EDIT: Files/images deleted.
Forum Index - Sunken Ghost Ship - Old Contests & Events - An SMWC Production - Signups - MAP16 (over)