This was not to be opened till X-mas, but Rico could not wait.
Its a hack! But not finished yet. So I am working on it. Here is the description:
It was a great day at Christmas Town. Until bad news hit: Santa has been kidnaapped! Mario was busy trying to save Peach. So it was up to Harry Hammer Bro! Three bad guys did it! So it is up to him to save Christms!
Screenie Time!
Level 1:
Overworld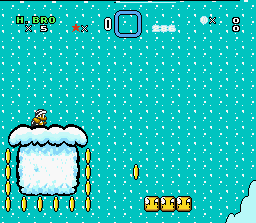 Snow animation and ExGFX.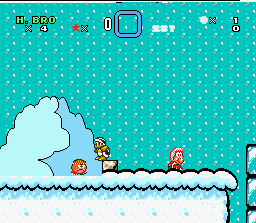 Winter Koopas, Goombas, Chucks, Frozen Poison Mushrooms!
Even Bullet Bills!
Tell me what you think!
(Level 2,3,4 coming soon!)
Help in the request, forum, and anywhere will give you credit.
Userbar

(IMG)http://i715.photobucket.com/albums/ww158/PuniperTV/HammerBrosavesChristmasSupporter.png(/IMG)
Replace parenthesis with square brackets.
---
Your layout has been removed.