Well The story goes like this
After many battles with bowser mario has decided to go on Vacation up in the mountains with his friend yoshi. But all seems to go to waste when it turns out bowser is up there too! AND YOU GUEST IT he has kidknapped princess peach again. It is up to Mario to save the princess and his vacation. With a little help from yoshi Mario shall save the day and relax for once.
Heres some screen shots.(two levels from dino isles are in here + the volcano one i made now edited and completed)
SCREEN SHOTS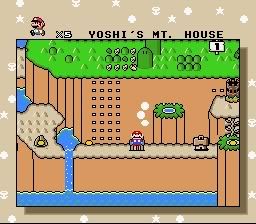 The OW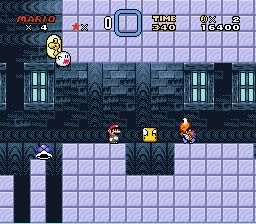 Frozen Ghost House
More Frozen Ghost House
Mystery Rock
Nest Of Evil 1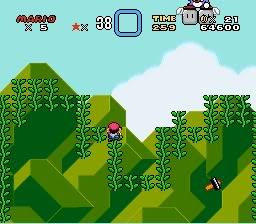 Nest of Evil 2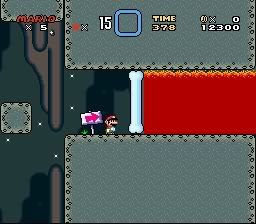 Rock climb (no longer volcano) 1
Rock Climb (no longer volcano) 2
Yoshi's Mountain House
--------------------
Your layout has been removed.
*sigh* It's a start, but you have a lot of work to do.

Level tiles are in a bad place in the OW. Too many rectangles that indicate climbing, and the area with the waterfall is cut off. Your OW needs a lot of work.

The Frozen Ghost House looks pretty good.

The cut off vine if you don't have the switch does not look good in Mystery Rock.

Too many wood ledges in Nest of Evil 1. Looks linear and the fuzzies will probably fall through.

The cut off vines look bad in NoE 2. It appears to be a very filler section.

A vertical bone can hold lava like that? Better rethink that. Also, there's a gap between the lava and bone.

Don't use the four-side ground squares in Rock Climb 2. Put them together. Also, don't use those cement blocks, they're rather ugly.

Yoshi's Mountain House looks like a bunch of bridge blocks put together. Honestly, if you're going to do something like this, use ExGFX.

I GUEST it could be better.
With so many screens, I will comment on each individual one.

#1:
There are WAY too many climbing rocks. Level tiles are way too close to the cliff. Perspectives are way off. In general, it is a bit blocky.

#2:
Too many blocks, use the ledge tiles.

#3:
Nothing wrong with it. I like how the blue Koopas fit in with the environment.

#4:
Edit of 103, the palettes or BG are not changed, nor is the sprite list. Design is good though.

#5:
Too many logs and Fuzzies.

#6:
Cut-off vines are WAY too ugly. Use climbing nets, or make them look like climbing nets by Map16 editing.

#7:
Why does the arrow point toward the lava? And the lava itself cuts off against that bone. (as Supertails said).

#8:
Connect the ledges. It will look much better (as Supertails said again).

#9:
Oh my gosh what is that? Use either Yoshi's House premade graphics or ExGFX.

All in all, it could use some improvement, but fix the errors and it will look pretty good.

--------------------
Your layout has been removed.
I hope that Yoshi's mountain house isn't level 104, since you're not supposed to edit that.
it looks ok, but making Yoshi's house out of freaking Doughnut Bridge pieces is not ok K?
i just kept the first thing u see in three the rest is diffrent

the nest of evil 1 2 is one level

same with the rock climbs

i just like using bones to block things

i should get rid of some mountain climb thinggs on the ow

same with some triangles

in nest of evil they represent nest (4 in the level each with a diffrent challange)

i will fix yoshi's house

i will switch to climbing nets and i had some trouble not using the 4 sided blocks on it since its a tall level not longwise

and at least the ghost house looks good

edit: i will get rid of bones blocking lava i just thought of somthing else and the arrow shall be gone that was for somthing else....

--------------------
Your layout has been removed.
On the OW map, look at the vine.... the color of the back of the wall its on is wrong

--------------------
Just back here to browse a bit.
Go to Sprite Editor Mode (Lakitu icon) and move Mario over where Yoshi's house is. As long as he's on a path or level/house/whatever, he won't get stuck.
*Will return to edit after examining screenshots and other replies to point out the good points and areas that could use improvement.* (Ah, never mind... I'll reserve this spot and wait for your next update. Everything's been found. I can't believe I didn't even notice the OW perspective was off in a few places... Bluemoon points that out well, so there's no need for me to mention it. I need some coffee.)
Oh, and I like the brown castle, but it looks like the bush around the castle is a little discolored along the bottom. Don't worry, though, that's easy to fix.
Edit: My other post was really long and would make for an outlandishly crazy edit. If I have anything to say about what can be fixed so I can keep my promise of returning to edit this post, it's that if you want to keep the vines, attach the top to something so they don't seem like they're floating, and maybe tweak them a bit so they don't look cut-off at the bottom, or simply just attach something to the bottom. (Or, if you want to get really into it, make a whole nest that you can climb on with wasps or angry falcons chasing you so it literally IS the Nest of Evil!

But that would take a while.) You could copy a GFX file and resave it as ExGFX so you can change a few things while using some of its original graphics without affecting all the other levels that use those GFX, but it's up to you. Hacks aren't fun to make if it becomes all work, right? Well, unless you like work...
---
Just look above you...
If it's something that can be stopped, then just try to stop it!
um i am still kinda confused my thing just looks plain no icons on the OW thing just letters and i see no sprite editing mode in the ow...

--------------------
Your layout has been removed.
Click the lakitu button. If its not there get a more recent version of Lunar Magic.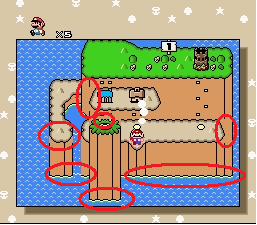 Those are the problems I spotted on the Ow.

Hmm I should of labled them oh well.

Starting at the top most circle
-the black line needs to be fixed.
The on next to it
-you can see the part of the ladder
The leftmost one
-black lines
Under that
-The land should stick out.
Below that
-same as before
Heading up right
-same as the last two
Right middle
-black line
-revealed levels
(mario has already been mentioned in another post)

--------------------

Hum... This blank space is no longer blank.
um i like my revealed levels

--------------------
Your layout has been removed.
Originally posted by TheRealUltimateYoshi
um i like my revealed levels
No, you don`t.
You`re using that as an excuse because you don´t know how to make your own events. Stop being lazy and learn!
TITLE SCREEN!!!!

<object width="425" height="355"><param name="movie" value="http://www.youtube.com/v/vBOej0V5gH4&rel=1"></param><param name="wmode" value="transparent"></param><embed src="http://www.youtube.com/v/vBOej0V5gH4&rel=1" type="application/x-shockwave-flash" wmode="transparent" width="425" height="355"></embed></object>


--------------------
Your layout has been removed.
Judging from your screens and video, this hack is gasping for air. There's way too many cement blocks on the title screen, the overworld is less than enjoyable, some of the levels are presented in a boring, and seemingly ugly fashion, and yoshi's house looks
absolutely awful.</b> I'd like to say something nice, but I can't judge your level design with what you've put in front of me. Long story short, it needs work.
Unexpected end tag (</b>) at 286, expected </i>
Tag (b) was not closed.
--------------------
Your layout has been removed.
It doesn't make sense to have the title screen be that same level as an early level in the hack.
Your not the boss of me i do these levels and hack title to enjoy myself not for some asses to scold me for every single little mistake u can't even notice or somthing so little it doesn't matter. i want to enjoy myslef get that enjoy myself!!!!!

--------------------
Your layout has been removed.
God, calm down. We're giving you constructive criticism. <_< We're trying to help you make your hack better.
Forum Index - SMW Hacking - Works in Progress - Mountain Mario (my new mario world hack (although other is still in process od being made...))