Removed
Hack Name: A Plumber's Tale Demo 2 Demo - 357.3 KB - 38 downloads.
Length: 21 levels
Author: Jolly Old Saint Jeuda - Submitted by: Jolly Old Saint Jeuda
Description: A second release, with a lot of major fixes and changes, and a lot more expected to be in the hack the day of the final release. I made a slightly different level sampling method this time. Instead of roaming a vast overworld, selecting various incomplete levels that still need gimmicks, I've compiled a submap's worth of complete levels, in Progressive order of course, allowing you, as the player, to freely sample each one to your heart's content. I hope this submission is a big improvement from the previous SMB3 music-based one, seeing as this hack includes the following:
-Custom GFX
-ExGFX
-Custom Music
-Custom Sprites
-Two Cutscenes
-One optional Custom Boss ... You don't even have to beat him!
The story remains the same: Bowser is digging for oil to fuel his airships for an ancient treasure foretold in ancient scrolls he found in his Ancientology 101 books from Koopa Kollege. Mario must stop it at all costs, seeing as with the situation at hand, Bowser's hunger for this treasure is killing thousands and hurting millions! He must traverse a seemingly normal chain of islands that actually hold a bloodied and war-riddled history.
With that out of the way...please, enjoy, friends

Here's Why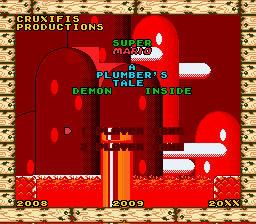 The FG, BG, and text palette needs a lot of work. The reds are clashing and ridiculously bright.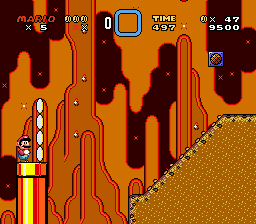 The FG is okay, but the pipe and the BG needs work.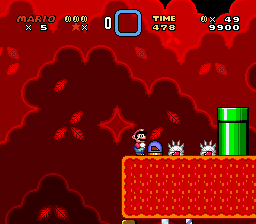 The FG is a bit too bright.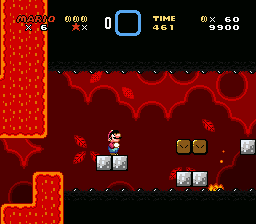 The black lava here has a few problems. First...the palette choice is odd. Second...lava in general doesn't really suit a forest setting. Third...well, look: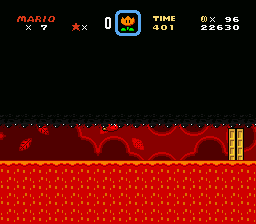 Upside down lava acts like water on the tip before killing Mario. Not sure why this happens, but I've noticed it happen in quite a few hacks.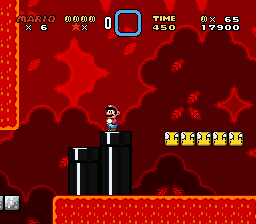 Bad palette.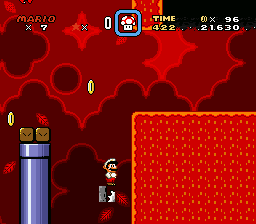 Note block "bounce" graphic is glitched.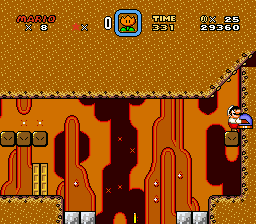 Cutoff.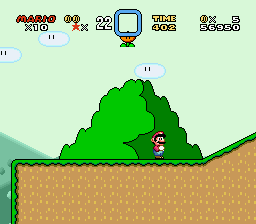 Hard to see what is going on here...but I just got hurt. Apparently there is a jumping piranha plant behind this bush. Unseen sprites are usually not a good idea.
Extend the ground so Mario can finish his end of course animation.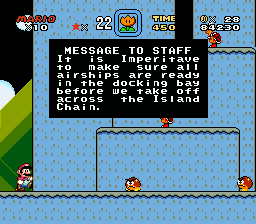 Bad palette.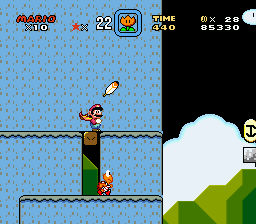 Cutoff.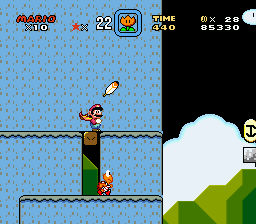 Blocks create cutoff in dirt.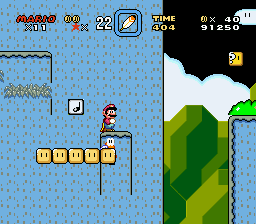 You put the bush too far to the right. It cuts into the side of the platform.
The player can get permanently trapped here.
Really bad FG palette.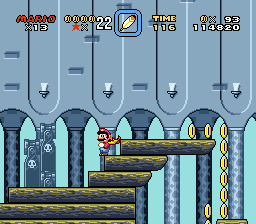 Darken the bullet bill launchers. Also, don't stack them on top of eachother. The candle sticks in the BG should also not be used unless you are using the candle light sprite.
I would suggest not putting pipes on corners, as they create cutoff.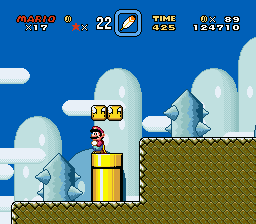 The spike palette would look better being a darker color.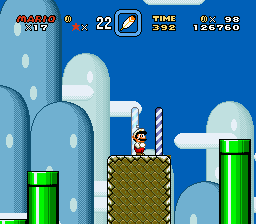 Incorrect corner tile.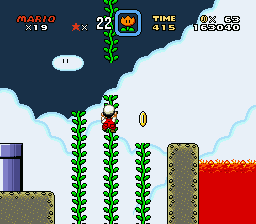 I would let vine cutoff slide if it was only the bottom...but the top should be connected to a solid surface.
Icy blue pipe should only be used in ice areas.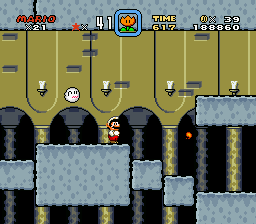 Same issue with the candles in the BG.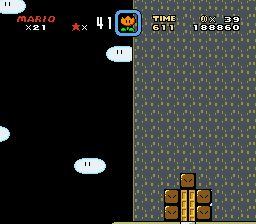 FG init position too high.
Blocks create cutoff in dirt.
Cutoff.
FG init position too high.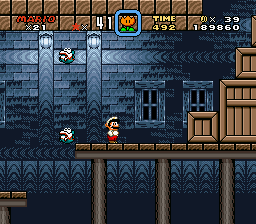 Bad palette for Eeries and Big Boos.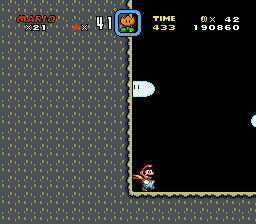 Either put a pipe here, or change Mario's entrance animation.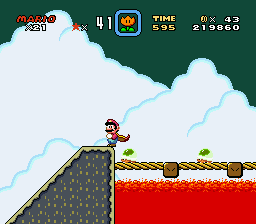 Really bad palette for the Buzzy Beetles.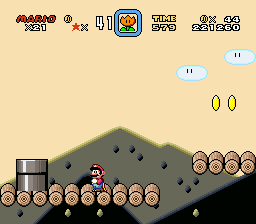 I recommend extending the pipe to the bottom of the screen to eliminate cutoff.
These springs should be connected to some sort of wall.
Corner tiles create cutoff in lava (and water).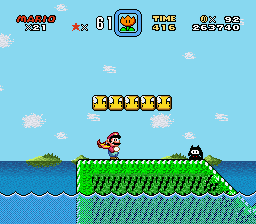 What's going on with the black in the grass?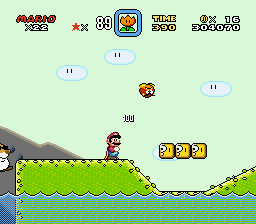 I never was a fan of green palettes for the cave FG.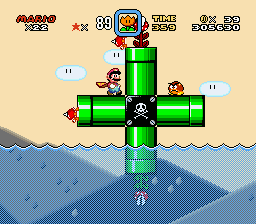 Cutoff. You use corner pipe tiles in other parts of the hack...why not just use them here?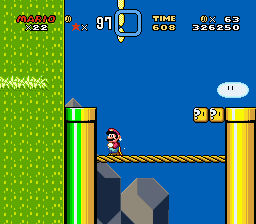 Ugh. Don't place pipes in between screen boundaries.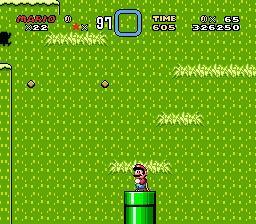 I went through this pipe...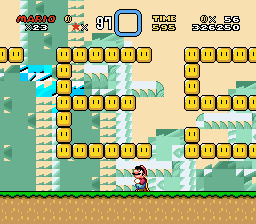 ...and ended up here. THE PLAYER SHOULD NOT BE TAKEN TO ANY "TEST" LEVELS. Review your hack to make sure this doesn't happen.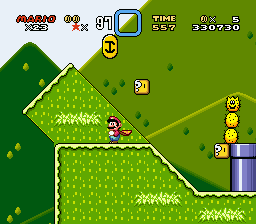 Cutoff.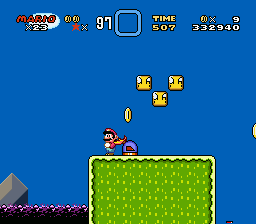 Bad lava palette.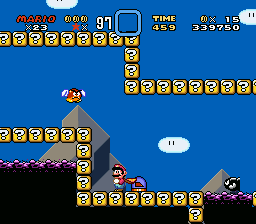 Blocks create cutoff in the lava.
No midway marker. Why?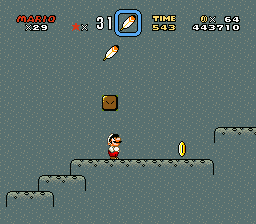 Blocks create cutoff in dirt.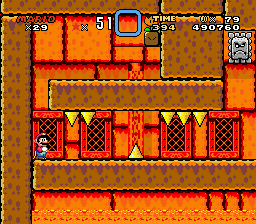 This palette really hurt my eyes. You really need to try and work more on your palettes. They should be a nice gradient, and should not be eye searing.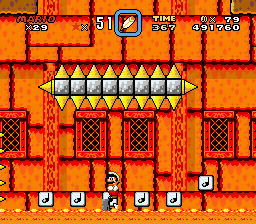 Glitched note block frame.
Most of these crushing pipes just shoot down wickedly fast without any indication.
I have to ask...do you think that these palettes are good? The pipes need a lot of work...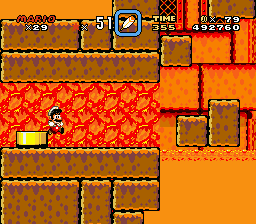 Cutoff...and you actually
brightened
the already eye searing background. Thanks...luckily I have an optometrist appointment.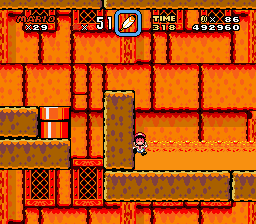 This jump is incredibly difficult. I wasn't able to clear it without a cape.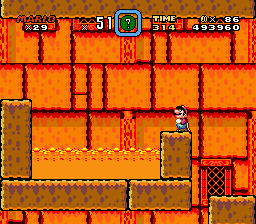 Why is the fire flower graphics replaced with a "?"?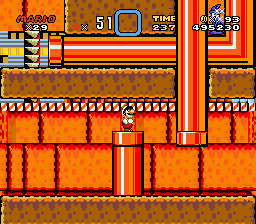 You need to fix your BG init position here.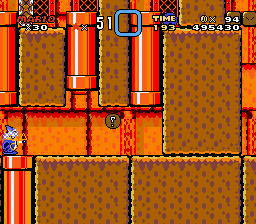 Okay, one of the strangest glitched I've ever seen. This brown "?" sphere is a key. I grabbed it, and when down a pipe. I then took
control
of the key, but then Mario shot out of the pipe when I went too far to the left. Seriously, I'm baffled...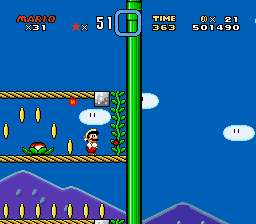 Vines should be connected to something on their tops.
This message block displays the same message as the box at the start of the level.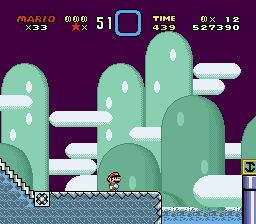 Bad lava palette.
I entered a pipe after getting 5 big coins, and died. I needed a fire flower, but the fire flower isn't close to the entrance to this room. It's an easy mistake to NOT grab the flower, which is in the opposite direction. I suggest you put the pipe and fire flower together.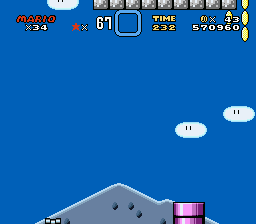 FG init position too low.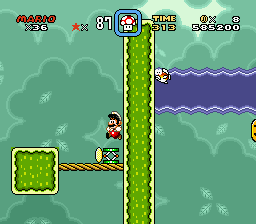 Wrong corner tiles.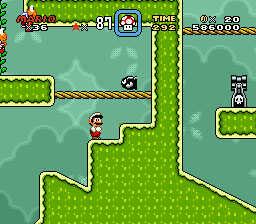 Wrong corner tiles.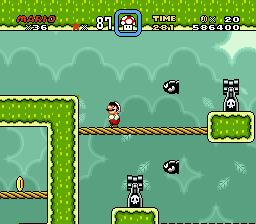 Wrong corner tile.
Cool fish graphics bro.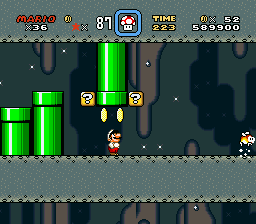 I entered this pipe and...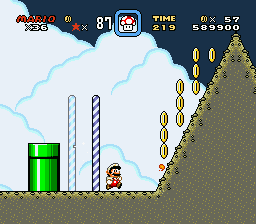 ...ended up here, which is a level I already completed.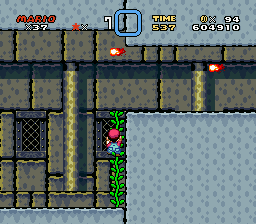 Vines should be connected on their tops.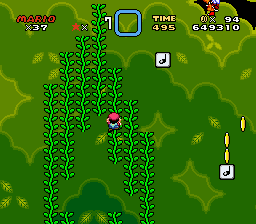 Read previous comment.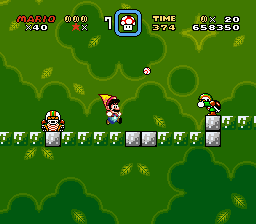 You used better blocks than this earlier for breakable blocks.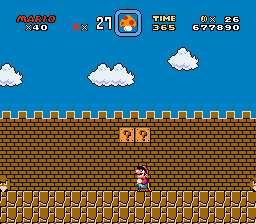 Blocks create cutoff in
dirt
castle walls.
*NOT PICTURED*
Not sure why I didn't take a picture of this, but on your OW, the last castle doesn't have a top to it.