Hack Name: Mario and the Time Toad
Length: 11 levels
Author: shc1993 - Submitted by: shc1993
Description: A Demo of a hack im working on
ExGFX (BG and FG)
Custom Blocks
Custom Sprites
Patches
Custom music
Story
Long before Mushroom Kingdom existed toads ruled the land, then Koopas inslaved them. there leader bowser the first demanded to see the time toad but was not able to use it because of his impure heart. full of rage bowser takes his anger out on the toads but one toad would not allow that his name, Toadario. in a epic battle of good vs evil toadario was victorious and he used the time toad to inprision bowser in the temple of time but he swore he would break out.
This is only a demo
---
Reasons
Where to start, where to start... Well, first of all, there are a few spelling and grammar issues in the cutscenes. They're not too much of a removal reason, but it would be great if you fixed them. Here's what I could spot: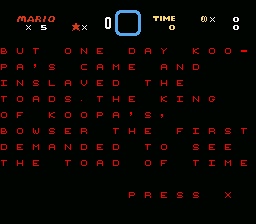 *Koopas
*enslaved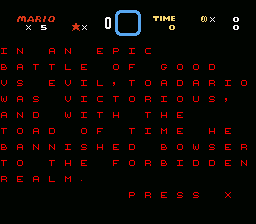 *banished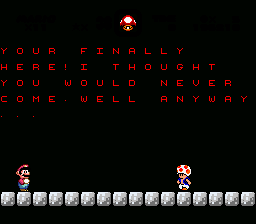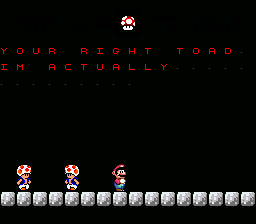 *You're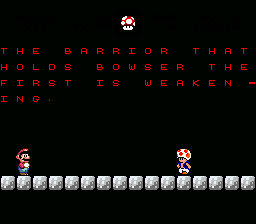 *barrier (?)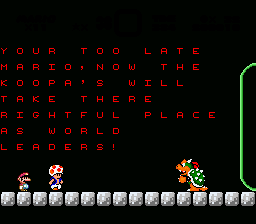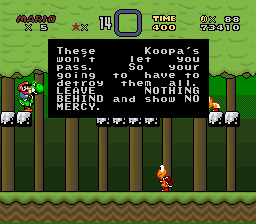 *You're
*Koopas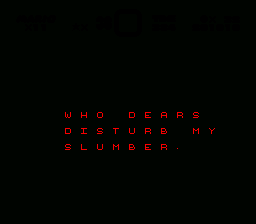 *dares
With that out of the way, now for the more important removal reasons: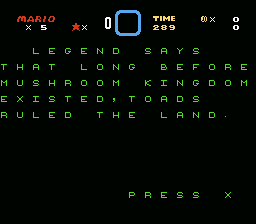 Although Mario doesn't die when the time runs out (for whatever reason), you might want to set the time limit to 0 just to make sure nothing's wrong. (I also suggest giving the player a bit more time in some other levels, especially those with auto-scroll areas - it seemed a little short to me.)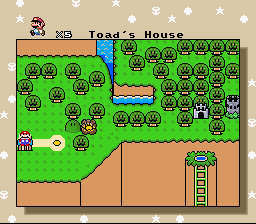 A couple of wrong tiles/colors on the overworld. For example, the water around the edges is a bit darker than the rest, and you're missing a few corner tiles (in the corner to the top right of the cave, for example).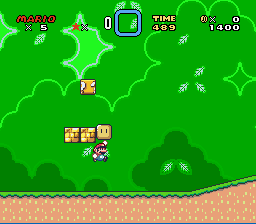 Not a big deal, but having the bricks turn into turn blocks when they're hit looks pretty weird.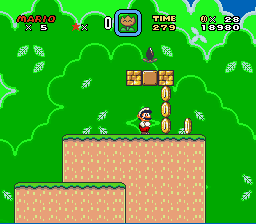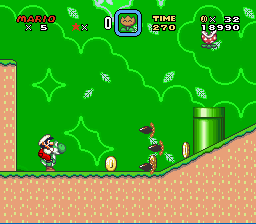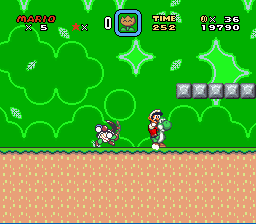 Some sprite tiles are replaced with mucnhers... I assume that was done deliberately, but in this case you should replace the graphics for all frames. Yoshi's Fireballs and the Chuck's head switch back to the original GFX for a few frames.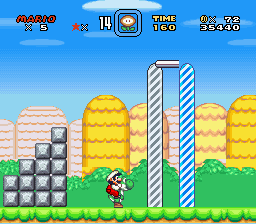 The goal bar goes a tad too high here. Put it right on the ground.
(Also, it has a slightly bad palette.)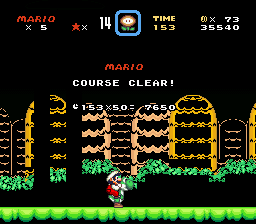 You should apply the "Fade Fix" patch.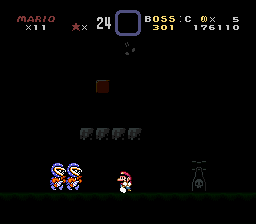 - Glitched disco ball, or whatever that's supposed to be
- Some "BOSS" tiles use a different palette
- His hitpoint counter glitches too. You should completely disable showing the "BOSS:" text in the status bar to avoid that.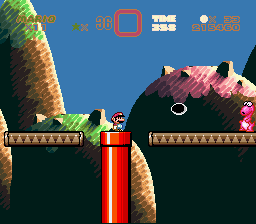 Ugly palettes for the egg and the status bar.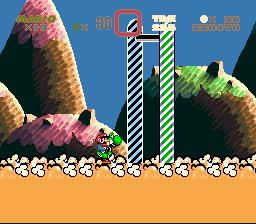 For the goal point too.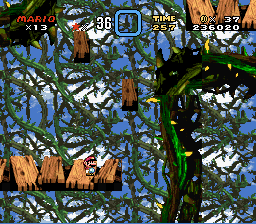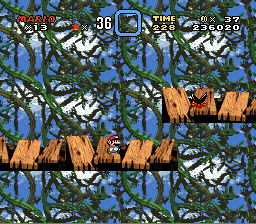 Cutoff. It might not look too bad on the wooden platforms, but at least the bramble corner should be fixed.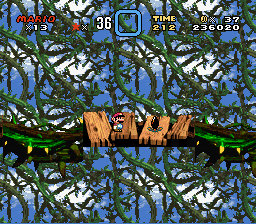 Honestly, I couldn't get past this custom sprite wihout using cheats... >_> It might just be me, but makig these parts a little easier would really help.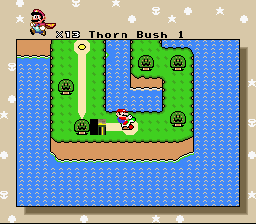 Glitched event tiles. This can either be caused by not uninstalling the title screen recording ASM or not having applied the newest version of the dynamic sprite patch (dsx.asm).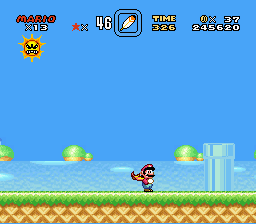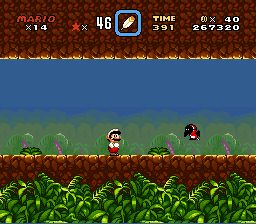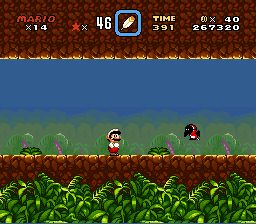 Bad palettes on the pipe, the Tweeter, the Bob-Omb and the Bullet Bill shooters.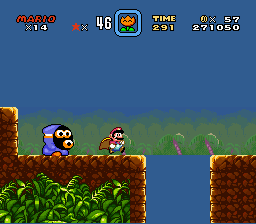 Cutoff background.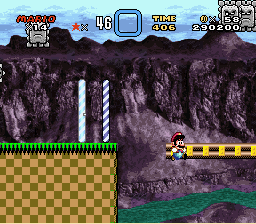 How was I supposed to know these blocks weren't passable? You could at least explain what they do in a message box or something. (It could just be me still using cheats here, though. Heh.) Also, that part seemed rather impossible to me too... I couldn't get the right timing to spin-jump on the Thwomps to go on. That's what I'm supposed to do, right?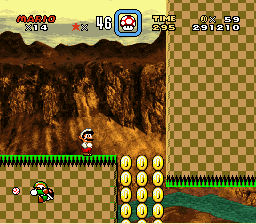 You can't see where you're supposed to land, and if you try collect all these coins, you'll most likely end up falling into a pit.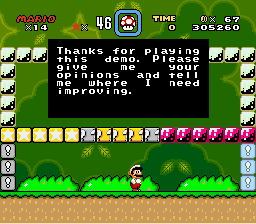 The cement blocks here have weird palettes...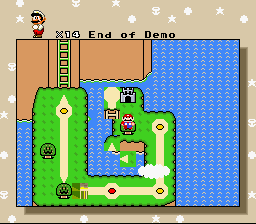 When I exit the "End of Demo" level, the paths tiles are glitched. o_O
---
Not too bad overall, but you still need to improve on quite a few things. Feel free to resubmit this hack once you've fixed them all.