Hack Name
: Mystical Island DEMO 1.0.1 Demo
Length
: 5 levels
Author
: nicknick293 - Submitted by: nicknick293
Description
: Mario is stuck on a mystical island. Who will save the princess?
---
Reasons
Not quite good enough to be accepted due to a couple of minor flaws that add up.
The bright ground around Yoshi's house and the castle uses a slightly different color than the other paths.
Not really a removal reason, but are all-caps messages necessary?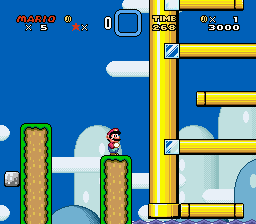 These transparent blocks look quite odd here. Why not use nromal pipe end tiles, like the bottom pipe has?
The auto-scroll doesn't stop here, making it possible to get crushed by the walls. Especially the second one requires very quick reaction.
If lose the P-switch before hitting it, or if it runs out before you got to the end, you're foreced to commit suicide and start again. Granted, it's very unlikely to screw up in this case, but it would be great if you provieded some way to reset the level. A simple pipe or door would work.
*Forgot to take picture, just noticing this now*
You're missing an "s" in the title screen (it says "mytical"). Just pointing that out. ;)
---
As I said, it wasn't a bad hack at all. Feel free to resubmit your hack once you have fixed most of the issues menationed.