NAME:
Super Luigi world (Demo)
AUTHOR:
MariomasterDT
DESCRIPTION:
My second attempt of submitting my hack, I fix almost everything in the removal log ( Most importantly the major glitch!)
Enjoy!
---
REASONS FOR REMOVAL: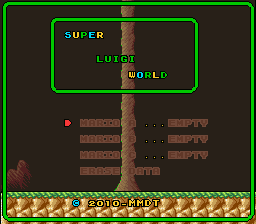 That's some pretty bad text palettes you have going on there. And it's kind of hard to see in the picture, but there's an odd green colour on that pillar in the background that probably shouldn't be there.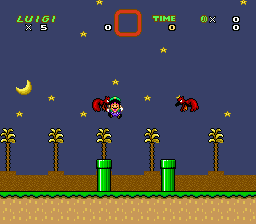 Being able to die in the intro level is bad, mostly because it messes up the life counter if you do it more than five times.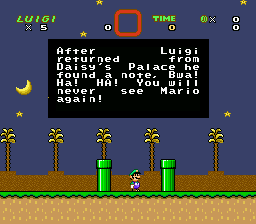 Minor, but that comma should probably be a colon, and the contents of the note within quotation marks.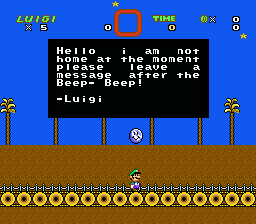 So this is Luigi's house. It seems to be very lacking in the house department, though...
Also, "i" should be capitalized, and there should be some sort of punctuation marks after "Hello" and "moment". Oh, and since when do people sign their answering machine messages?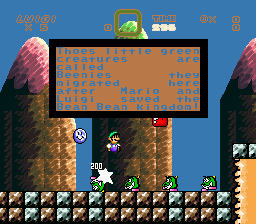 This palette of both the message and the status bar looks fairly terrible. Use the Map16 editor to make the background use another palette, and restore the original status bar colours. And speaking of the background, it doesn't seem to be assembled correctly.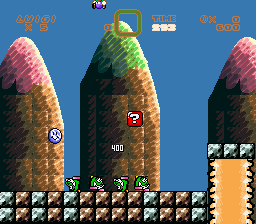 I know that Luigi canonically is able to jump higher than Mario, but this is just ridiculous.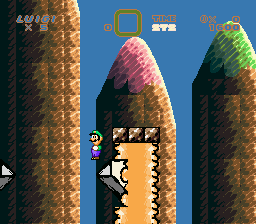 This tile should probably act like a slope instead of a solid block.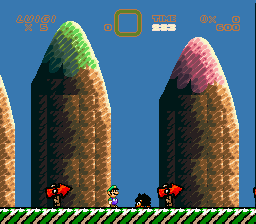 I am fairly certain those things aren't supposed to be black like that.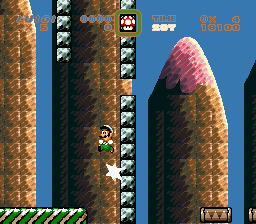 Not really a removal reason, but what's up with this random wall made up of walljump blocks? They don't appear anywhere else in the hack, and they seem fairly pointless here.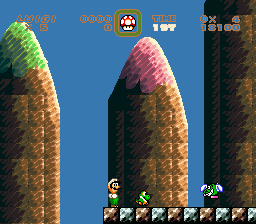 Notice anything wrong with that picture? (not counting the status bar palettes, those were already pointed out) No?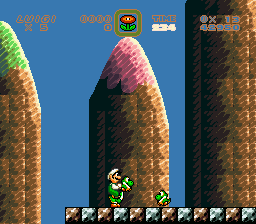 How about now?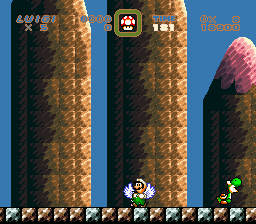 This really doesn't have anything to do with anything, but apparently enemies stop interacting with Mario if Yoshi grows up while they are getting eaten.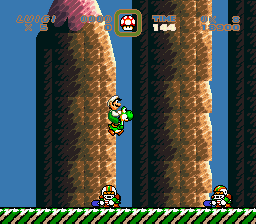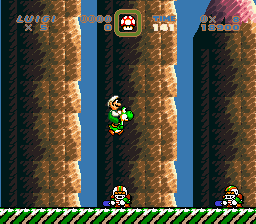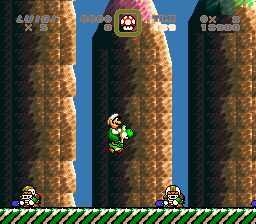 *yawn*
Three screens of perfectly flat ground and a bunch of digging Chucks is not what most people here would call "exciting level design". In fact, most of your levels suffer from repetitiveness of this kind. I mean, you even have three other instances of it earlier in this level: first, two screens of flat ground and those porcupine things, and then two times three screens of flat ground and Beanies. I am sorry, but this level, as well as many of your other ones, need some major overhauls.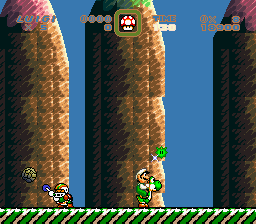 Minor, but aren't Shine Sprites supposed to be yellow? Since you don't seem to be using any normal ? spheres in this hack, you could easily change what palette the sprite uses with Tweaker.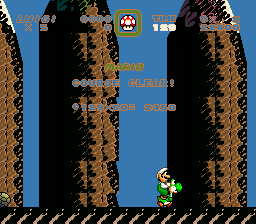 Another reason why you shouldn't have your backgrounds use the second halves of palettes 0 and 1. The foreground, however, can easily be fixed by applying the FadeFix patch.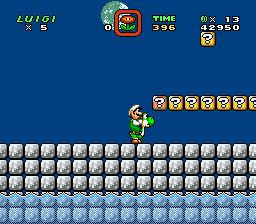 Ground made entirely out of cement blocks doesn't look very good, and I'm fairly certain that moon is supposed to use a custom palette.
Oh, and something I noticed that isn't really a removal reason: when looking at that level in Lunar Magic, it had a ton of custom generator sprites along the top of the screen. What's up with that? You do know that once a generator is activated, it will last until it is turned off, right?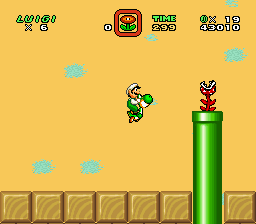 You should probably apply the Piranha Fix patch, since the original unfixed sprite has a slight chance of causing a VRAM error and messing up another sprite on screen.
Also, what's up with the background in this level? It looks very empty, and the clouds look like they are using the wrong palette.
And doesn't this tileset have some actual... y'know, ground? Those wooden blocks don't look much like a beach to me.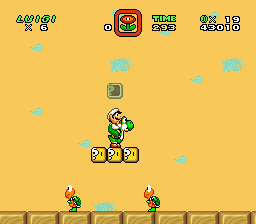 That ? block could have a prettier palette.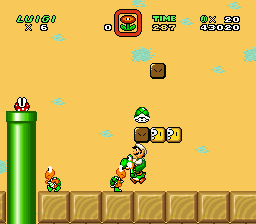 The ? block gives me a...shell? Why? The whole level is filled with Koopa Troopas...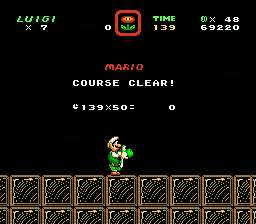 Again, FadeFix is your friend.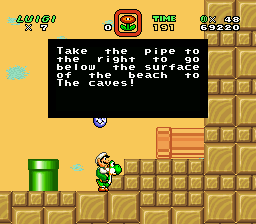 More palette shenanigans.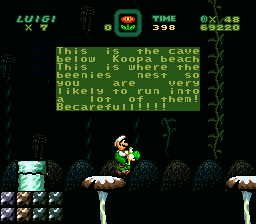 Given my comments earlier, I shouldn't have to tell you what's wrong with this picture or how to fix it.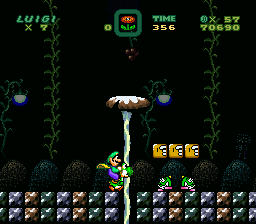 Aren't these usually walk-through?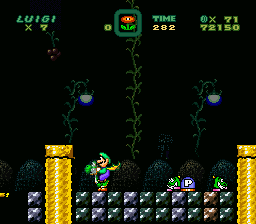 Yoshi doesn't really agree with level mode 0C (he becomes slightly transparent), and glowing pipes is not what I would call good-looking either.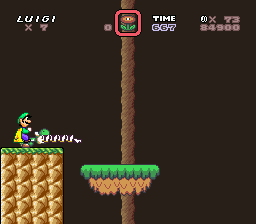 Why in the world is this level using the overworld layer 1 graphics in the SP3 slot? It makes Yoshi's tongue look like this.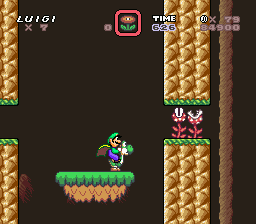 This exact same setup is repeated four times in a row. Remember, copypasta is not your friend.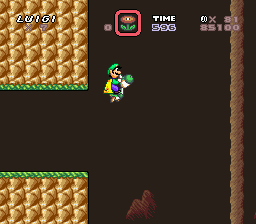 Blind jump.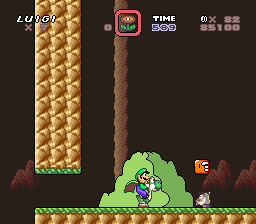 What happened to the Beanie? He has the correct palette in every level but this one...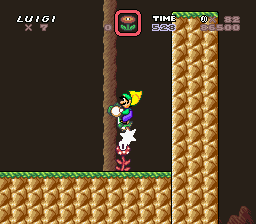 Just wanted to point out that with Luigi's god-tier jump height, he can get up to this ledge without having to use the springboard.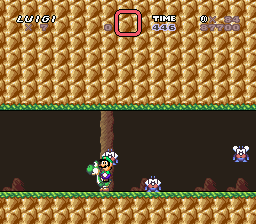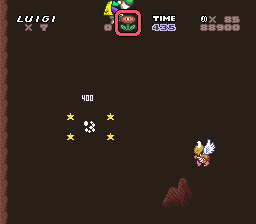 Take four screens of the first screenshot, six of the second, two more of the first, three of the second, and finally three of the first, and you have a pretty good idea of what the second room of this level looks like. Is this seriously what you consider decent level design?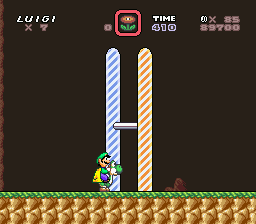 The palette of the goal tape is slightly off.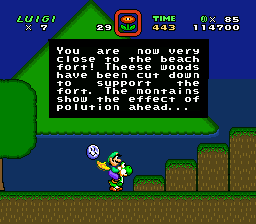 *these
*pollution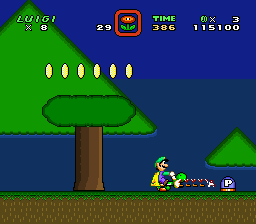 More of Yoshi being incompatible with the Castle spriteset. Seriously, why even use that when there aren't any castle sprites in the level?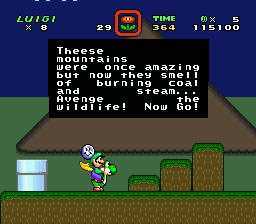 *These
Also, I am fairly certain that "mountains" can fit on the first row as well.
Sense made = 0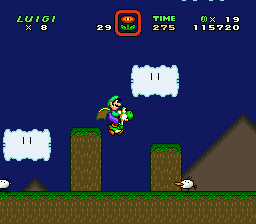 Apart from a short cave area,
this entire level
is flat ground with either Beanies or, as in the picture, Goonies. Not to be mean or anything, but levels like these are probably best deleted and restarted from scratch.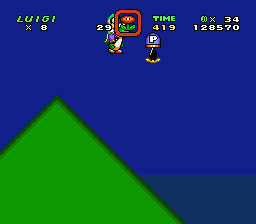 i c u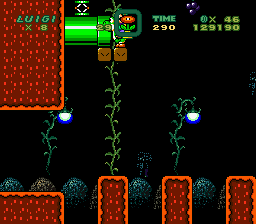 Again, Luigi's jump breaks puzzles. I think you are better off without that patch.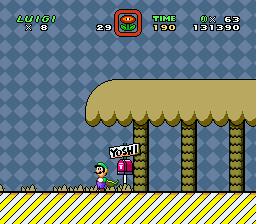 Some slight cutoffness on the grass. And what is up with this room anyway? Apart from Yoshi's house and a pipe to the switch, it's completely empty...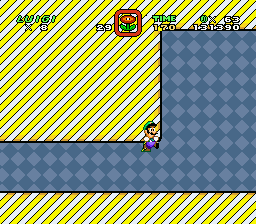 Why Nintendo didn't made this tile solid, and instead resorted to using a sprite, I will never understand...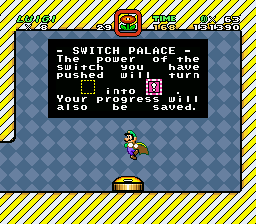 Shouldn't the Yellow Switch Palace activate yellow switch blocks, and not pink ones?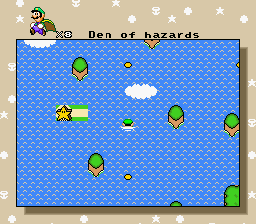 I think you forgot to delete an event somewhere.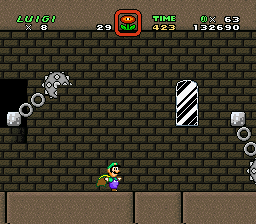 Sprite tile memory issues. Setting 0E should fix them.
Speaking of the castle, that is another level that is far too bland and should be redone.
Just look at it.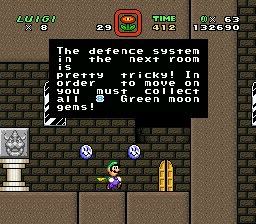 That 8 needs a better palette.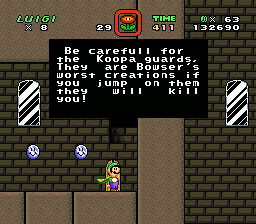 *Be careful of
*guards.
*creations. If
*them,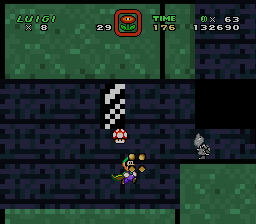 When you reset the room, the block counter stays the same, meaning that you don't actually need to collect them all to go to the next room.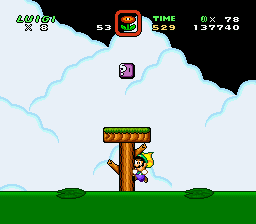 This doesn't seem like it should be solid, especially since the underwater part of it isn't.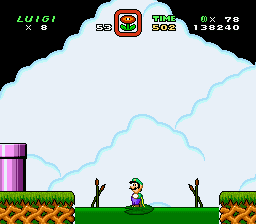 Cutoffness. Though to be fair, this seems to be the only case of it in the hack; it seems like you have aesthetics down pretty well (apart from those palette issues), even though your level design is a bit lacking.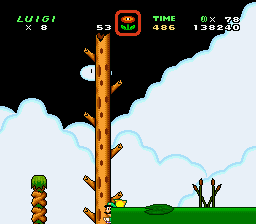 Water against a non-solid edge = logic fail.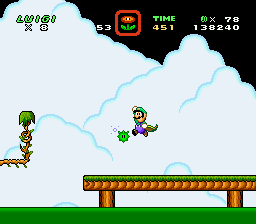 If I get this Shine Sprite from the right...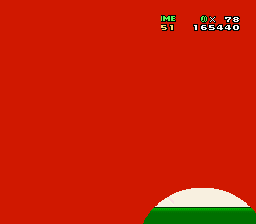 ...I fall off the edge and die, creating pretty effects like this one.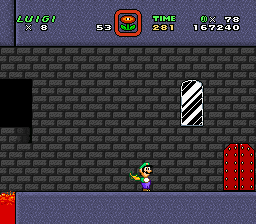 ...really? Three enemy-less screens of jumping over lava pits, and I'm already at the boss?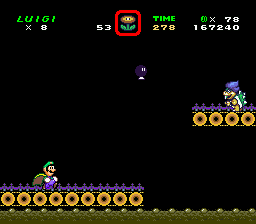 And then, the boss so happens to be a graphics-swap of Mouser, which I just fought two levels ago. Again, you want to go for variety, not repetitiveness.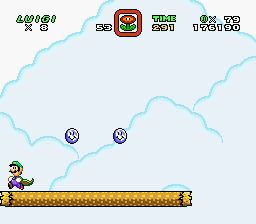 ...and then the hack ends with an end-of-demo level that I can't exit without committing suicide.
And finally, the overworld. I took the liberty of taking a screenshot of it in Lunar Magic, for the sake of convenience: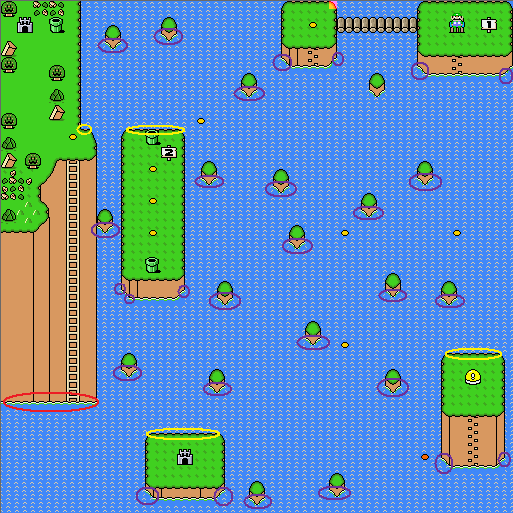 Yellow means wrong tiles, purple means missing corner tiles, and red means one of the worst perspective errors I have ever had the misfortune to see. It would seem like your overworld has a bad case of Flat Bottom Syndrome.
Oh, and to be honest, your entire overworld looks a bit lazy. I mean, you could at least have the levels that isn't underwater (which, now that I think about it, seems to be all of them) on land, add in some layer 2 events, and use more than one type of decorative island.
And by the way, did you forget to insert the N-SPC patch or something? Because pretty much none of your music tracks loop correctly. Definitely something you need to look into.
---
What this removal log mostly comes down to is the fact that you really need to improve on your level design. There are some other errors that require fixing, such as the music and palette issues, but having two thirds of your hack consist of flat land with the same enemy repeated over and over just isn't good enough.
--------------------
My YouTube channel
Get the official ASMT resource pack
here
!