Hack Moderation
---------------/
Hack Name: Extreme Mario Demo - 359.4 KB - 58 downloads.
Length: 16 levels
Author: Ray321lolz - Submitted by: Ray321lolz
Description: A fun hack demo that I have been working on for a while. some crazy stuff and bounce to it are nit my leels, they are ligachiga1's, he asked That I put them in.
_________________
Title Screen
------------/
What are those tiles in the background? Also, it's a bit hard to read the years at the bottom. May I suggest a different palette?
Intro Level
-----------/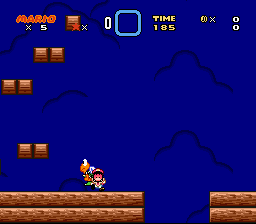 Please make it so Mario does not die in the intro. If he dies a certain number of times, the lives counter gets glitched.
First Overworld
---------------/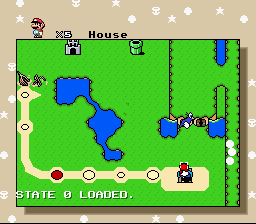 ...If we're playing as Mario, why does it display Yoshi graphics on the overworld? Also, I can skip the first levels and keep going to play the other ones.
House
-----/
Hitting the transparent blocks will cause these glitched graphics to show.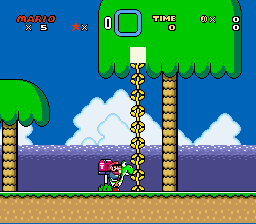 ..What is that? There's a weird flashing block at the top, with some weird vines cutting through the tree's bottom.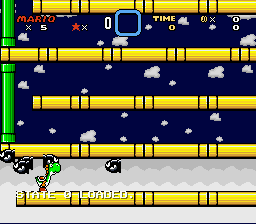 Oh my god; as soon as I start, several flying homing bullet bills charge after me. Please don't make the player have to react quickly to the level.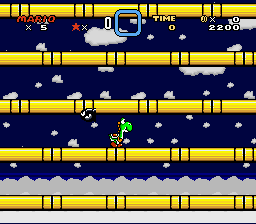 Running back and forth avoiding the same obstacles doing the same thing doesn't really scream FUN level design at me. Also, it's near impossible to do this level if you don't have Yoshi with you.
Glowing blocks look fine here, but Yoshi going behind those blocks don't.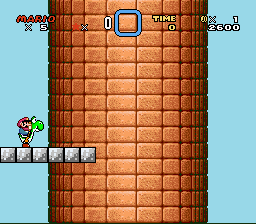 Going into those glowing blocks land me here. And if I continue on...
The game crashes for some reason.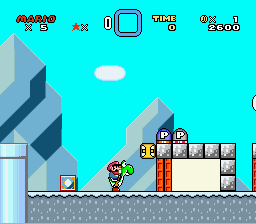 ...May I ask what the blocks to the left and above me do? There's no indication as to what they do.
Hitting the block to the right gives me Blargged graphics at the top, which give me a koopa.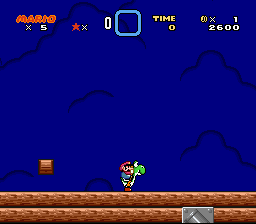 Going in the portal to the right leads to some weird Airship level that plays the Mario death music.
Going in the portal next to the first one leads to about 4-5 screens of repetitiveness and weird background palettes.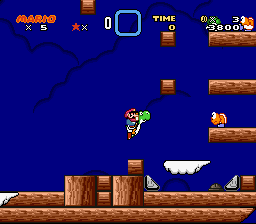 Going to portal #3 leads me to this airship of slowdown and weird corner palettes. Also, the "Mario" text above has a bad palette.
...What do those blocks in the middle do?
Incorrect tile behavior.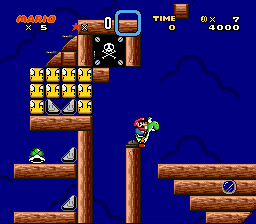 ...And the block eating snake glitches out, leaving some "cut-off".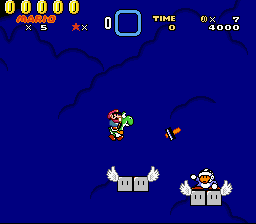 Somehow, hammer bro teleported from the platform below me to the next one. This is why you don't put too many hammer bros. next to each other.
The rightmost block causes "cut-off" corners.
There's no indication that those blocks above kill me.
This jump is probably impossible, even if you're Small Mario.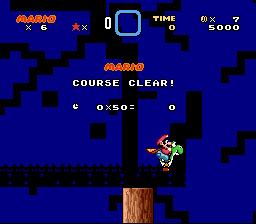 ..This looks pretty bad. Apply the fade fix patch, please.
Portal #4 leads me to some weird bouncy turn block maze. When you hit the turn blocks, the sprites appear glitched. Also, there's really no indication that the blocks I'm on are elevator blocks.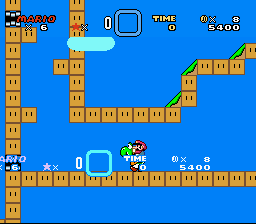 .....What the hell is this? Also, massive lag.
I have no idea what the blocks to the right are. Also, you can't tell that the blocks I'm in front of aren't solid. BTW, going any further down leads you into a death pit.
Going to the portal in the above screenshot leads me to this area that has a bad rope palette, bad sprite memory, you can't see Mario, and you can't tell that the "S" blocks are throw blocks.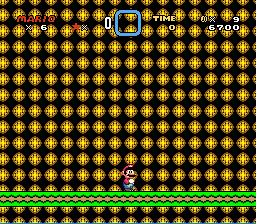 Beating the Big Boo Boss leads you to this area with an eye-burning background palette. Yellow doesn't go great with a dark color. Once you're there, you're forced to kill yourself.
1: It doesn't really make sense that I can go through here.
2: Touching the block at the top gives me 50 seconds.. to live. And it also causes "cut-off" to the slope.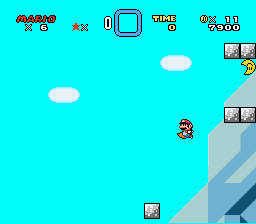 ...Mario is swimming in front of a moon. Also, easy to get up-side-down 3-up moon.
And that's it for the House. I'm surprised I found so many problems in one level.
Store
-----/
Upon entering the store, we greet a glitched graphical enemy by jumping on its head.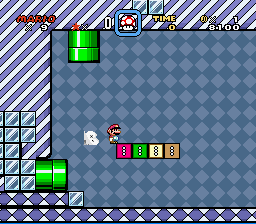 The red block is the only thing that gives me a power-up.
To the right is some "cut-off" platforms that meet the wall.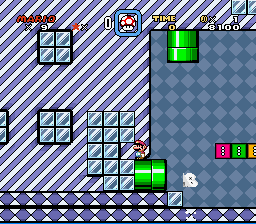 I can walk in this corner for some reason.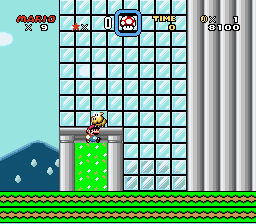 Hitting the transparent blocks cause a glitched graphical error to appear.
CHOCOLATE FORTRESS
------------------/
..What the hell.
1: The background palette is pretty bad.
2: There's no clue that I can stand on this glowing water beam.
Pirate Ship
-----------/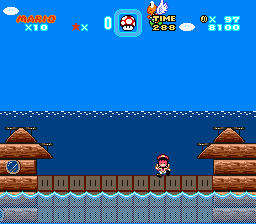 Not only does the "Mario" text at the top look bad, but there is no indication that these blocks kill me. There is also no sign that I need a running jump to pass this large gap.
1: The bullet bill launcher doesn't fire.
2: The bullet bill launcher has a bad palette.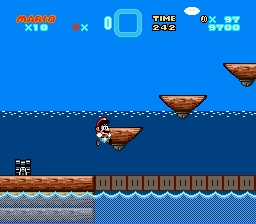 Even though it looks solid, the tile behavior isn't, making this a bit unfair to the player.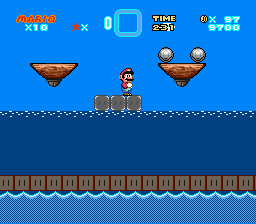 Major slowdown for some strange reason. Probably the steel ballz on the platform.
The palette of the glass block below looks strange.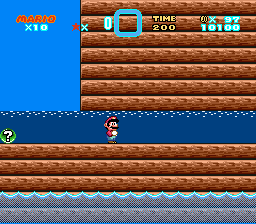 If I get the goal ball or not, the game...

will crash. Seriously, why does this game keep crashing?
Green Valley
------------/
Whoa, no indication that the pipe I'm on makes Mario go faster.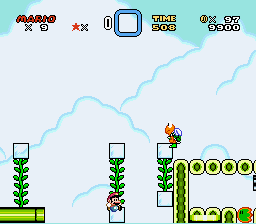 1: For some reason, you made the transparent block non-solid. Come on, a few levels ago they were solid.
2: What happened to the pipe to the right? Also, what is that fireball doing there?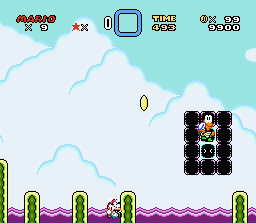 Why would you put a block above the water that doesn't allow Mario to go back up, thus forcing the player to kill himself?
There's a better way than miscolored ground to show that this ground is passable.
How is the player supposed to know that the blue sphere makes the level turn into water, and the bright spheres bring the player down?
Once you get in here to collect the coins, you're trapped.
This is looking to be a pattern of problems. How was the player supposed to know that the piss beam is supposed to speed Mario into a death block? In the CHOCOLATE CASTLE, it wasn't like this.
Weird spheres look weird.
The slowdown in this hack is a mess.
Ugh. You figure out what two things are wrong in this photo.
"Cut-off" where the corner meets the land.
Looks like someone with bad palette taste came and redecorated the level.
Being launched from a pipe into a pit isn't cool.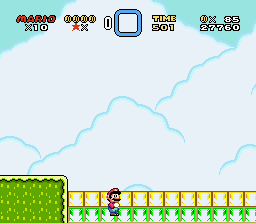 Once again, blah blah player cannot tell this is quicksand.
The content shown in this message perfectly describes what I think so far about this hack.
Okay, this was kind of cool how you made the koopa kick the shells.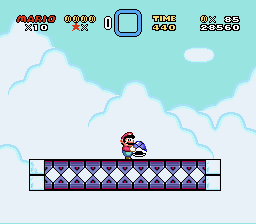 ..I'm not really sure what to feel about this.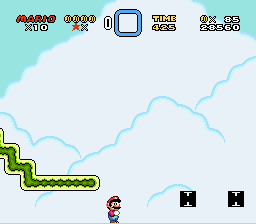 1: The black blocks to the right are actually coins. They don't look like coins.
2: I'm not supposed to be standing where I'm standing, since the player cannot see this row of tiles.
Once I'm over here, I cannot get back since the speed blocks trap me.
SPEED CHALLENGE 1
-----------------/
..And right off the bat, we get a "react fast" moment with a combination of bad palettes, bad sprite memory/invisible Mario, and near impossible time limit. What a great recipe for disaster.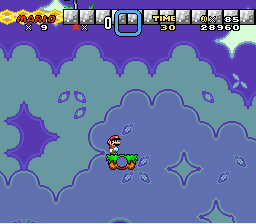 Once I get here, I'm dead. I have no where to go and I fall into a pit and die.

And as an added bonus, touching one of the cement blocks in the beginning causes a BSOD, assuming black is the new blue.
____________________________________________________
..Yeah, I'm going to stop here. In the current state that your hack is in, there is an absolute 0% chance that your hack is getting in. There are several things wrong with your hack, but the top 3 reasons are:
1: Black Screen of Death; there's probably AT LEAST one in every level.
2: Unexplained Custom Blocks; NONE of the block functions in this hack are revealed unless you try it for yourself, some times resulting in death.
3: Bad Level Design Choices; the best examples of this would be "CHOCOLATE CASTLE" and "House".
Other problems are how the overworld levels are automatically unlocked, abundant amounts of slowdown throughout the hack, glitched graphics, and more I can't remember at the moment. Honestly, I think it'd be best if you just start over and maybe next time you should read the rules.