NAME:
Super Luigi World 100%
AUTHOR:
NekoChild
DESCRIPTION:
I am not a super skilled rom hacker when it comes to asm or such but I have done my best to make this a good hack. I hope you enjoy it, metorid is killed by jumping around 5 times. metorid is made by the people here. credit to them!
---
REASONS FOR REMOVAL: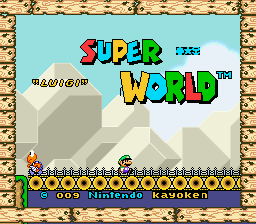 There's a line to the left of the W that should be removed, and the black background around the small symbols at the upper right doesn't look too good either.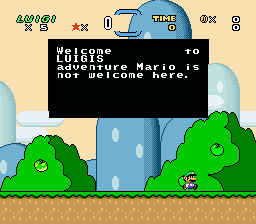 *Luigi's
*adventure.
And I'm pretty sure that "Luigi's adventure" can fit on one line.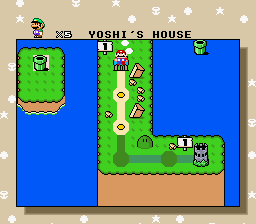 The small island to the left is cutoff at the bottom right, and the colours of the path tiles are inconsistent (including the pink square behind the left-hand pipe). And why am I Mario on the overworld?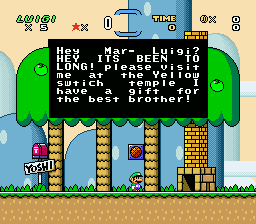 *Hey,
*Please
*switch
*temple.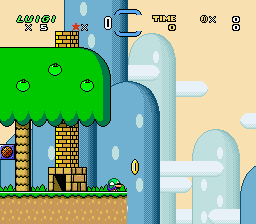 [insert okuufacepalm.jpg here]
Seriously, what's the point? It's not like there is anything on the other side of the pit...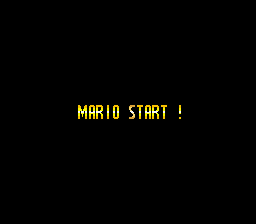 This should be self-explanatory. There is a simple hex edit to switch the Mario/Luigi Start messages around; you should probably use it.
And while you're at it, disabling two-player games would probably be a good idea.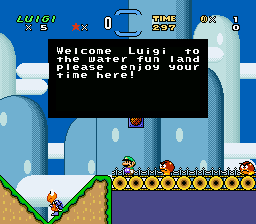 *Welcome, Luigi,
*land. Please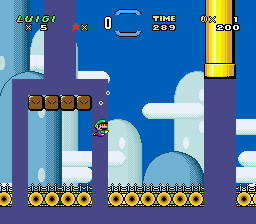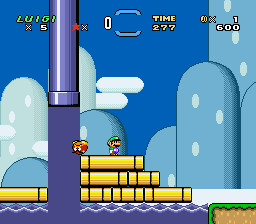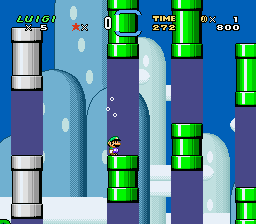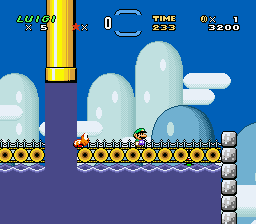 Yeah... The default SMW water graphics don't really look very good as waterfalls. Might I recommend
these ones
instead?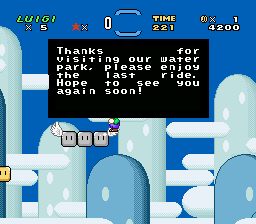 *park. Please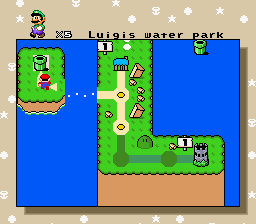 This event creates quite a bit of cutoffness. Oh, and Mario walking off the side of a cliff that high (HINT: Look at the height of the middle island) straight into the water looks kind of odd.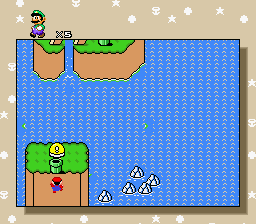 Err... Is this intentional? You seem to have both a set of pipes and a set of transition paths leading between the exact same places...
Also random corner tiles in the middle of the sea.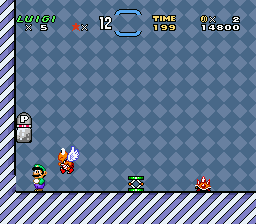 There's a cutoff corner tile right next to Luigi. And not a removal reason, but what was the point of that springboard? It didn't seem to have any use whatsoever.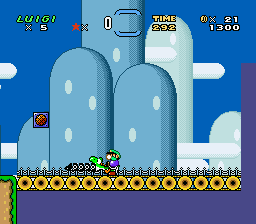 If I bring Yoshi back into the first level, he seems to get pieces of a Chain Chomp for a tongue.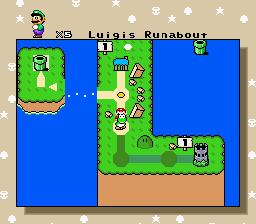 *Luigi's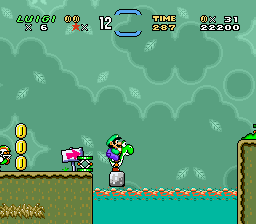 Terrible
lava palette, and logic fail with it being held up by a walkthrough ledge on the left side.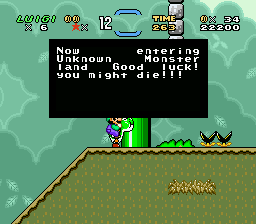 *Land.
*You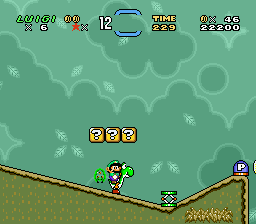 These Metroids act kind of odd. If they touch you from the top, they drain your coins as intended, but if they touch you from the side you get hurt, and from below they simply disappear.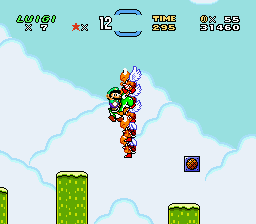 As a matter of fact, the whole Mario-on-Yoshi/enemy interaction is kind of unusual; instead of Yoshi running away when you get hit on him, you get hurt. Unless the enemy that hit you was an extended sprite, like a fireball, in which case he runs away as usual.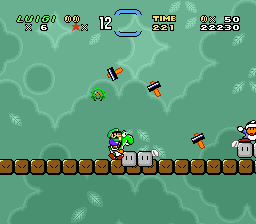 Having more than one gray flying platform on the screen at the same time as a Hammer Bro results in said Hammer Bro teleporting between the platforms.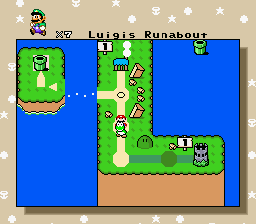 This level tile just didn't appear.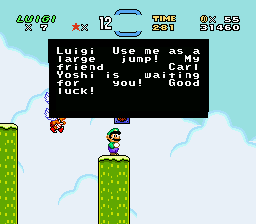 If I don't have Yoshi, I have to commit suicide. You could at least have enabled side exits.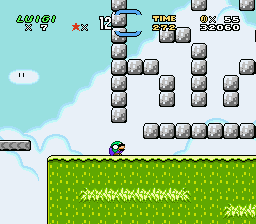 Mazes like this aren't any fun as big Luigi.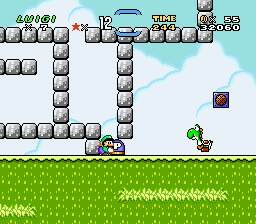 ...and especially passages like this. It took forever to get through here...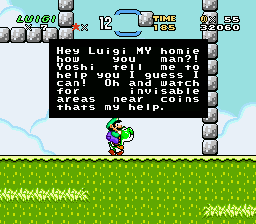 Your messages need proofreading. Badly.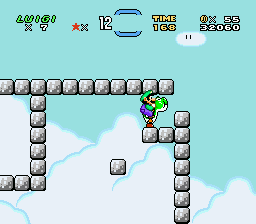 What's the point in giving me a Yoshi if I have to abandon him right away?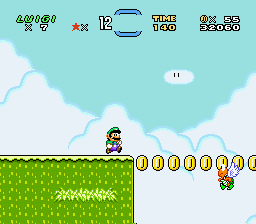 If I didn't get the P-Switch from the maze earlier, I can neither proceed nor go back and get it.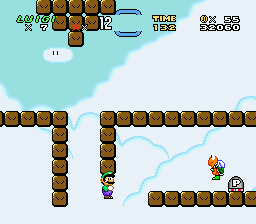 ...what's the point of these invisible blocks? Apart from making Luigi vibrate rapidly up and down when standing underneath the brown used block, that is.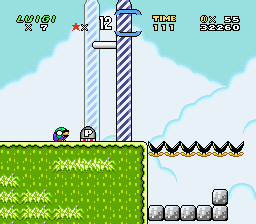 A Kaizo trap and floating munchers in the same screen? Congratulations! You seem to have figured out one of the best ways to get your hacks instantly rejected from this site!
Then again, the Kaizo trap doesn't even work.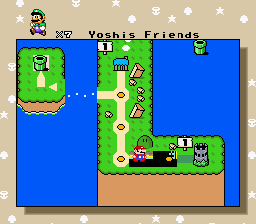 From here on, the event tiles start glitching out all over the place. Did you remember to uninstall the title screen moves recording ASM?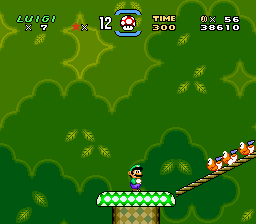 Levels that start with situations like this, where you have to react fast or get hit, aren't very nice.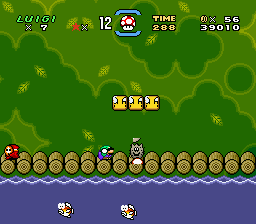 ...what in the world is that supposed to be? Glitched graphics =
NO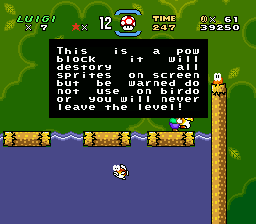 *POW
*block. It
*destroy
*screen, but
*warned:
*Birdo,
Also, why does the POW block look like a disembodied Koopa head?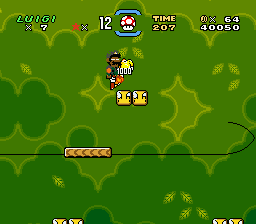 Your fireflower GET! animation is... well, interesting, but the fireballs spawned make Yoshi run away, which is hardly fair.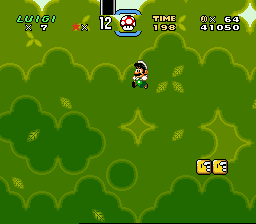 Random floating Bullet Bill launcher in the middle of nowhere.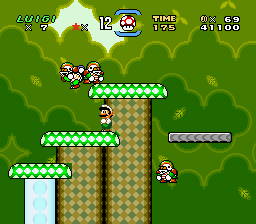 There's a quite noticeable hole at the bottom left of Luigi.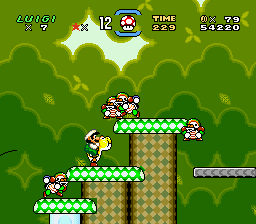 And if I take Yoshi here, I get quite a bit of slowdown.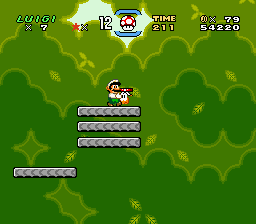 If I bring the disembodied Koopa head with me, the flying platform won't appear most of the time.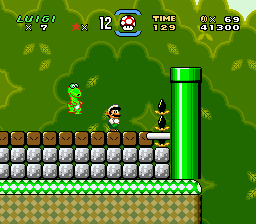 Oh god. What did Birdo do to deserve a palette this terrible? D:
Also, stacked munchers are just as bad as floating ones, and cutoff floating goal tapes aren't much better.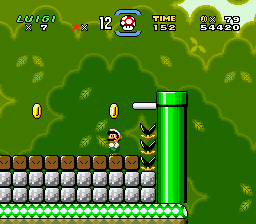 By the way, what did you mean with that warning about not using the POW block against Birdo? The goal tape doesn't go away, so you can still beat the level.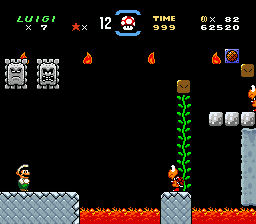 D:
And what happened to the left Thwomp? His facial expression is completely frozen. Also, why is there no background?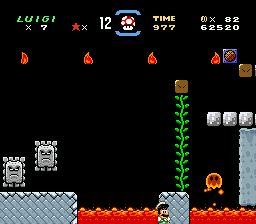 More logic fail. If Luigi can go through the wall, why doesn't the lava do so as well?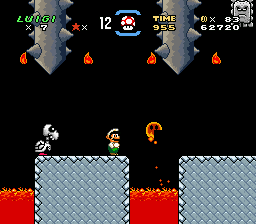 Sprite tile memory issues. Setting 0E ought to fix them.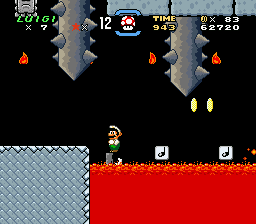 Note blocks aren't compatible with the castle sprite set.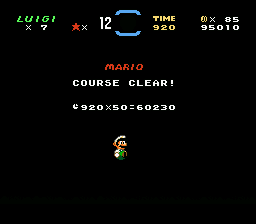 Your... generous time limit makes the time bonus kind of bug out at the end, making the drum roll continue playing through the first part of the castle destruction cutscene.
Speaking of which: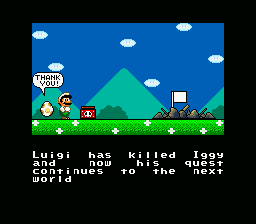 *world.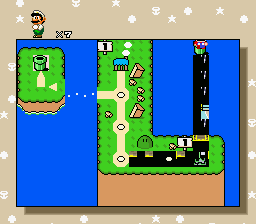 And finally, the hack ends with a pipe that's not working.
Apart from the issues mentioned above, there were quite a few music-related oddities: the pause sound effect doesn't play, the switch palace plays boss music, the castle destruction cutscene changes music some seconds in, and the P-Switch music just doesn't sound like it's supposed to be that way.
---
For a first hack this isn't that bad, but you still have quite a long way to go before you'll be able to get a hack accepted here. I would recommend recruiting some beta testers experienced with this site's standards in
this thread
, and reading the
Hack Submission Guidlines
.
---
My YouTube channel
Get the official ASMT resource pack
here
!