EDIT: Um. Just ignore the broken picture links.
TechoEDIT: HTML fail. I fixed it up for you.
Hack Moderation
---------------/
Hack Name: The Pikachu Crisis Demo One - 176.8 KB - 62 downloads.
Length: Unknown
Author: $&PiKaChU-FaN%$ - Submitted by: $&PiKaChU-FaN%$
Description: This is my hack i am making and it is only a beta so please enjoy my smw hack =)
Title Screen
------------/
Straight off the bat, we have a problem. No, it's not that there's nothing on the title screen, or that the clouds have a strange palette; the demo player DIES in it, meaning that you are permanently stuck playing on the title screen level.
Also, the palette makes the text almost unreadable.
???
---/
Put a period after "Coins" and capitalize the "if".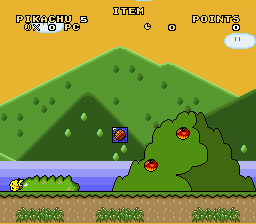 Since you didn't put the Side Exit, the player is PERMANENTLY STUCK in this level.
Mudkip Isle
-----------/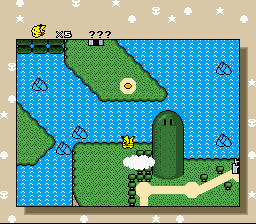 I'd place a path on the overworld that shows the player where to go, since the player doesn't know which direction to head over to.
Challenge One
-------------/
Unless my color-blind-ness is acting up, that thunderbolt in the reserve is green, which seems strange.
If I get on the platform too early, I'm guaranteed a hit at this part.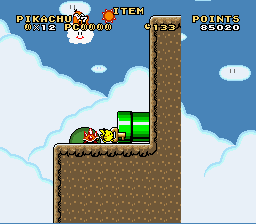 Extend the ground further to avoid creating "cut-off".
I'm not really considering this a removal reason, but.. since when does a Yoshi egg look like a Pokemon Trainer?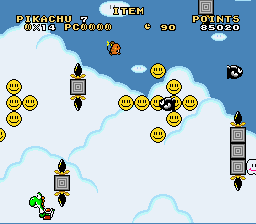 It seems that you need to sacrifice Yoshi to make this jump; however, I need Yoshi for the other area ahead. Could you make this place more possible and passable?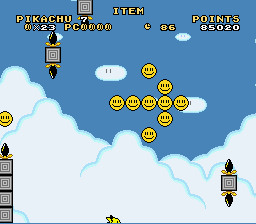 After beating the level, it sent me back to Korana Fortress.
Overworld
---------/
After beating Challenge One, it seemed to send me on a path through 3 other levels with are all the same as Challenge One.
Only then did I realize why it was left like this: it was a BETA. Please submit your hack ONLY when it's 100% complete either as a demo or a full hack.
____________________________________________________________________________________________________
Well, that's it. You've got a bunch of problems that are serious.
1: You die in the title screen.
2: You can be stuck in ???.
3: You have three extra level dots of "Challenge One".
4: You sent a BETA. Send the complete demo/full hack when it's FINISHED, not a BETA.
Also, I thought it was a bit strange how it was easy on the first two levels, and then the difficulty jumped on the third level. Anyway, please fix those problems as well as the minor ones, and resubmit your hack if you wish.