Hack Name: SMW DSM#1: Bowser's Ultimate Labyrinth - 862.7 KB - 139 downloads.
Length: 60 levels
Author: The Beast: "Destructortion" - Submitted by: The Beast: "Destructortion"
Description: The First full game of the Dark Sniggerbobblian Mythos begins as Mario is plunged into the Underground Haven (also known as Bowser's Ultimate Labyrinth, named after the guy's HQ) to stop several mysterious unknown forces from releasing an omnipotent force. Can Mario survive through 10 worlds of danger?
Difficulty: Fairly hard all the way through
WARNING: The game includes some bad language. Play at your own risk.
---
Goodness. I don't have anything to preface this time; just screenshots. I did not play all 60 levels, FYI, but these (about 45/35) was enough.
Your level design, I've found, is repetitive, sometimes unfair, and gimmicky. Normally I don't like to judge level design; it's so relative from person to person. However, this was reaching a level to where I have to disregard that and trust my own opinion assuming people agree.
You'll notice when you switch up and down like that so fast, you "jump" up.
This was the beginning of my worry. You had at least 12 screens of this, minus the door in slightly different variations.
A whole level with little enemies and..this.
Palette Alert.
One, I don't think chucks have lava-proof boots, and two, I got about 8 screens of this.
Cutoff.
You made a pipe go into the ground- but I guess you didn't expect this, because it gets all messed up.
10 screens of this in superfast autoscroll.
This, for no reason; it's a ghost house. :\
Don't let people have to take a hit.
Those grey shooters kill you. You have OW but that isn't clear; you need a message box or something.
There is a hex edit to fix that y-flip of the block, I think.
After a hard and repetitive (10ish screens again) vertical area, I get...this. I need a key. How was I to know that? :\ So I had to traverse down and up again to grab the key (which you had to fall to get, even from the bottom,)
I know you can tell me what's wrong here. :\
This goes on for for-EVER. This is something very common- you take a enemy and a type of platform. Rinse, repeat, for about 8 to maximum screens.
Later in the game, this was common too. You would simply have water and breaks, and a air meter. It was boring and as repetitive as just a long platform. :\
This level was pretty nuts. You went 1F screens (31) with just this gimmick. It was really annoying, I have to be frank.
If you lose your flower, you're done for.
Palette Error.
This, forever. Pretty tedious.
This was another annoying gimmick. You placed these vine-munchers haphazardly. They require a silly amount of precision while providing no challenge that you necessarily had to adapt with. These were EVERYWHERE in the game.
Another palette thing.
This level was just one big vine+muncher setup. It needs some mixing up.
Forced small again. :\
This for way too many screens. Also, all the torpedo teds (pictured here as well) get cut-off, and you can see.
Graphics Errors.
Palette errors
(First Pic- Mario's feet.)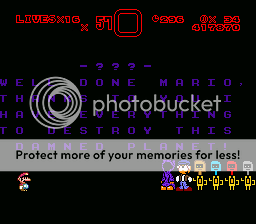 This status bar thing happened a lot.
You used star runs as a default- let me tell you that most people can't stand star runs. This one is really long, too.
Cutoff.
A...path?
This level needs a LOT of work, and basically discouraged me from the rest of the game. Each screenshot here was repeated at least 10 to even 20 or 25 times, in slightly different variations.
Your hack needs some level revisions. Base your level design based on how long it takes it get boring, not how long the level itself is. Your levels generally follow one trait, and then repeat, repeat, repeat. No structures, the same enemies, the same gimmicks, again and again. It gets pretty frustrating and while I don't fully trust my rating abilites to match the rest of the Central, I think we can agree that this is probably too much. I see potential, but your levels hold no "meaning." They are the same thing again and again, and that is what I am trying to illustrate for you. The things otherwise are okay on their own, sort of. (fix them anyway.) But the level design needs work.
Focus on having meaningful and interesting level design, that varies alot. Make sure that even the player, who is very ignorant (assume very ignorant, anyway) can figure out which way to go. (mazes are different; generally people dislike mazes, FYI) Also, I found that you often used one trick (magikoopas, man, what was up with that?) too often. Personally, I try not to use a gimmick more than about 8 times. It makes your levels repetitive and uninteresting. Namely, those vine things, magikoopas, small platforms, the air meter, star runs, regular runs with a low timer, among other things. It makes it hard to play. Generally, almost all your levels need revamping. I hope you don't take this personally.
I see you have put a lot of effort, and I applaud you for that. The stylization, however, I find a bit lacking.