NAME:
Yellow-Mario
AUTHOR:
THEbrianstararan
DESCRIPTION:
Oh-No! The Toads have taken over the dinosaur islands and guess who showed them the spot Bowser!
Go get him Mario!
---
REASONS FOR REMOVAL: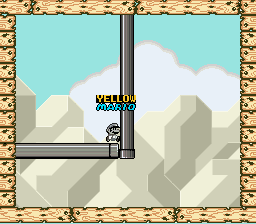 Since you changed the title screen level, it would probably be a good idea to also record new title screen movements. Mario looks a bit silly running into the wall like that.
Also, since you don't seem to mind all capital letters for your title, why not use the font without the black squares around it?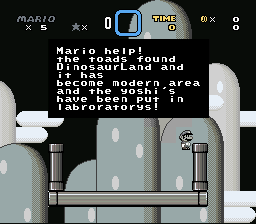 *Mario,
*The
*Dinosaur Land
*Yoshis
*laboratories
And why the giant gap after "has"?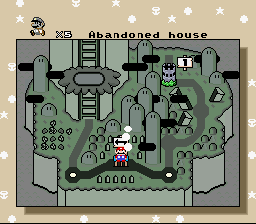 Mario, the level tiles, Yoshi's House, and the castle look kind of out of place, since they are the only thing that aren't grey. If you are going to change global palettes, you should try to have some consistency in your changes.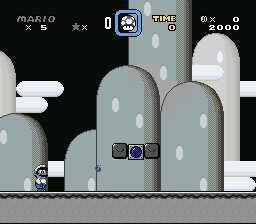 Mario's fire palette, the fireballs, and the message box don't look that good. It seems like you forgot to change some colours in your efforts to turn the entire palette greyscale (which I am not too sure if I agree with, since it makes the game look kind of boring, but whatever).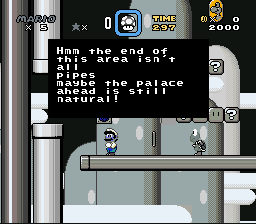 *Hmm...
*The
*pipes.
*Maybe
Also more unnecessary line breaks. And how come Mario knows this when he hasn't reached the area he is talking about yet?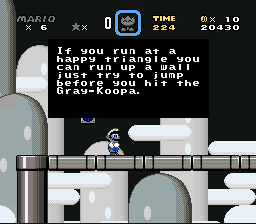 *wall.
*Just
*grey Koopa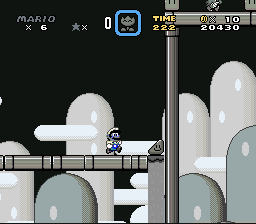 Cutoffness.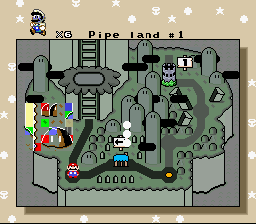 Overworld glitches like this are usually caused by not uninstalling the title screen recording ASM. Do so and resave the overworld, and you should be able to get rid of the glitching.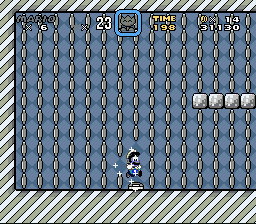 Apart from the palette and the level name, the Yellow Switch Palace is completely unchanged. DO NOT WANT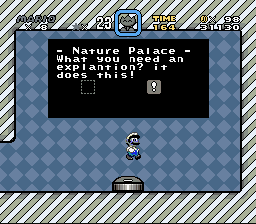 *need?
*An
*explanation?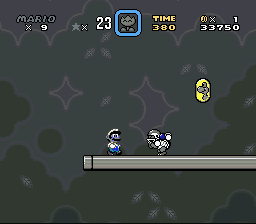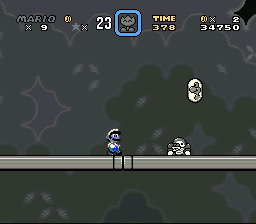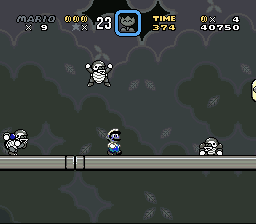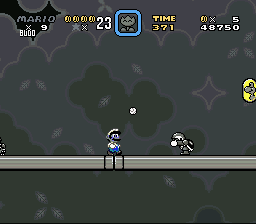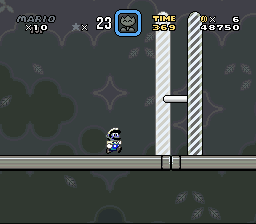 *yawn*
Flat ground with a different Chuck each screen is
not
good or interesting level design, no matter what people have been telling you. (also you missed a spot on the Chuck's arm, as well as the flashing colour of the Dragon Coin)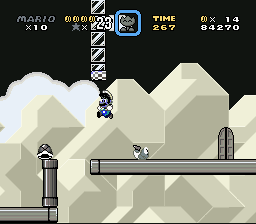 The glass blocks evidently aren't compatible with the sprite tileset you are using. In fact, why are they even there? They don't seem to be fulfilling any purpose.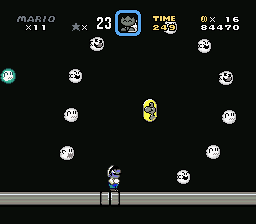 - Bad palette on the Boo Block
- One Dragon Coin too many
- Why is this room playing the normal grassland music?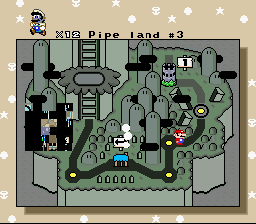 That pond tile could look better.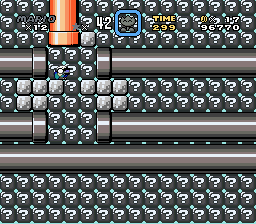 Whatever in the world would drive you to think that this is a good background?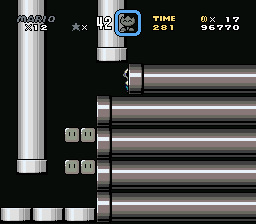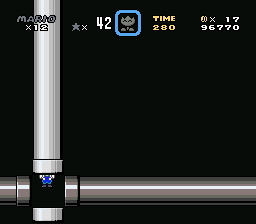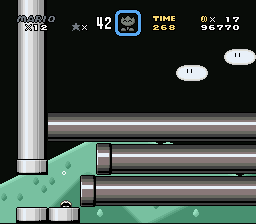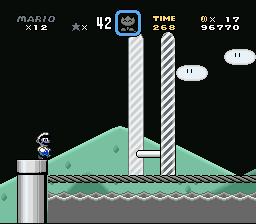 The above five screenshots show the entirety of Pipe land #4: four screens of "guess which one of these pipes you can enter", and then the goal. As a matter of fact, all of your levels were lacking in content: not a single one of them was more than eight screens long, and at least three of them had the exact same type of level design repeated for each and every one of those screens. This is not a good thing: if you don't make your levels creative, noone is going to find them fun to play.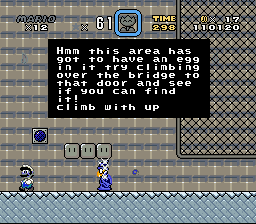 *Hmm...
*This
*it.
*Try
*Climb
*up.
And I can't exactly say that your background is the best one I have ever seen, given how it's just one tile repeated over and over. What's wrong with the normal castle background?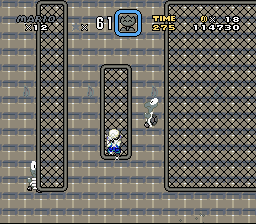 Climbing Koopas don't like two-tile-wide climbing nets.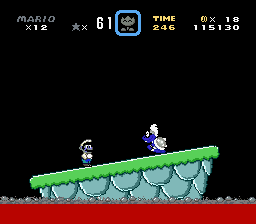 I shouldn't have to tell you what's wrong with this screenshot.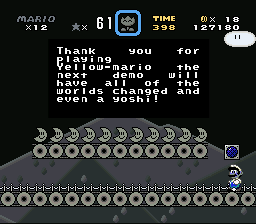 Might I ask what the point of giving the player 33 lives after the end of the demo is?
---
I am sorry, but this is nowhere near good enough to be accepted. The levels are short and repetitive, and the concept of turning every single colour gray just makes your hack look very uninteresting. This seems very much like a first-time hack; spend some more time getting experience with Lunar Magic, get some people to beta test your hack, and perhaps most importantly, read the
Hack Submission Guidelines
before submitting a hack again.
(By the way, what exactly is up with the name of your hack? It doesn't seem to fit the hack itself at all...)
---
My YouTube channel
Get the official ASMT resource pack
here
!