Hack Moderation
---------------/
Today's removal log contains three hacks.
Mario in Iggy Land - Rejected
Retro Mario World - Super Mario Bros. [Remake] - Replaced the older version
NEW MARIO - Rejected, WARNING
Hack Name: Mario in Iggy Land - 60.8 KB - 32 downloads.
Length: 7 levels
Author: moltensnow - Submitted by: moltensnow
Description: Remember Jared World is Super? Well, this is a whole new thing! Now with 1 more level!
Linear Levels
-------------/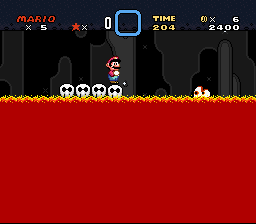 Could you vary your levels more instead of having lava at the same elevation and Blarggs spread out across 3-4 screens?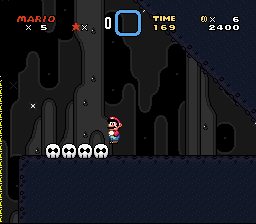 The skull raft lands on the ground. I don't have too much of a problem with this, but it seems strange having it go through the pipe at the end as well.
The Sky!
--------/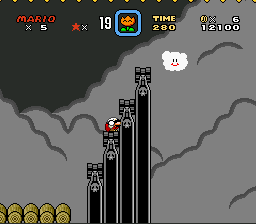 Bad palette on the bullet bill launchers.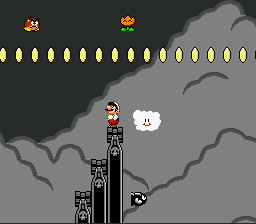 Because of your "lightning", the goomba is stuck above.
There's literally NOTHING for what seems like all or most of the level. Also, most of the level's difficulty is rendered useless by just camping out near the coins at the top.
Run, RUN, RUN!!!
----------------/
The palette of the clouds could be better; it kind of blinds my eyes to have the bright white against the dark black (Don't be racist.).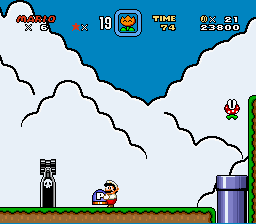 Again, bad bullet bill launcher palette.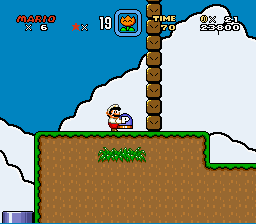 If you don't bring the P-Switch or you use it along the way, you're screwed.
Some "cut-off" at the bottom at the triforce, and in the middle.
The Four Seasons
----------------/
Forgot a period. [/grammar&spellingnazi]
By entering the level, if you don't react fast enough, you're greeted with a bullet to the face in about 2-3 seconds or so.
Oh, and bad pipe palette.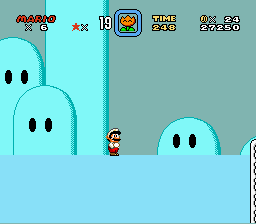 Sigh; how long is this screen, and where are the enemies? It drags on for at least 4 screens or so, and it's painfully dull to speed through a repetitive "level" with no challenge.
Why would you make one pipe in the end lead all the way back to the beginning where there's nothing?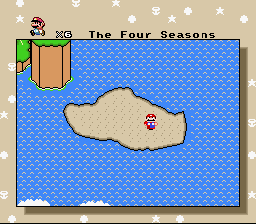 From what I had seen in Lunar Magic, there was NO secret exit in this level, so please don't put a misleading red level dot.
Iggy's Web Hosting
------------------/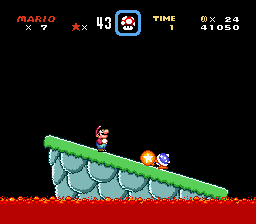 Oh hell. You expect to beat Iggy in _FIFTEEN_ _SMW_ _SECONDS_?
Overworld
---------/
Perspective is off where the island meets the water.
____________________________________________________________________________________________________
...Your hack isn't completely "bad", but it's not good either. The #1 issue from what I played was that you need to VARY your levels. The player does not want to play the same thing again and again. Second, the levels need ENEMIES. There are several areas that have no enemies, and that makes your hack less than mediocre. Again, your hack is not bad... but it's not good either. If you want, you may re-submit when you fix all of the problems above.
Next, we have:
Hack Name: Retro Mario World - Super Mario Bros. [Remake] - 392.9 KB - 602 downloads.
Added: 2010-03-01 01:24:40 AM
Rating: 5.1 (10)
Reviews: 2 (jump to reviews)
Length: 32 levels
Author: GameGuy10 - Submitted by: GameGuy10
Description: Super Mario Bros with Custom Graphics.
I fixed the Graphics for the Cheep-Cheep, Fire Flower, and I fixed the palette used by Mario.
Please enjoy!
NOTE: This is an open-source hack which can be used as a base hack.
If you are going to use this as a base hack, remember:
Use tile 39F and put it next to the flagpole on the right and put tile 3A5 underneath the flagpole for the goal. (STARSW.zip's SMBGOALPOLE block) The elevators are actually Davros's Normal Shooter 4 sprite. They generate platforms. (use a vertical right line-guide to work properly)
Updated May 5, 2010
A new, updated version has been submitted; the older one will be replaced.
____________________________________________________________________________________________________
Next, we have:
Hack Name: NEW MARIO Demo - 622.4 KB - 62 downloads.
Length: 26 levels
Author: Ray321lolz - Submitted by: Ray321lolz
Description: Ok last time I thought I fixed the problems but I fixed them on a back-up.... heh sorry, also I would like to thank the users/moderators of smw central for doing this....AGAIN
A lot of the problems I had seen from the last time I moderated this hack still remain.
Overworld
---------/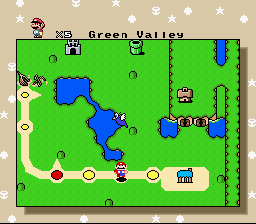 The levels are still accessible without beating any.
Tutorial Room
-------------/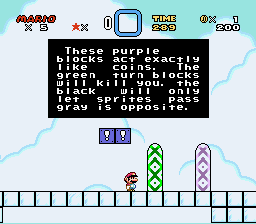 The third sentence needs to be capitalized, and you have a run-on sentence.
Store
-----/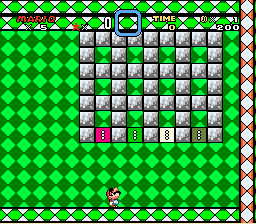 Which block sells what?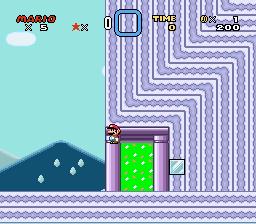 I can stand on the arch poles for some reason.
House
-----/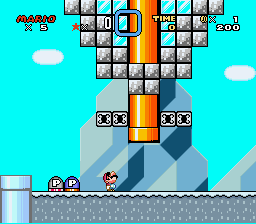 You said to go to the "Tutorial Room" for an explanation. However, you didn't explain THOSE blocks above.
When the P-Switches are hit, glitched graphics (or bad palettes?) appear.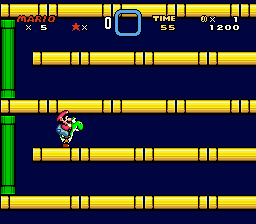 This part is still repetitive as last time.
You also didn't explain what these pipe blocks do, or those half door slow blocks that look similar to the ones in Giga's "Wacky World" hack.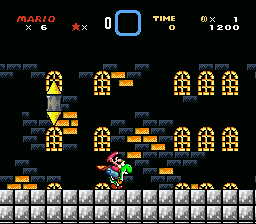 This area is still full of slowdown.
Pirate Ship
-----------/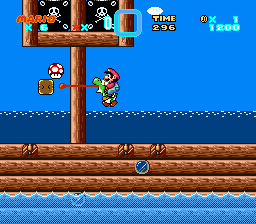 1: Oh god, the slowdown happening every second makes this near impossible to play.
2: Bad block palette and bad status bar palette.
3: The music is ear-rape to my ears, honestly.
There are almost no enemies in this part of the level.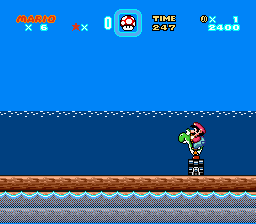 1: This area is very, very flat. Mix it up.
2: The bullet bill launcher palette seems strange.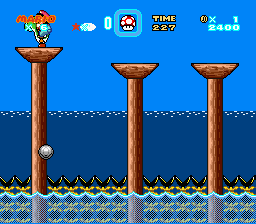 Oh look, glitched thwimp graphics. Not only that, it's stuck in the wooden pole.
I'm forced to get rid of Yoshi.
Green Valley
------------/
*As (as)
The palette for the ground is still strange.
Again, you didn't explain that some clouds are actually custom blocks in disguise.
To go with the statement above, you didn't explain that this blue sphere makes Mario swim, and that the yellow spheres force Mario down.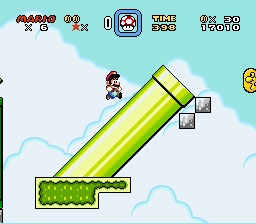 Again, a lot of slowdown. Why is there always slowdown in almost all of the levels?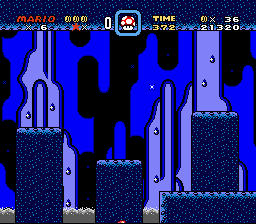 The lava appears to go behind the ground, yet when Mario falls in the ground, he dies from a pit instead of being melted.
Oh, how nice; a "quick move before you die" moment.
Speed Challenge
---------------/
Bad BG palette.
This part screams "Kaizo" at me.
It would be nice if you would show the difference between the cement blocks and the passage.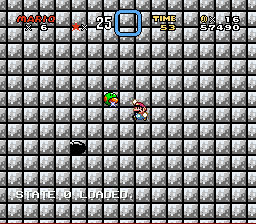 Glitched goal sphere graphics.
____________________________________________________________________________________________________
With the state that my laptop is in right now and the amount of mistakes pointed out in your hack, I think I can stop here. It seems that you only fix SOME of the stuff mentioned in the Hack Removal Log out of everything mentioned, so a
WARNING
has been issued. Here are some tips. Read them, and listen to them.
1: Custom things DO NOT make a hack. Level design does.
2: Listen to the Hack Removal Logs. Otherwise, you'll never pass moderation.
3: Always check your hack for mistakes.
If you keep this up, a
ban
will be issued.
EDIT: Ninja'd? WTF.